Oh, this frittata! It is your eggs and your toast mixed up with some fresh veggies and just the right amount of cheese, all in one glorious conglomeration right on your plate. It's perfect for Sunday brunch, perfect for a weekday supper, and perfect for using up the bits and pieces of veggies and cheese and whatever else you have in your fridge, because it can be varied to your heart's content. My heart was very happy with these toasted chunks of ciabatta breed, sweet cherry tomatoes, chopped asparagus and Vermont cheddar all nestled in tender egg.
This inspiration for this one came during our last trip to Vermont, where we had more than one delectable meal at The Pawlet Station in beautiful little Pawlet. It's a small, friendly breakfast and lunch place that I love not only for the fabulous eats but also for many other things. I love that you can sit at the counter and watch your breakfast being cooked. I love that the counter has black-eyed Susans picked from the front yard.
I love that when you want your toast toasted Really Well Done they actually believe you and bring it to you that way. And I loved the frittata I had there one morning, which they started on the stovetop and finished under the broiler so that it was tender with just a little crispiness on top. So when we got home, I grabbed a frying pan and some eggs and got down to it.
First I used the pan to toast up the chunks of bread in a little olive oil until they were just the right amount of golden. Out they came, and in went another couple tablespoons of olive oil. Then I whisked up some eggs, stirred in the veggies and cheese and toast chunks and poured it in the pan. I let it cook just until the eggs were beginning to set – about a minute – and then popped the pan in the oven.
10 minutes later I had a pan full of this.
I ran a thin spatula all around it and slid it onto a plate.
And from there cut it into hearty slices and served it up to the Southern husband for supper, while happy memories of sitting at the counter at The Pawlet Station danced in our heads.
You can customize this to your hearts content with different veggies and cheeses…I have a hunk of feta cheese in my fridge that is definitely headed in this direction. So happy breakfast, lunch and/or dinner…any time is frittata time!
Print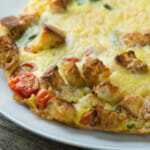 Toasty Cheddar and Vegetable Oven Frittata
---
Yield:

3-4 servings
Ingredients
6 eggs
1 cup shredded cheddar cheese
1 cup asparagus pieces (you can blanch them for a minute in boiling water if you like, but you don't have to!)
1/2 cup halved cherry tomatoes
1 cup bread cubes from a sturdy bread like sourdough or ciabatta
5 tablespoons olive oil
Salt and pepper
---
Instructions
Preheat oven to 425.
Heat 2 tablespoons of olive oil in a ten inch oven-safe skillet over medium high heat. Add bread cubes and a sprinkle of salt and cook the cubes until they are golden, stirring often. Remove and set aside.
Whisk the eggs until frothy. Stir in veggies, cheese and bread cubes.
Heat remaining oil in skillet over medium high heat. Pour in the egg mixture and stir gently until the eggs begin to set, about a minute.
Transfer the skillet to oven and bake for 10 minutes.
Cool slightly and serve, either right from the skillet or transferred to a pretty plate (run a spatula under the edges to loosen.