Grab some bacon, a few heirloom tomatoes, some burrata or mozzarella cheese and basil and you are all set to make the wonder that is this summertime bacon caprese salad recipe!
Well, I thought I had caprese-ed everything there was to caprese (yes, in my world caprese is a verb) but as it turns out, I HAD FORGOTTEN TO CREATE A BACON VERSION. I know!!
If you haven't yet discovered the wonder that is caprese, in its purest form it is a delectable conglomeration of tomatoes, mozzarella cheese and basil, and I do love it that way. And along the way I have turned caprese into an appetizer, a steak topping, a bread pudding and a pastry. Oh, and French Toast (not kidding!)
But wouldn't you think the first lightbulb that went off in my head would have been to add bacon to the mix? Well, better late then never, here I am with bacon caprese salad. Let's make it!
Now, since there are so few ingredients in this recipe, I wholeheartedly beg you to rustle up the best of each kind, starting with the tomatoes.
We are smack in the middle of heirloom tomato season, and there is no better tomato on earth than the heirloom tomato.
After years of being a non-tomato-eater, my Souther daughter has finally come to her senses and has started liking tomatoes. And as luck would have it, we were down in Raleigh visiting her this weekend.
My bunny. Even though she is all grown up with a job (third grade teacher! YAY TEACHERS!) and an apartment and bills of her very own, she will always be my bunny.
Anyway, one of the many fabulous things in Raleigh is their fabulous farmer's market. 30,000 square feet of fresh fruits and veggies and honey and cheese and I could go on and on. And since it is August, there were baskets and baskets of heirloom tomatoes.
Heirlooms may not be the handsomest tomatoes on the block, but they win every single contest for tasting like pure tomato heaven, and since she now likes tomatoes I got her a few of her own. Because my bunny deserves the best tomatoes.
Anyway, if you can score some heirloom tomatoes you are one step towards making bacon caprese salad.
Next stop: CHEESE! Traditional caprese is made with mozzarella which is all kinds of wonderful, but I kicked it up even a notch further by using burrata. If you haven't tried burrata yet, it's like a combo of mozzarella and cream, and it tastes like the voices of angels.
Obviously you need some fabulous bacon – here's my source for bacon, but you use your fave. Thick cut is the best in this recipe.
Brown it up in a skillet and scoop it out to drain on a paper towel, but keep the drippings while you are cutting up the tomatoes and tearing up the cheese. Because you are going to make a dressing out of the drippings, a little red wine vinegar and some olive oil.
I KNOW.
When you have all your lovely ingredients assembled, it's just a matter of laying the tomato slices on a plate, tucking some cheese around them, scattering everything with bacon and basil leaves, and then drizzling your lovely dressing on top.
I think I may have reached all new heights of caprese-ness. What do you think??
Print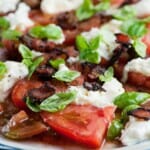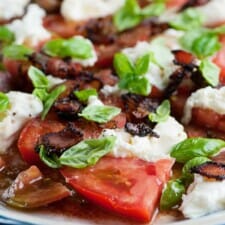 Bacon Caprese Salad
---
Author:

Prep Time:

15 minutes

Cook Time:

10 minutes

Total Time:

25 minutes

Yield:

2

-

3

servings

1

x
Category:

Lunch

Method:

Stovetop

Cuisine:

American
Description
Grab some bacon, tomatoes, cheese and basil and you are all set to make the wonder that is this summertime bacon caprese salad recipe!
---
Ingredients
8

slices bacon, cut into pieces

2

–

3

heirloom tomatoes, sliced

8 ounces

burrata or mozzarella cheese

1/2 cup

basil leaves

2 tablespoons

red wine vinegar

2 tablespoons

olive oil
Salt and pepper
---
Instructions
Cook bacon in a skillet over medium high heat until crisp. Drain on paper towels, leaving drippings in pan.
Arrange the sliced tomatoes on a platter or individual plates. Tear the cheese into bite sized pieces, tucking the pieces in and around the tomatoes. Scatter the cooked bacon and basil leaves on top (if your basil leaves are large, give them a quick chop).
Pour the bacon drippings into a small jar and add the oil and vinegar. Close the lid tightly and shake.
Drizzle the dressing over the salad, sprinkle with a little salt and pepper and serve!
SaveSave
SaveSave
SaveSave
SaveSave