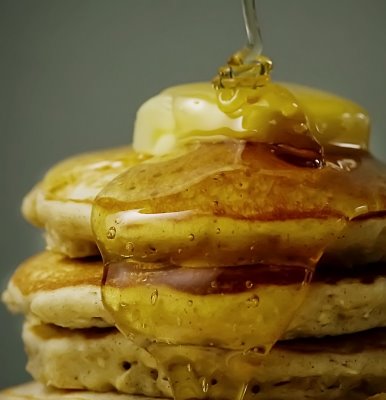 Every once in a while I get a pancake craving, and interestingly it is usually at dinnertime. I am not a big breakfast eater (although I will never ever turn down poached eggs with corned beef hash at the local diner), but the whole concept of breakfast for dinner is appeals to the simple comfort food way that my brain is wired. I don't go for the whole "stuff in your pancakes" approach — no blueberries or bananas or chocolate chips for me, thank you very much. Not that there is anything wrong with that, I know my dear friend Lynne enjoys a good blueberry pancake for lunch every now and again. But I do like experimenting with the basic pancake itself, and so I have recipes for sourdough pancakes, buckwheat pancakes, and of course there is the good old Bisquick variety. (ah, Bisquick. I heart you.) So when I saw this recipe in a recent edition of EVERYDAY FOOD I knew I had to give it a shot.
First of all, it features two of my favorite taste sensations: cinnamon and oatmeal. Good and good for you. Second, it calls for making the pancakes in nice little rounds – only 2-3 tablespoons of batter per pancake, which is SO much easier to deal with on the griddle and nicer on the plate as well. So we broke out the griddle and
gave it a try.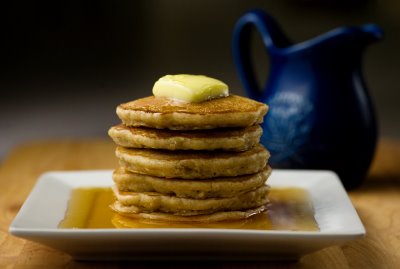 mmmmmmmmmmmmmmm.
Is all I have to say.
Except for this: pancakes must always be anointed with Vermont maple syrup. None of this Canadian stuff, please. Vermont. If you happen to be running low on it, which never happens to me thanks to the fact that my Vermont relatives keep us happily supplied, here is a place you can get it.
Maple Syrup from Middletown Springs, Vermont
If I catch you with Mrs. Butterworth on your table…well, don't let me catch you. Anyway, here's how you make some great pancakes, and don't skimp on the maple syrup:
Ingredients
2 cups flour
1/2 cup brown sugar
1 tablespoon baking powder
1 teaspoon salt
1/2 teaspoon ground cinnamon
2 cups old fashioned rolled oats
2 cups milk
2 large eggs
1/4 cup vegetable oil
Directions
1. In a food processor, combine flour, sugar, baking powder, salt, cinnamon and ONE cup of the oats. Pulse to coarsely grind oats.
2. In a large bowl, combine milk, eggs and oil. Add flour mixture and remaining oats and whisk until moistened.
3. Heat nonstick skillet or griddle over medium. Oil skillet. Using 2-3 tablespoons batter per pancake, ladle batter onto skillet and cook 1-2 minutes. Flip and cook an additional 1-2 minutes until golden.
4. Serve with butter and Vermont maple syrup. From Vermont. The Green Mountain State.