This recipe for torn egg salad spiffs up this lunch classic with herbs and lemon. A light and easy version that will have you thinking new thoughts about egg salad!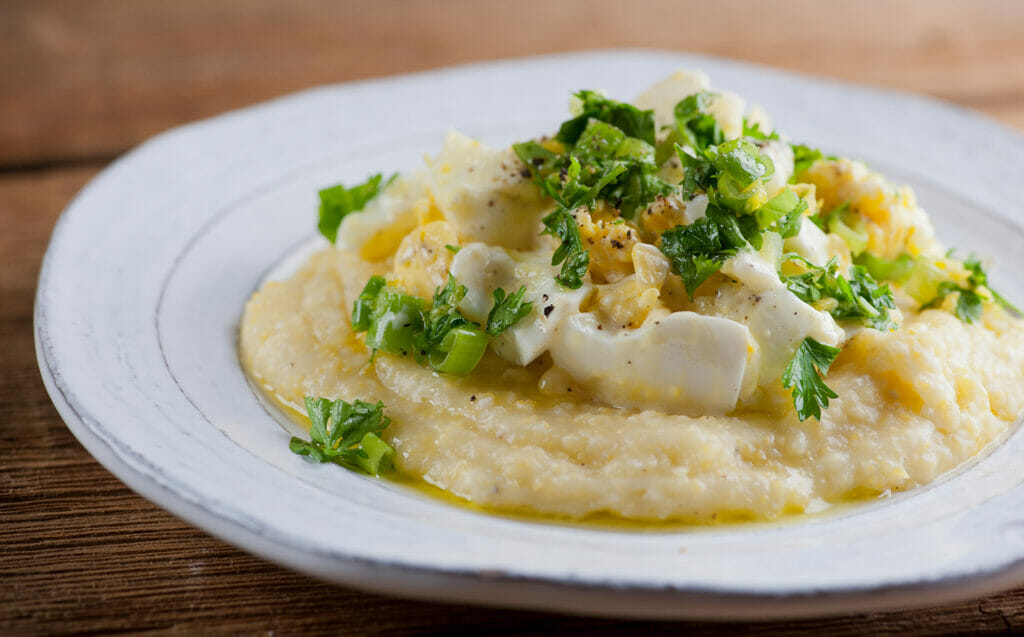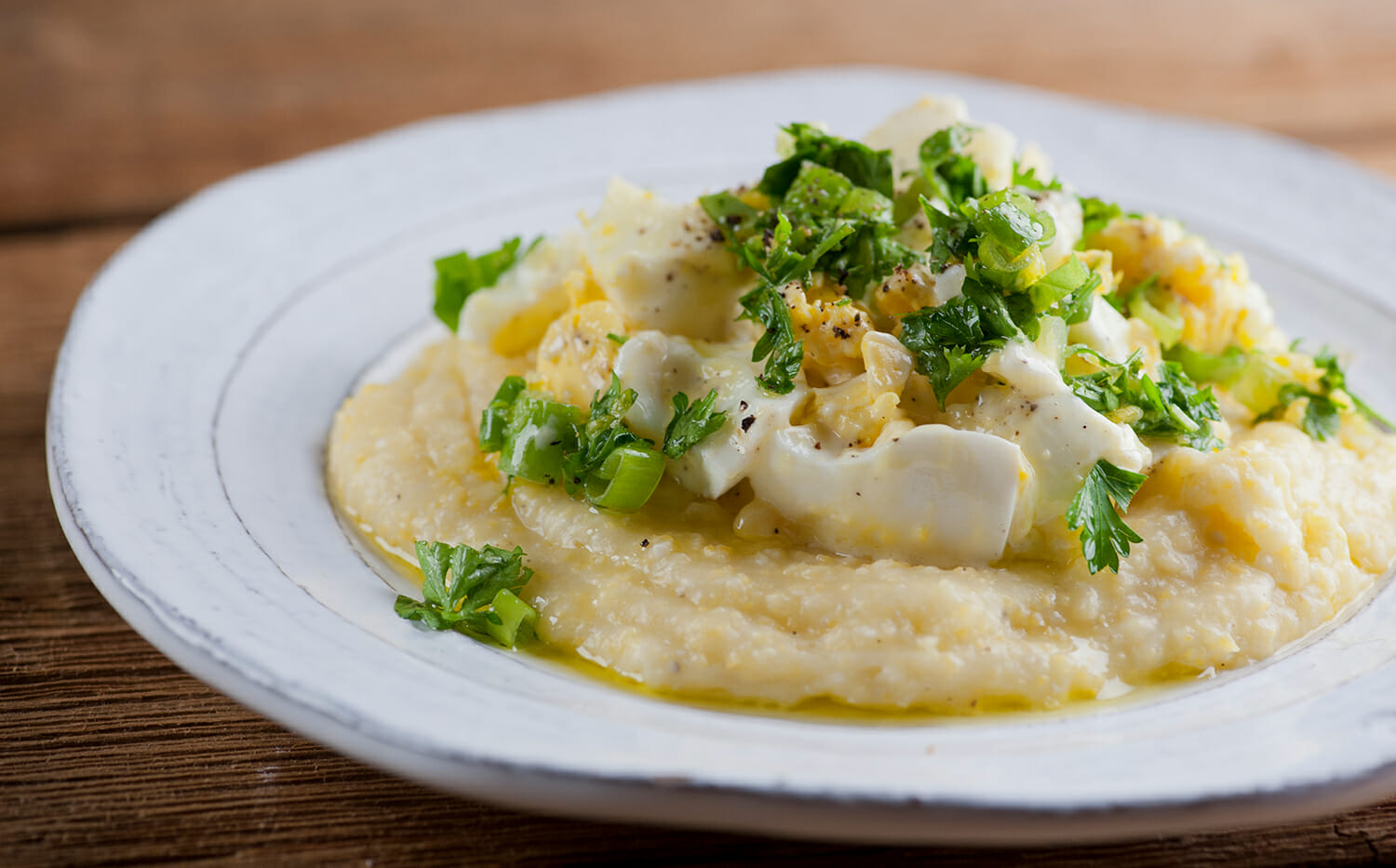 I should start talking about this recipe for torn egg salad by saying that while eggs are definitely among my top ten favorite foods, I've never really liked egg salad all that much.
Poached eggs, soft scrambled eggs, eggs in clouds…I adore them all. But egg salad? Not so much. Too…something. Mushy? I'm not sure.
But then for some mysterious reason I tried making my own version with large pieces of hard boiled egg tossed gently with herbs and scallions and just a little mayo and some fresh lemon juice.
And I served it up on a bed of polenta. And lo and behold, an egg salad lover has been born!
There's something about egg chunks instead of chopped egg that turned the whole egg salad game around for me.
This is an excellent lunch or brunch item when you are needing a healthy but substantial lunch. Exhibit A: Please meet my dog niece and nephew Riley and Max.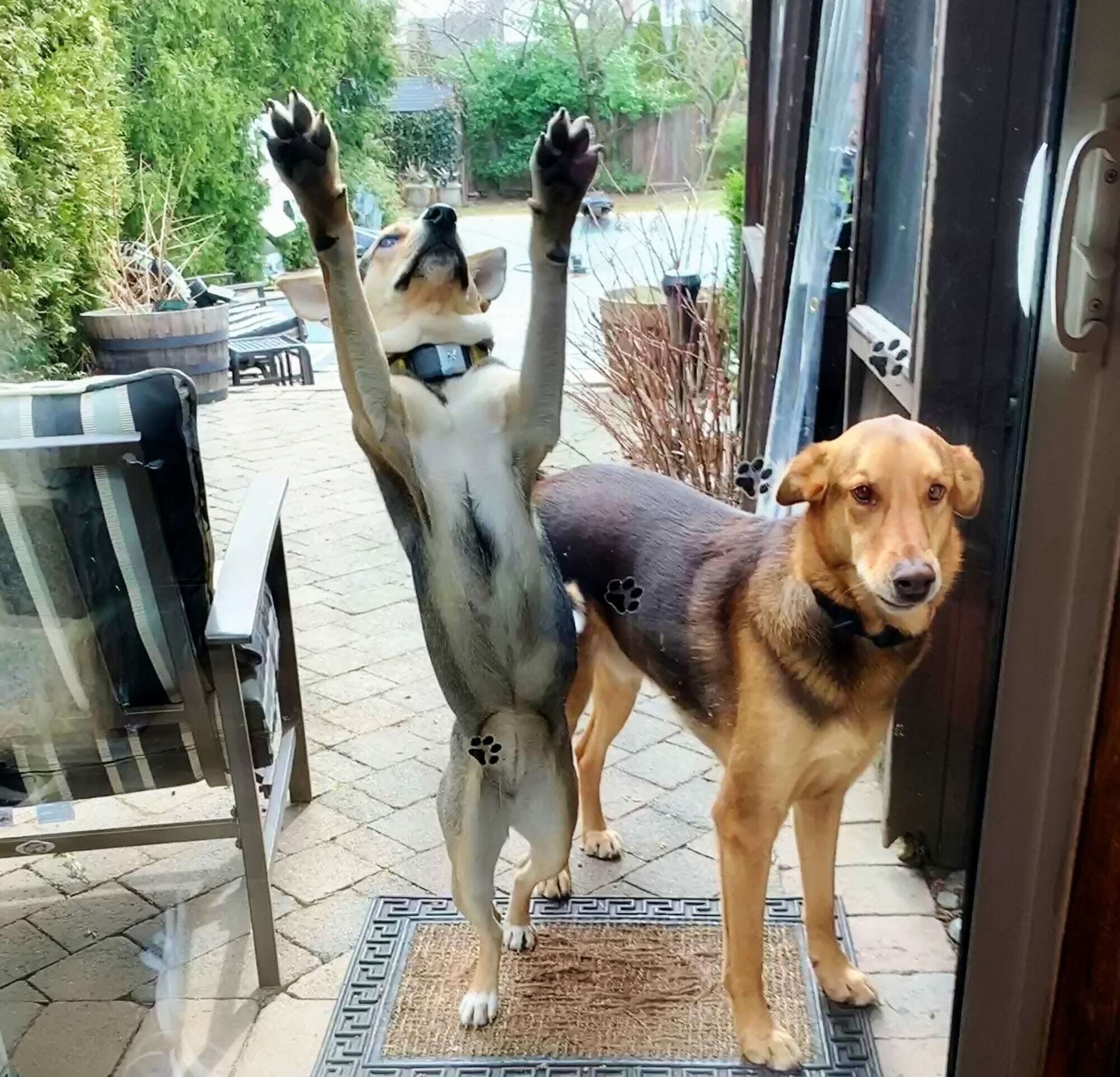 Most days at lunchtime I am Max (the sweet doggo on the right). I'm happy to have lunch, but honestly a cup of yogurt and some applesauce is all I need. A nice chill lunch.
Other days (like today!) I am all kinds of Riley when it comes to lunch. I want it and I want it NOW and I want it to be SATISFYING.
Give. Me. My. Lunch.
And that is where this recipe comes in. Eggs are great little explosions of protein and healthy fat, and when you mix them up with herbs and a little mayo, they are all kinds of delicious.
How to buy the best eggs
The Southern husband and I are super careful about where and what kind of eggs we buy. We look for eggs from pastured or cage-free chickens, and when we can buy local eggs we go for it.
If you want to look for local eggs near you, Local Harvest is a good place to check.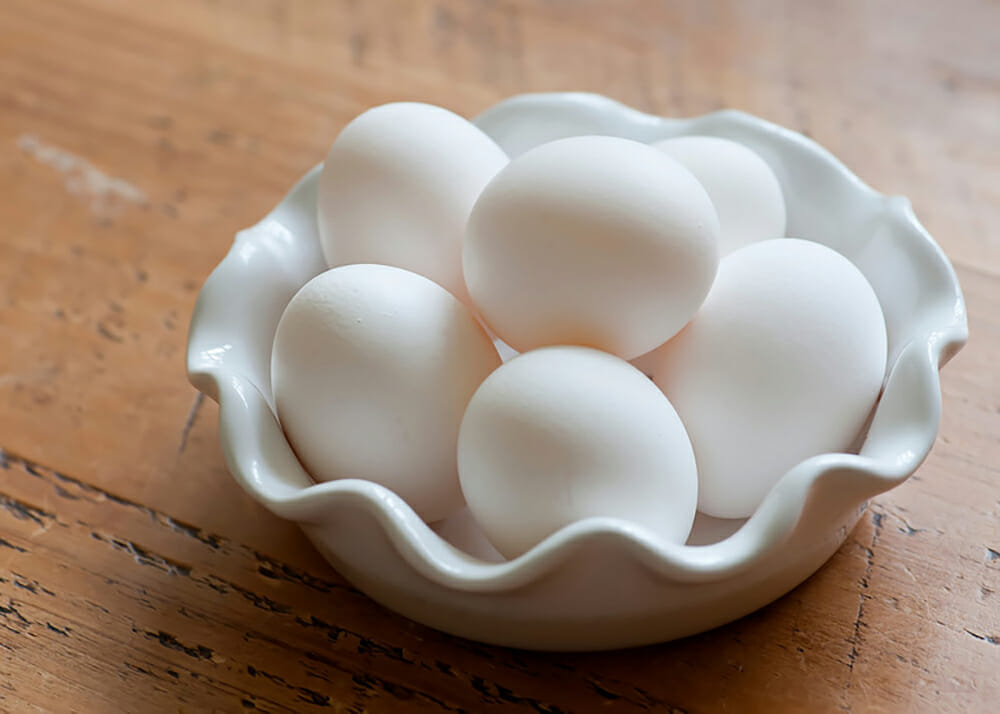 You also want some nice mayo...making your own is super easy, but the store-bought kind also works just fine.
And a handful of your favorite herbs…I love basil when it is in season and parsley when there is no basil (sob!) but this nice flexible recipe will be happy with whatever your favorite herbs are!
How to make torn egg salad
Hard boil the eggs (some day I am going to write about the Southern husband's foolproof method for making the world's most perfect easy to peel hard boiled eggs but for now I have a pretty great method in the recipe below).
When they are cool, peel them and tear them into large but still bite-size pieces. The glorious chunks of egg are key to what makes this recipe so delectable.
Grab your mayo and thin it slightly with a little cider vinegar so it makes a light sauce and toss it with the eggs ever so gently – you want to keep those nice big pieces of egg intact. Shake on a little salt and pepper.
In a separate bowl, mix together your chopped herbs with some chopped scallions, a little lemon juice and some olive oil.
Now, I like to serve this up on a bed of polenta, but it would also be terrific on a piece of buttered toast, or if you are being extra virtuous, on a bed of baby spinach.
Pile the egg salad on top of whatever you want to serve it on, and then pile the herb mixture on top.
And just like that, I am an egg salad groupie! Never say never!
Print
Torn Egg Salad
This recipe for torn egg salad spiffs up this lunch classic with herbs and lemon. A light and easy version that will have you thinking new thoughts about egg salad!
Author: Kate Morgan Jackson
Prep Time:

10 minutes

Cook Time:

9 minutes

Total Time:

19 minutes

Yield:

4

1

x
Category:

Lunch

Method:

Stovetop

Cuisine:

American

Diet:

Gluten Free
8

eggs

1/4 cup

mayonnaise

1

–

2

tablespoons cider vinegar

2

scallions, chopped

1/2 cups

chopped herbs (parsley, basil, thyme and oregano all work great!

1 tablespoon

olive oil

1 teaspoon

fresh lemon juice
Salt and pepper
Cooked polenta, grits, toast or spinach to serve the salad on (optional)
Instructions
Hard boil eggs: Bring a large pot of water to a simmer, gently add eggs and simmer for 9 minutes. Remove into a bowl of ice water until eggs are cool enough to peel. Peel and tear the eggs into large pieces and put in a bowl.
Mix mayo with enough vinegar to make a light sauce. Toss it gently with the eggs. Season with salt and pepper.
Mix herbs, scallions, olive oil and lemon juice together.
Divide egg salad among plates, either by itself or on a bed of polenta or spinach or a piece of buttered toast. Top with herb mixture and serve.
Equipment We Used to Make This Recipe
Notes
Need to add something to your kitchen equipment to make this recipe? Below are some of the items we used in the Framed Cooks kitchen to help cook this up. These are affiliate links to things we use and love, which helps to pay for all that bacon I keep buying!
Keywords: torn egg salad recipe, how to make egg salad, egg recipes, lunch egg recipes, brunch egg recipes
Updated (and made even more delicious!) from a previously published Framed Cooks post!