Never again be afraid of making delicious homemade bread with this easy recipe for almost no knead bread! Perfect artisan style bread every time.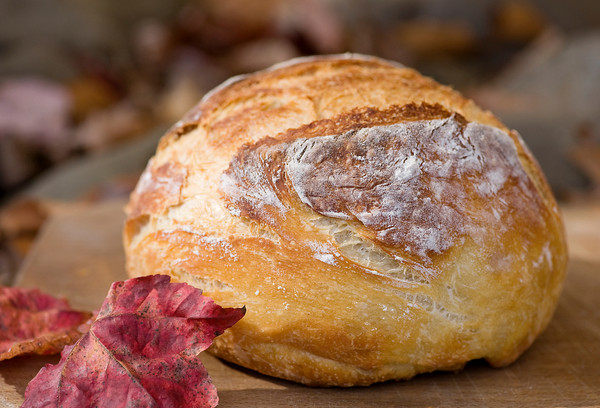 There aren't very many things I am afraid to attempt, recipe-wise. I've triumphantly conquered chicken-fried steak. I've made my own pork dumplings.
I will modestly tell you that I have made the Best Molasses Cookies In The Entire World. I have successfully cooked with Fritos, and my family has survived.
But there is one thing that still really intimidates me, and that is BREAD.
I'm not sure why, although I think it might be the whole thing with the yeast and the rising. It's NERVEWRACKING!
You stir up the yeast and the flour and the water and the salt, and there are all these dire warnings about measurements and temperature, and you spend the next few hours circling around it to see if the dang thing is going to RISE or not. Sometimes it does…and sometimes it doesn't.
It's just all too anxiety-provoking for me, and yet I keep coming back to it all, because when it works, there is nothing quite as fabulous as a slice of warm, homemade bread and butter.
Then this recipe came into my life. It's inspired by Jim Lahey's recipe but with a few tweaks here and there, and I promise you if I can make bread, YOU can make bread. Here we go!
Here's how you make almost no knead bread!
Mix up flour, yeast, water, a little beer and a little vinegar in a bowl. Cover it with plastic wrap and then go do something else for 18 hours. (Yes, 18 hours).
Then knead it about 10 times, just enough to make it come together into a nice smooth ball. Put it on a piece of greased parchment paper, cover it again and go find something else to do for another two hours.
Thirty minutes before baking time, take your handy dutch oven and put it in the oven and set the temperature to 500. (Yes, 500.) When it is time to bake, take the Dutch oven out of the oven Very Carefully and using the parchment as a handle, lay the dough in the pot parchment and all, and cover it up.
Put the pot back in the oven and lower the temp to 425. Bake with the cover on for 30 minutes, and then another 20 or so with the cover off. At the end of this lengthy process, you will have a perfect, round loaf of delicious country style bread.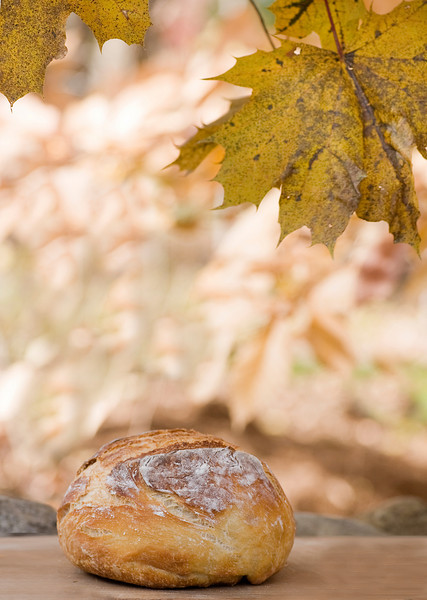 I think my days of being intimidated by yeast are over!

Print
Almost No Knead Bread
Never again be afraid of making delicious homemade bread with this easy recipe for almost no knead bread! Perfect artisan style bread every time.
Author:
Prep Time:

20 minutes

Cook Time:

50 minutes

Total Time:

1 hour 10 minutes

Yield:

1

loaf

1

x
Category:

Dinner

Method:

Stovetop

Cuisine:

American
3 cups

flour, plus additional for dusting work surface

1/4 teaspoon

instant or rapid-rise yeast

1 1/2 teaspoons

salt

3/4 cup

plus 2 tablespoons water, at room temperature

1/4 cup

plus 2 tablespoons beer

1 tablespoon

white vinegar
Instructions
Whisk flour, yeast, and salt in large bowl. Add water, beer, and vinegar.
Stir ingredients together with a wooden spoon until it forms a shaggy looking ball. You may have to coax it together with your hands at the end.
Cover bowl with plastic wrap and let sit at room temperature for 8 to 18 hours. Really.
Lay 12- by 18-inch sheet of parchment paper inside a 10-inch skillet and spray with nonstick cooking spray.
Transfer dough to lightly floured work surface and knead 10 to 15 times. Shape dough into ball by pulling edges into middle. Transfer dough, seam-side down, to parchment-lined skillet. Cover loosely with plastic wrap and let rise at room temperature until dough has risen a bit more, about 2 hours.
About 30 minutes before baking, adjust oven rack to second lowest position, place 6- to 8-quart heavy-bottomed Dutch oven (with lid) on rack, and heat oven to 500 degrees.
Lightly flour top of dough and, using razor blade or sharp knife, make one 6-inch-long, 1/2-inch-deep slit along top of dough. Carefully remove pot from oven and remove lid. Pick up dough by lifting parchment overhang and lower into pot (let any excess parchment hang over pot edge). Cover pot and place in oven.
Reduce oven temperature to 425 degrees and bake covered for 30 minutes. Remove lid and continue to bake until loaf is deep brown, about 20 to 30 minutes longer. Carefully remove bread from pot; transfer to wire rack and cool to room temperature, about 2 hours. If you can wait that long.
Keywords: vegetarian no knead bread, dairy-free easy no-knead bread
Recipe adapted lightly from the Cooks Illustrated version, who adapted it from Jim Lahey's classic version