Like your burgers smashed with lots of nooks and crannies for cheese? Here's your recipe for thin but amazingly juicy diner burgers!  Double up the burger for twice the deliciousness.
Welcome to the second round of the Battle Of The Burgers!  A few days ago during Round One, I talked about the thick, juicy tavern burger, favorite of the Southern husband, the Southern daughter, and I'm sure many more of you out there.  Today I bring you…the diner burger!
A moist, flavorful, smashed down burger with tons of nooks and crannies to hold melty cheese.And by the way, thin enough that you can double up and have two of them in one delectable burger.  That's right. TWO.  Ready for double the deliciousness?  Let's make it!As with it's bigger cousin the tavern burger, this is a burger you want to make in a skillet or on your electric griddle, as it needs a nice hot, solid surface to cook on.  And also as with the tavern burger, you want the very best ground beef you can get your mitts on.
So here is a repeat of  plea for you to try grinding your own, which you can do in your food processor or if you have a Kitchen-Aid mixer, they make a terrific meat grinding attachment.
And if you aren't up for doing that, then go to the meat counter and your supermarket and ask for freshly ground chuck steak. I guarantee that it is going to be better than anything in the shrink-wrapped packaging. And again,  YOU'RE WORTH IT!
Here's How To Make The Perfect Diner Burger
But this is where the burger roads diverge.  Once you have your ground chuck and you season it up, you are going to divide it into four piles, and oh so gently push the piles together into loose balls.  They should not look anything like a patty – they should look like a just-barely-holding-together ball of ground beef.
Fire up your skillet or griddle to high heat and melt a little butter on it.  Now transfer the piles onto the cooking surface, leaving lots of room in between.  Grab your favorite spatula and smoosh them down until they are ragged patties that are about 1/2 inch thick and sizzling away.
Leave them to cook for two minutes, and then carefully flip them over, and immediately lay a piece of cheese on top.  Cover them with a big pot lid and cook for one more minute, and then move them immediately to the burger rolls.  If you are extremely strong-willed you can just have one patty per burger, but these are pretty much crying out to be doubled up.
What you have here is a couple of tender thin burgers with crispy charred edges and cheese melting into every nook and cranny.  Load them up with your favorite toppings (which by the way stay in place so obediently with thinner burgers) and dig in.
With all due respect to the Southern husband and all his tavern burger loving friends, I don't know what could possibly top a diner burger.  Double burger style.
Well, of course.  There is THAT.
I'll be back in a few days with one last burger (it's a ringer!) but until then – what's your favorite burger passion?
Print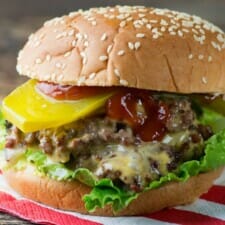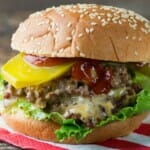 Diner Burgers
---
Author:

Prep Time:

10 minutes

Cook Time:

10 minutes

Total Time:

20 minutes

Yield:

2

-

4

servings

1

x
Category:

Dinner

Method:

Stovetop

Cuisine:

American
Description
Like your burgers smashed with lots of nooks and crannies for cheese? Here's your recipe for thin but amazingly juicy diner burgers!
---
Ingredients
1 tablespoon

butter

1

pound ground beef chuck steak

½ teaspoon

salt

¼ teaspoon

pepper

2

slices American cheese

2

hamburger rolls
Your choice of toppings: lettuce, ketchup, mayo, mustard, relish, sliced pickle, etc!
---
Instructions
Divide the ground chuck into 2 portions and season the portions with salt and pepper.
Gently form them into 4 piles that are held together ever so loosely. Not patties, just round piles.
Heat a cast iron pan or a griddle to medium high, and add butter. When the butter is melted, increase the heat to high and add the piles. Using a spatula, press down on them until they are spread about 1/2 inch thick. Cook them for two minutes on the first side WITHOUT moving them.
Fllip them over carefully and lay a piece of cheese on top and cover the skillet (if you are using a griddle, a large pot cover will work for this). Cook one more minute until the cheese is melted.
Remove the burgers to a plate and let them rest for a minute or so. Place them on rolls with your choice of toppings. With this type of burger, it's totally fine to use two patties per burger – yet another reason to love diner burgers best!
Notes
This recipe is for medium rare burgers. If you like your burgers more well done, simply increase the cooking time on each side by a minute or two. One way or the other, add the cheese during the last minute of cooking.