Framed Cooks takes on the craze that is Mississippi Roast in a version of this recipe that features some fresh ingredients.
You didn't think I was going to sit out the craze that is Mississippi Roast, DID YOU?  Nope, not this girl.
Anything that is beef and slow-cooked and shredded and taking Pinterest by storm is absolutely going to make an appearance on my table.  And while my mama did the initial research by making the original version, I of course needed to mess with success just a teeny tiny bit.
Meaning that I followed the lead of the version in the New York Times and switched out some of the packaged ingredients for some fresh ones.
Meaning that I served it on a bed of polenta, because I will take any excuse to serve things on a bed of polenta.
But overall, this is pretty close to the real thing, so with great thanks and admiration to the inventors of this deliciousness, here's my spin on Mississippi roast.  Let's make it!
The original recipe calls for a stick of butter, a package of powdered ranch dressing, a package of powdered gravy mix and some pepperonchini peppers, all poured on top of a chuck roast and slow cooked for hours until you can shred it apart.
I'm all for butter and ranch dressing and gravy and slow cooking things for hours.  I'm not so much for powdered dressings or peppers, and as much as I appreciated and ate WAAAAAAY more than my fair share of the original, I thought I could make it a little less salty and little moister if I changed things up a little.
Here's how you make the fresher ingredients version of Mississippi Roast!
I kept the stick of butter, but I made sure to use an unsalted stick of butter.  (See how much healthier things are getting?)  There's going to be plenty of salt with the  other parts of the recipe to keep things seasoned up.
As for that ranch dressing, I kept it, but I made my own super fast liquid version out of buttermilk, mayo, sour cream and a few other things.  You dump them all into a mason jar, shake it really hard and you are done.
Not as easy as tearing open a packet, but you get to skip all the chemicals, and it adds a little liquid to the mix to help tender up the roast.
As for the gravy, I went with a little flour and beef broth instead.  Again, you're getting the point of the gravy, but with a little extra liquid and zero chemical stuff.
As for the peppers, I figured that they were in there to add a little acidic zip, so I went with a little apple cider vinegar because peppers are just not my jam.
So, armed with my own ranch dressing and my own gravy-ish thing, I dumped it all into the slow cooker with the butter and the chuck roast, set it for eight hours, and came back to a tender, shreddable roast sitting in a bath of deliciousness.
I took out the roast, shredded it and dunked it back into the sauce.  Then I cooked up some of my favorite polenta and scooped out servings of the roast with a slotted spoon.  I wanted the taste of the sauce, but not so much that it overwelmed the beef or the polenta.
Oh, and I scattered some chopped parsley on top, because we needed a vegetable.  HA.
And while I give total and complete credit to the genius inventors of Mississippi Roast, and extra credit to Sam Sifton, I'm loving my New Jersey version of it too.
Have you tried this sensation, and did you vary it up at all?  Let me know, because I'm willing to go back in again!
Print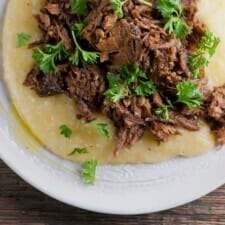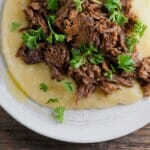 Mississippi Roast
---
Author:

Prep Time:

15 minutes

Cook Time:

8 hours

Total Time:

8 hours 15 minutes

Yield:

8

servings

1

x
Category:

Dinner

Method:

Slow Cooker

Cuisine:

Southern
Description
Framed Cooks takes on the craze that is Mississippi Roast in a version of this recipe that features some fresh ingredients.
---
Ingredients
One large beef chuck roast, 3-4 pounds
Salt and pepper
One stick unsalted butter (1/2 cup)

1/4 cup

flour

1/2 cup

beef broth

2 tablespoons

apple cider vinegar
Fresh chopped parsley
For the ranch dressing
1/2 cup

buttermilk

3 tablespoons

sour cream

2 tablespoons

mayonnaise

1 teaspoon

chopped shallot

1

clove garlic, chopped

1/2 teaspoon

mustard

1/2 teaspoon

salt

1/2 teaspoon

pepper
---
Instructions
Season the roast with salt and pepper, place it in a large slow cooker, and put the stick of butter on top of it.
Stir the beef broth and flour together and pour over the roast. Pour the vinegar on top next.
Make the ranch dressing: combine all ingredients together in a jar, shake vigorously, then pour over the roast.
Cover the slow cooker and cook on low for 8 hours.
Remove the roast, shred with two forks, and return shredded beef to the cooker and stir around in the sauce.
Scoop out servings of beef with a slotted spoon and serve over grits, polenta, pasta or rice.