This recipe for frosted meatloaf with mashed potatoes playing the part of the frosting may change forever how you look at this family supper favorite!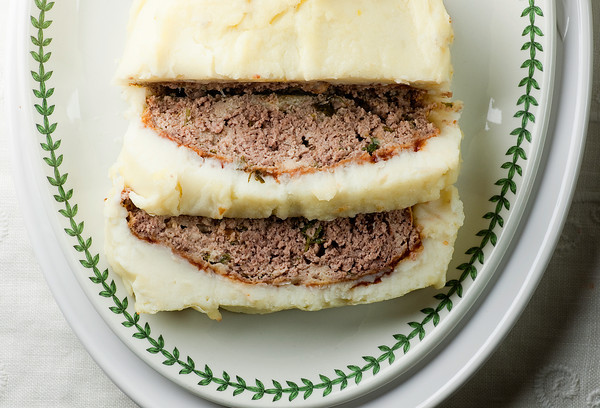 Every once in a while I get an unstoppable craving for meatloaf.  It doesn't happen often, but when it does, there's nothing to do but drop everything and make meatloaf.  Good old, plain old, reliable meatloaf.
And usually with this craving comes the need to have mashed potatoes and peas-and-carrots with the meatloaf.
This morning the craving struck…but with a twist.  I read somewhere about the concept of frosted meatloaf, with the frosting being the mashed potatoes.  And the more I thought about it, the more I had to go for it.  I'm completely devoted to shepherd's pie, and frosted meatloaf is pretty much the exact same thing in meatloaf form, when you think about it.
So I started out with a good basic meatloaf glazed with a topping of ketchup mixed with brown sugar.  Your standard meatloaf.  Yum.
When it came out of the oven, I had the mashed potatoes all ready to roll.  Now, if I had been feeling REALLY energetic I would have made them from scratch, but I will be totally honest and tell you I bought a tub of the already-made variety at the supermarket.
I like the Simply Potatoes brand – they are usually in the refrigerated section next to those rolls of tube biscuits that I secretly adore, and they are pretty dang good for pre-made mashed potatoes.
Anyway, when the meatloaf came out of the oven I took my handy spatula and frosted that baby up with the mashed potatoes.  Then I brushed the top with melted butter and put the whole thing under the broiler for about 3 minutes, just enough to brown the potatoes in a few teeny places here and there.
It came out looking like a mashed potato cake.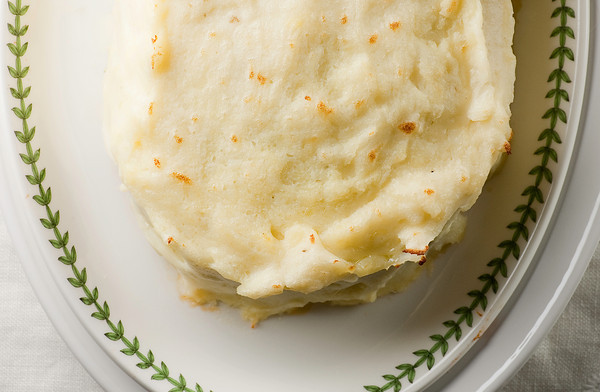 The Southern husband suggested putting a candle in it before I took its picture, but frankly, I was too eager to actually EAT the thing to get too fancy with the photography.
And you know what?  It was everything I hoped and dreamed it would be.  Warm and wonderful and comforting meatloaf with a coating of creamy mashed potatoes, and yes, some peas and carrots on the side.
All is now right with my world.
Print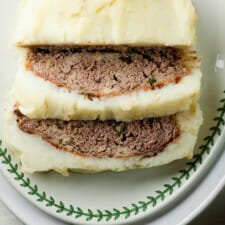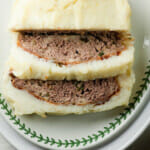 Frosted Meatloaf
---
Author:

Prep Time:

20 minutes

Cook Time:

1 hour, 5 minutes

Total Time:

1 hour 25 minutes

Yield:

8

servings

1

x
Category:

Dinner

Method:

Oven

Cuisine:

American
Description
This recipe for frosted meatloaf with mashed potatoes playing the part of the frosting may change forever how you look at this family supper favorite!
---
Ingredients
1 cup

milk

6

slices bread

2

pounds ground beef

1 teaspoon

salt

1/2 teaspoon

pepper

1/4 cup

chopped parsley

4

eggs, beaten

1 1/2 cups

ketchup

1/4 cup

brown sugar

3 cups

prepared mashed potatoes (see note)

1/4 cup

melted butter
---
Instructions
Preheat oven to 350 degrees.
Put the bread slices in a large mixing bowl, pour the milk over them and let them soak until they have absorbed the milk.
Add the the ground beef, salt, black pepper, and parsley to the bowl, mix it up (this is best done with clean hands) and add the eggs.  Mix again.
Pat the mixture into a loaf shape.  Line a rimmed baking pan with foil, put a cooking rack on it and put your meatloaf on the rack (this will let the fat drain off as it cooks).
Put the ketchup and brown sugar in a mixing bowl and stir it up. Pour it over the top of the meatloaf and spread it over the sides with a spatula.
Bake for your meatloaf for an hour, then take it out of the oven and let it sit.   Increase the oven temperature to 450.
Cool meatloaf for 10 minutes, then "frost" top and sides with warm mashed potatoes. Brush with melted butter and return to oven and bake until potatoes are brown on the edges, about 5-10 minutes. Slice and serve!
Notes
This is a great way to use up leftover mashed potatoes (and here's a great recipe for those), or you can find already prepared mashed potatoes in your supermarket's dairy section.