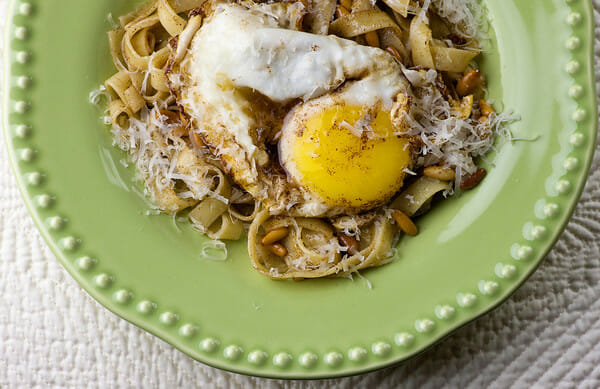 If I had to make a top ten list of foods that I love, it would probably go something like this:
1. Bacon
2. Pasta
3. Bacon
4. Eggs
5. Bacon
6. Pasta
7. Bacon
8. Bacon
9. Bacon
10. Chocolate
So a recipe called Brown Butter Pasta with Egg?  Oh, man.  Yes please.  First, just a little bit about brown butter.  It's pretty much exactly what you think it is…butter that has been melted on the stove and cooked until it turns brown.  Why the brown?  Because when you cook butter that long, it gets this nutty, intensely buttery flavor that is just plain out of this world.  It's like buttered butter.  You have to try it to believe it.
And in this case, not only are you going to use the browned butter on your pasta.  Oh no.  You are also going to cook a couple of eggs in the browned butter, just until they are nice and soft-set.  Then you are going to toss some pine nuts in the brown butter until they are warm.  Then you are going to toss the pasta and a little pasta water in with the brown butter and divide it among some plates.  Then you are going to nestle one of those fried eggs on top of the pasta on each plate, and ever so lovingly break the egg so the yolk runs through the brown butter pasta.  Then you are going to sprinkle the whole thing with some fresh grated Parmesan cheese, a little fresh ground pepper and some nutmeg.  Yes you are.
It's going to be SO wonderful, you won't even miss the bacon and the chocolate.
Brown Butter Pasta with Egg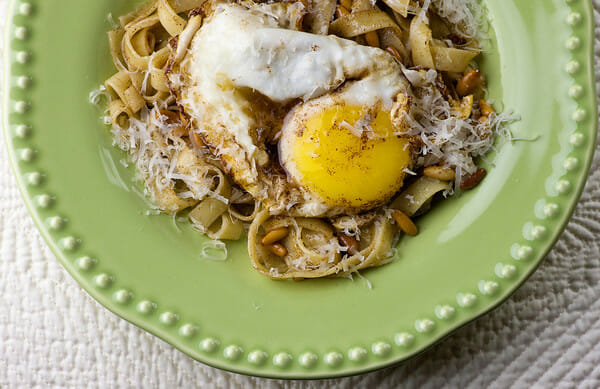 Ingredients
Kosher salt, to taste
8 oz. fresh pasta, such as fettuccine or tagliatelle
1 cup (2 sticks) unsalted butter
3⁄4 cup pine nuts
4 eggs
Freshly ground black pepper, 
to taste
Freshly grated Parmesan 

Grated nutmeg, to taste
Directions
1. Bring a large pot of salted water to a boil and add pasta; cook, stirring occasionally, until al dente, about 4 minutes. Set a strainer over a bowl; drain pasta, reserving 1⁄2 cup pasta cooking water, and set aside.
2. Melt butter in a 12" skillet over medium heat. Add pine nuts and cook, stirring often, until golden brown, about 10 minutes. Using a slotted spoon, transfer pine nuts to a bowl. Working in two batches, crack eggs into butter and cook, spooning butter over yolks, until whites are set but yolks are still runny, about 3 minutes. Transfer eggs to a plate and keep warm. Add pasta and half the pine nuts to skillet and toss until hot. Stir in some of the reserved pasta water to create a sauce, and season with salt and pepper. To serve, divide pasta between 4 serving plates and top each serving with a fried egg. Sprinkle with remaining pine nuts, Parmesan, and nutmeg.
Brown Butter Pasta with Egg
, from 
Saveur