Zucchini Carpaccio is a quick salad of thin sliced zucchini, fresh ricotta and a lemon juice and olive oil drizzle. The perfect summer recipe!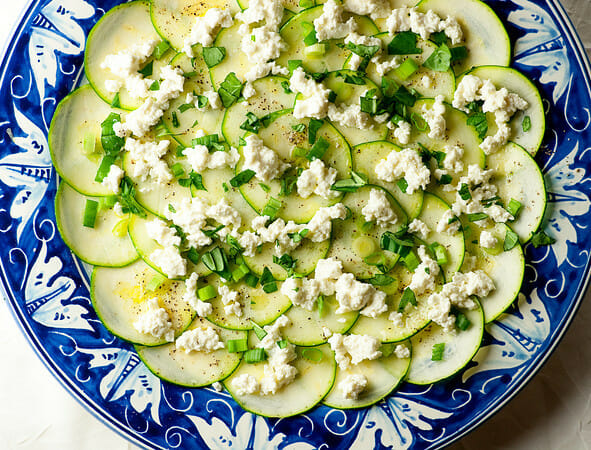 Here's the latest in the Friday Night Lights series of light suppers the Southern husband and I have been having lately.   It's nice and light and involves one of my favorite things in life, which is fresh ricotta cheese.  First of all, I love to make ricotta.  It is one of the easiest things in the world to make and when you are done (in about 10 minutes) you feel supremely worldly and intelligent for being able to make your own ricotta cheese. 
Zucchini Carpaccio is a quick salad of thin sliced zucchini and fresh ricotta...perfect for summer!Click To TweetSecond of all, I love to eat ricotta, and therein lies a confession about this particular post.  After I took that picture up there, and the one below, I went back and added a bunch more ricotta.  I wanted you to be able to see all the nice layered zucchini slices, but I also wanted to be able to eat lots and lots of fresh ricotta, and there you go.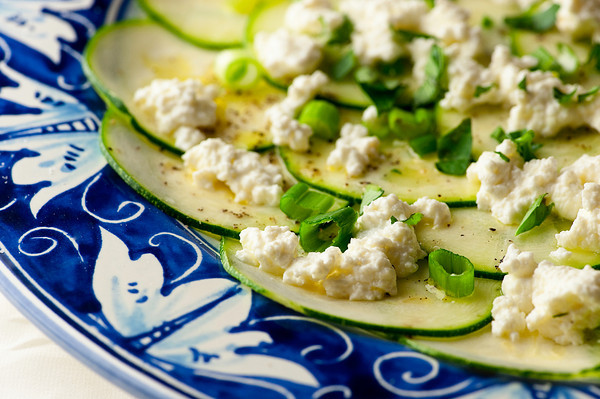 Once you've made the ricotta the rest of this dish is a snap.  Slice the zucchini as thin as you can get it.  I used a  Mandoline Slicer
, but you could also use just a plain old knife, if you are a really good thin zucchini slicing type of person.  Then arrange them in a pretty pattern on a pretty plate.  Drizzle with a mixture of fresh lemon juice and nice olive oil, scatter on some chopped scallions, grind on some fresh pepper, and spoon on as much ricotta as you can handle.  (I can handle a LOT).  Then chop up a handful of fresh basil (or any other herb that catches your fancy), and that's it!  We ate this in our usual Friday Night Lights style – cuddled up on the couch from one plate with some jazz on the stereo — but it would be a great side dish for grilled steak or chicken.  And its almost, almost grilling season!
Happy sigh.
Print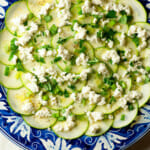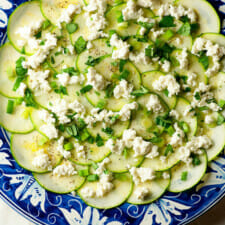 Zucchini Carpaccio
---
Ingredients
5 medium zucchini, trimmed
Coarse kosher salt
Freshly ground black pepper
2 green onions, thinly sliced
3 tablespoons fresh lemon juice
3 tablespoons extra-virgin olive oil
One cup ricotta cheese, preferably fresh
2 tablespoons chopped fresh basil
---
Instructions
Using knife or mandoline slicer, cut zucchini into paper-thin rounds.
Arrange rounds, slightly overlapping, on large platter. Sprinkle lightly with coarse salt and pepper, then green onions.
Whisk lemon juice and oil in small bowl. Drizzle dressing evenly over zucchini.
Drop small spoonfuls of cheese all over zucchini. Sprinkle with basil and serve.
Recipe adapted from Bon Appetit
SaveSave
SaveSave