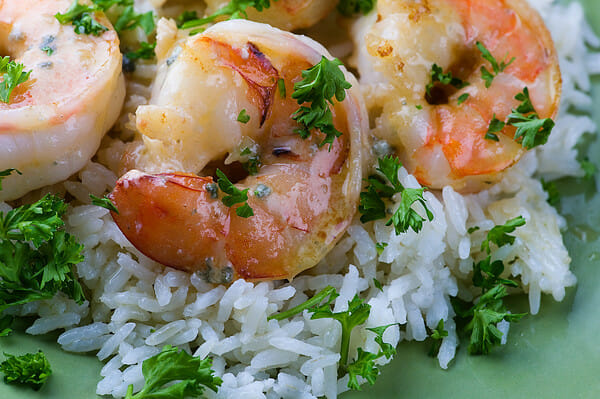 Shrimp, shrimp, shrimp….what else can I tell you about shrimp that I haven't said a hundred times before?
Here's my shrimp video, in case you missed it last time…
I kind of can't believe I made this whole shrimp slideshow extravaganza without including this recipe, which I love with a passion and which I have been making ever since the Southern husband and I were first engaged, lo those many years ago. It is still as scrumptious as it was back then, and is one of those easy, reliable, elegant recipes that you will go to again and again…at least, I do. So for all you shrimp-lovers out there, here's one of my all-time favorites.
Shrimp in Gorgonzola Sauce
Ingredients
10 ounces large shrimp, peeled and deveined
2 tablespoons butter
1 minced garlic clove
1½ tablespoons fresh lemon juice
½ cup crumbled gorgonzola cheese
Chopped fresh parsley
Fresh ground pepper
Instructions
Melt butter with garlic in large pan over medium high heat, and saute shrimp until opaque. Add cheese and lemon juice and stir until cheese is just melted.
Serve over rice, garnished with parsley and fresh ground pepper