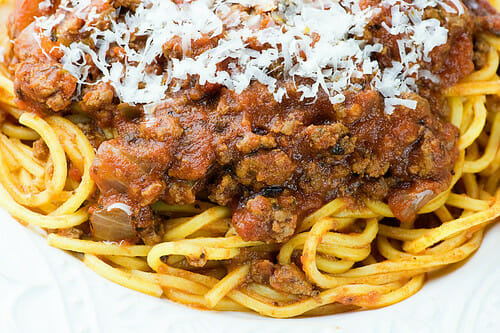 This recipe, along with my beef barley soup and a chocolate pudding cake , is the reason I adore my slow cooker. Yes, it is a huge, old-fashioned, clunky appliance that only does one thing. But MAN! it does that one thing really well, and I promise you that if you will just drag yours out of the attic or basement or garage or wherever you have it and make this sauce, you will be a believer! Trust me on this one, will you? I won't let you down.
Now with most things that have to do with my slow cooking, this recipe makes way too much to eat in one sitting, unless you are feeding an entire Boy Scout troop.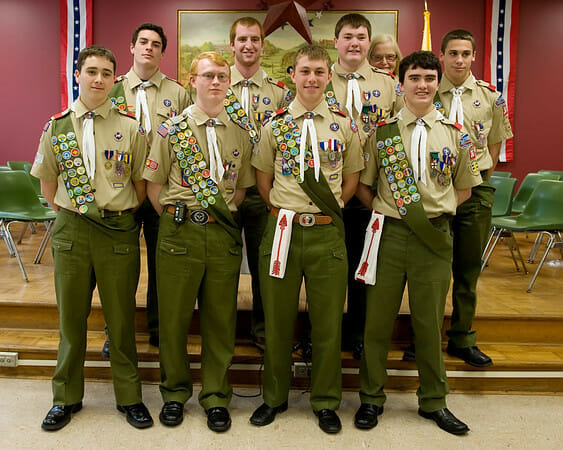 But that is why they invented those disposable Gladware containers – just scoop the leftovers into those babies, pop them in the freezer, and so long as you have spaghetti in the house somewhere you will be all set for future dinners when you are faced with a ravenous family and your mind is a blank.
In the meantime, this is a fantastic, rich, meaty sauce that cooks away all day long in the slow cooker and makes your kitchen smell like an Italian paradise. There is just the tiniest bit of prep involved (browning the meat), and then the whole shebang gets dropped in the reliable old slow cooker, and your work is done for the day. Some pasta, a little fresh grated Parmesan cheese, and you are in dinner heaven.
Go find that slow cooker now. I know you have one somewhere.
Print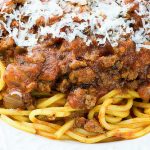 Best Slow Cooker Bolognese Sauce Ever!
---
Ingredients
2 pounds ground beef
1 medium onion, chopped
8 cloves garlic, minced
3 14 oz cans chopped tomatoes, drained
2 15 oz cans tomato sauce
2 6 oz cans tomato paste
1/3 cup sugar
2 tablespoons dried oregano
1 tablespoon dried basil
2 teaspoons dried marjoram
1 teaspoon salt
1/2 teaspoon pepper
---
Instructions
Cook beef in large skillet until browned.
Drain and transfer to 5 quart slow cooker. Stir in all remaining ingredients, mix well.
Cover and cook on low for 8-10 hours.
Serve over your favorite pasta. Happy sigh.