Move your favorite lunch noodles earlier in the day with this speedy recipe for the best breakfast ramen you've ever tasted!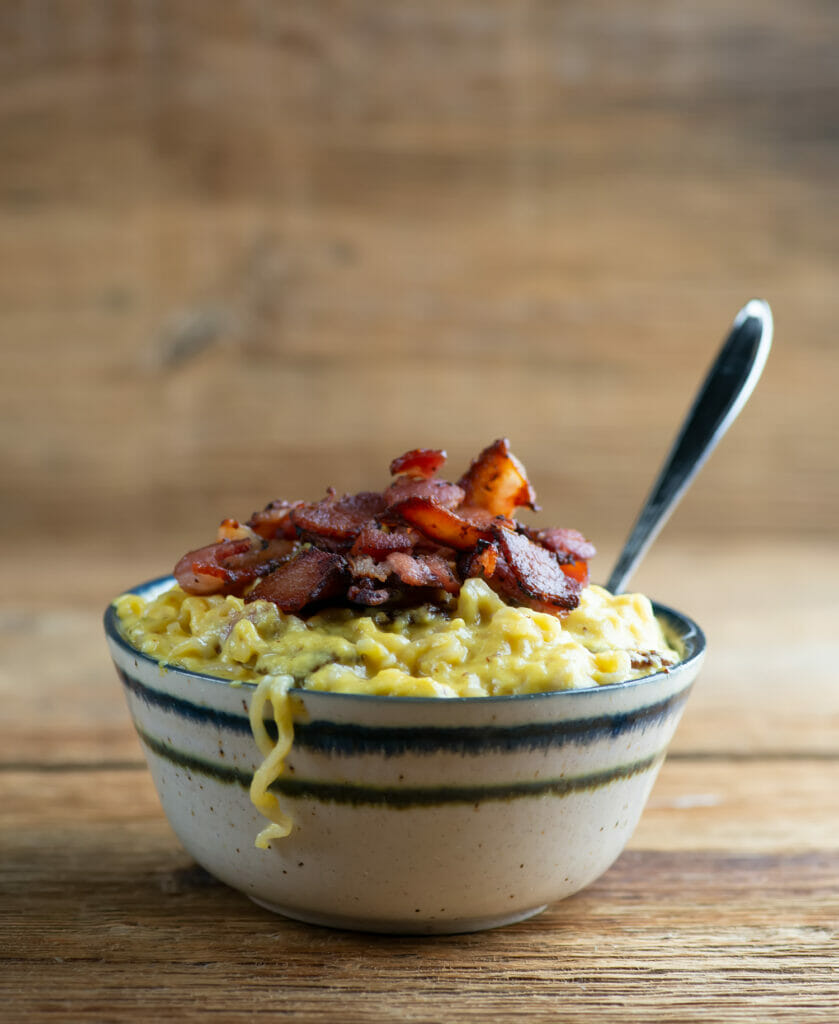 OK, let's talk ramen. You know, the noodles that come in the crackly package with that little flavor packet.
I always have a packet or two around, and no, it is not the best thing in the world for you, but it is delicious comfort food to the max, and a little ramen a few times a year is also not the worst.
And sometimes you want to indulge in a little naughtiness for breakfast when the first thing you did that morning was THIS!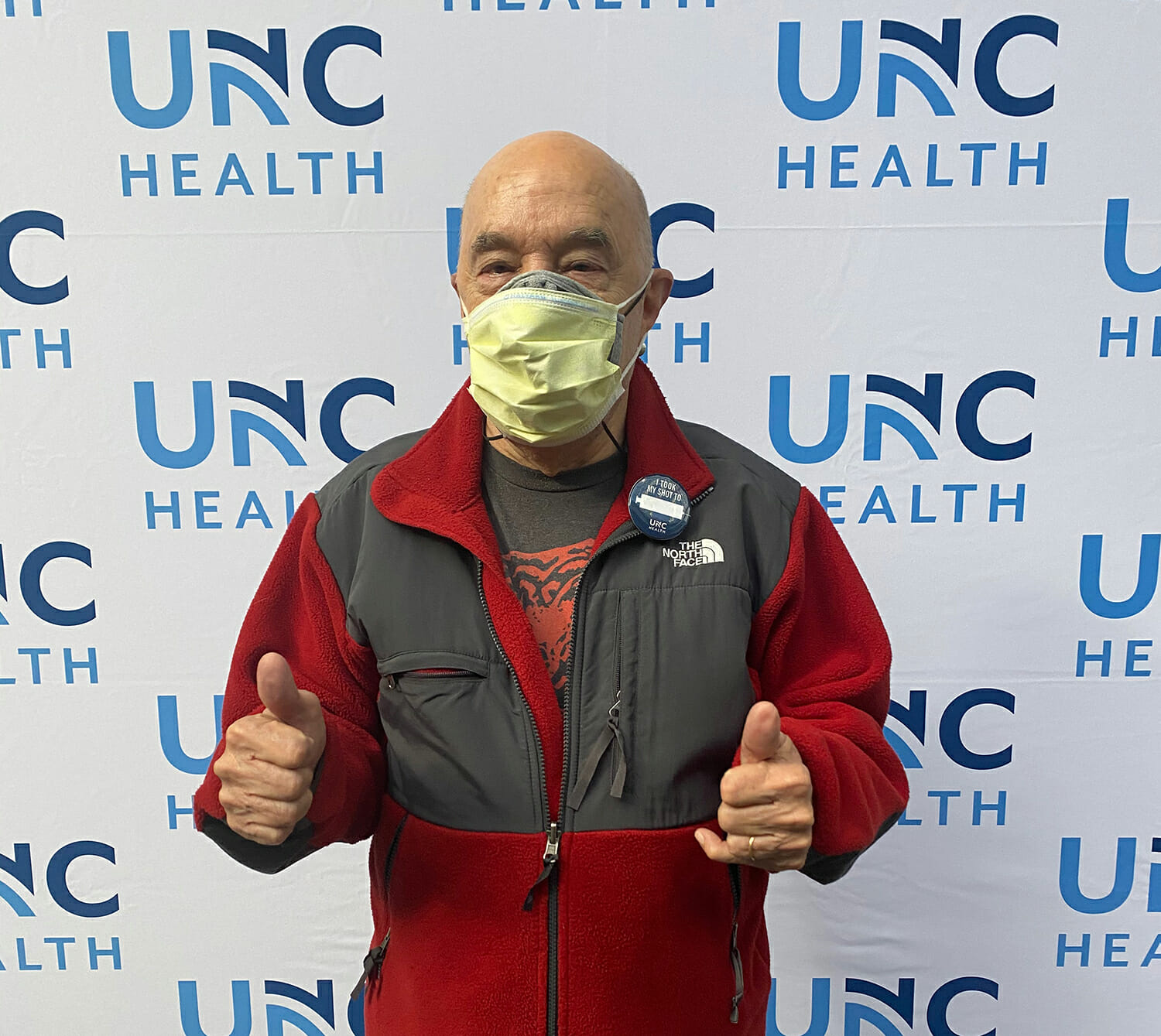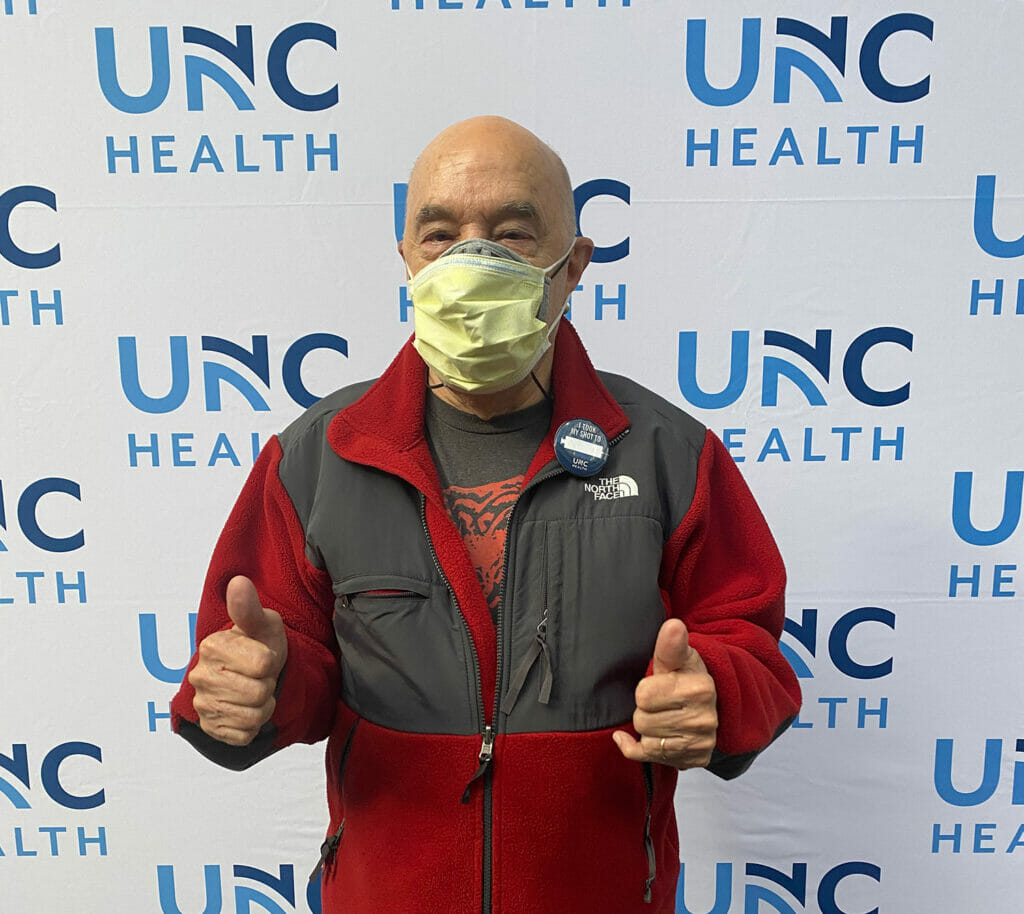 Yep, the Southern husband GOT THE SHOT! Here's what was going on under those two masks of his…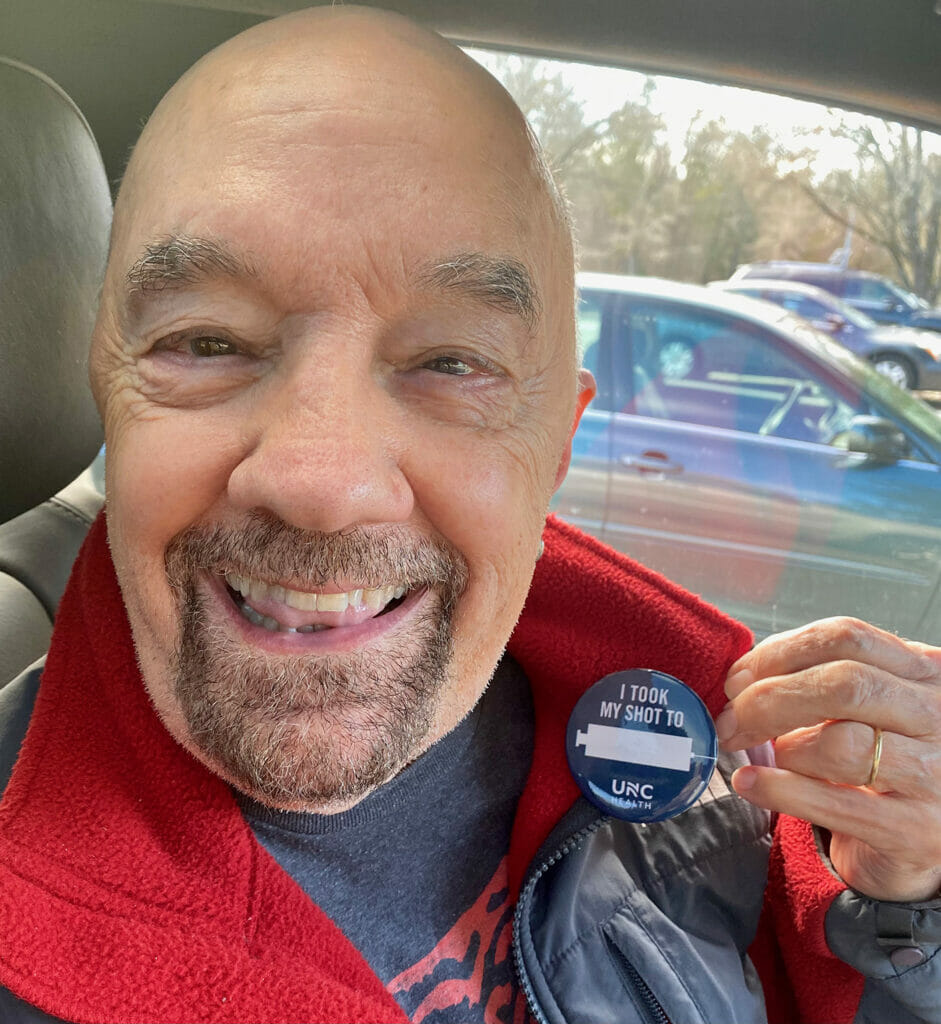 …and here is where I need to thank those health care heroes at the University of North Carolina at Chapel Hill for their incredible kindness and efficiency. HEROES.
So since we aren't going out on the town anytime soon to celebrate, we did the next best thing. Which brings me to the answer to this very important question:
Can I eat ramen for breakfast?
Yes! Yes you can!
And while you can of course eat it plain, if this is going to be one of the rare times that you throw caution to the wind and eat ramen, I have a whole bunch of suggestions for you.
What can I add to my ramen to make it better?
In the case of the best breakfast ramen I know, my goal was to do the ramen version of a bacon egg and cheese breakfast sandwich, with the ramen playing the part of the roll.
And, because this recipe calls for adding bacon, egg and cheese, we are going to split one ramen package between two servings, so while it still won't be anything approaching health food, it's still kinda angelic, ramen-wise!
Ingredients you need to make Breakfast Ramen!
Here's how you make the best breakfast ramen!
STEP 1: Get yourself a package of chicken flavored ramen – the 3 ounce kind with the flavor packet – and cook up the noodles according to the package directions, but don't add that flavor packet.
YET.
STEP 2: When the noodles are done, quickly rinse them with cold water so they stop cooking. Otherwise you will have ramen mush, and nobody wants that.
STEP 3: Cook up a couple pieces of chopped bacon, scoop it out, but leave those all-important drippings in the skillet.
STEP 4: Next, whisk up a couple of eggs, some milk, a little shredded cheese and yes, that flavor packet and add it to the skillet with the drippings.
STEP 5: Add the noodles and cook it all up over medium heat, tossing it gently until the eggs are just set.
More tips for making the best breakfast Ramen!
Where can I find ramen?
It's in the soup section of your grocery store, just waiting for you to come get it! You want the 3 ounce packet size.
Do I have to get the chicken flavor?
Nope! If you are more into the beef or shrimp flavors, go for it!
Have a question I didn't cover?
Leave your question in the comments section below and I will get back to you pronto!
I like to divide it among two bowls and dramatically pile the bacon on top, but you can mix the bacon into the noodles if you want to.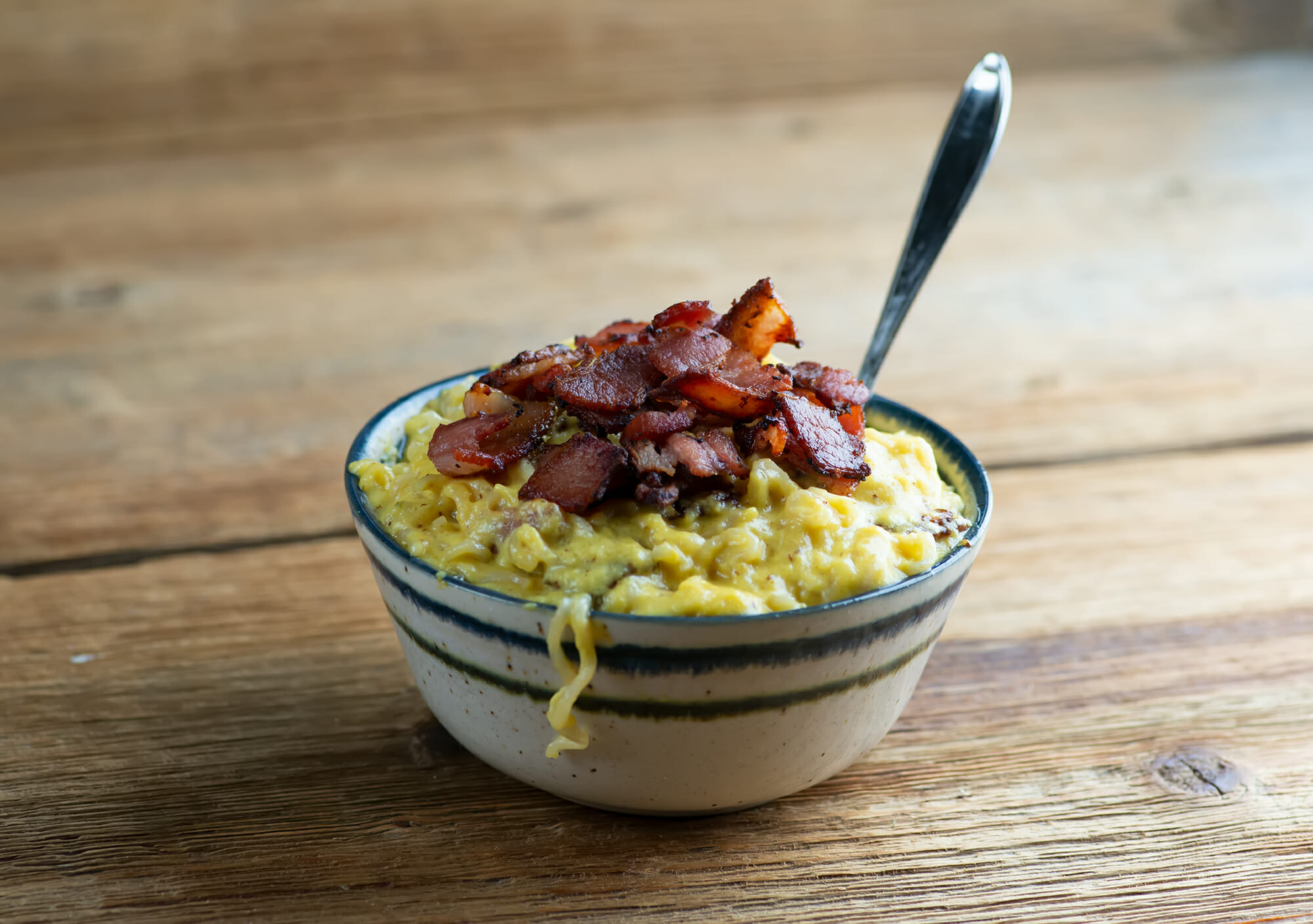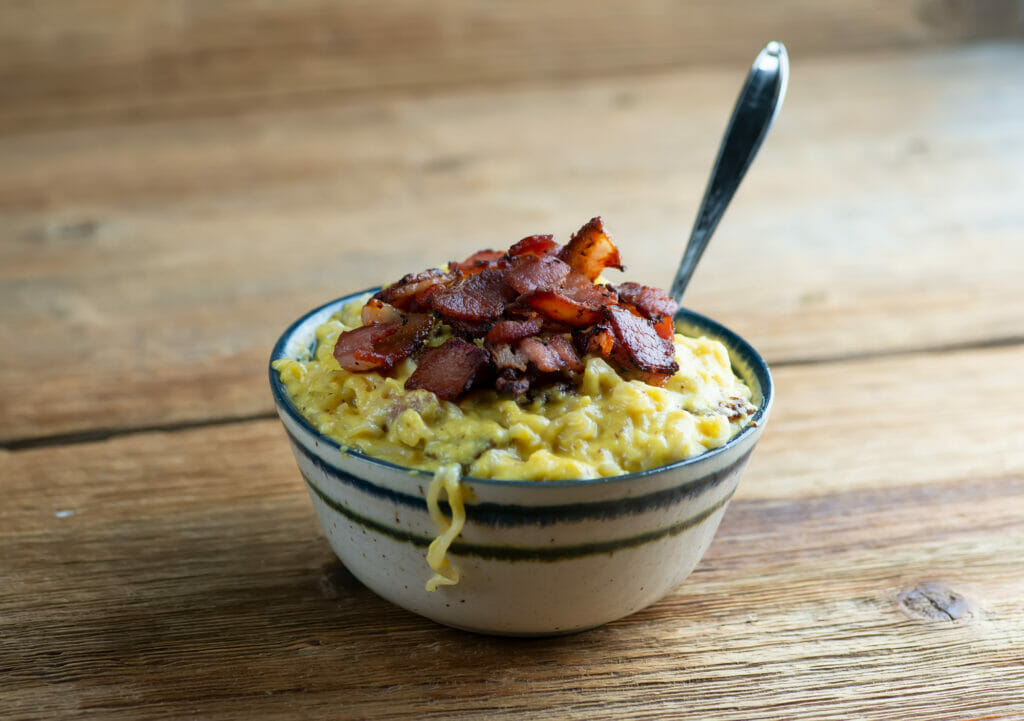 Have I gotten you in a ramen mood yet? You might want to check out how to make a ramen burger, or how to how to use ramen to spiff up a chicken noodle soup!
Or I could just leave you to eat your bowl of the best breakfast ramen in peace and quiet.
Happy ramen everyone!
Print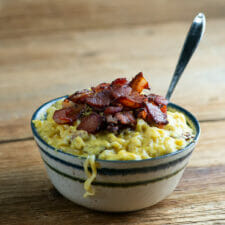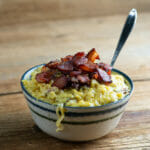 The Best Breakfast Ramen
---
Author:

Prep Time:

5 minutes

Cook Time:

10 minutes

Total Time:

15 minutes

Yield:

2

1

x
Category:

Breakfast

Method:

Stovetop

Cuisine:

American
Description
Move your favorite lunch noodles earlier in the day with this speedy recipe for the best breakfast ramen you've ever tasted!
---
Ingredients
1

three ounce package chicken flavored ramen with flavor packet

4

slices bacon, chopped

2

eggs

½ cup

milk

1 cup

shredded cheddar
---
Instructions
Cook ramen according to package directions, but don't add the flavor packet.
Cook bacon in a large deep skillet until crisp. Scoop out and drain on paper towels, leaving the drippings in the skillet.
Whisk the eggs, the milk, the cheese and the flavor packet together and add to the skillet. Pour in the noodles and toss until the eggs are just set and take off the heat.
Divide among two bowls, scatter bacon on top and serve!
Notes
Need to add something to your kitchen equipment to make this recipe? Below are some of the items we used in the Framed Cooks kitchen to help cook this up. These are affiliate links to things we use and love, which helps to pay for all that bacon I keep buying!
Equipment