This easy one bowl frittata recipe combines chicken and spinach in a cheesy egg mixure that bakes up to tender perfection in your oven. A perfect brunch treat!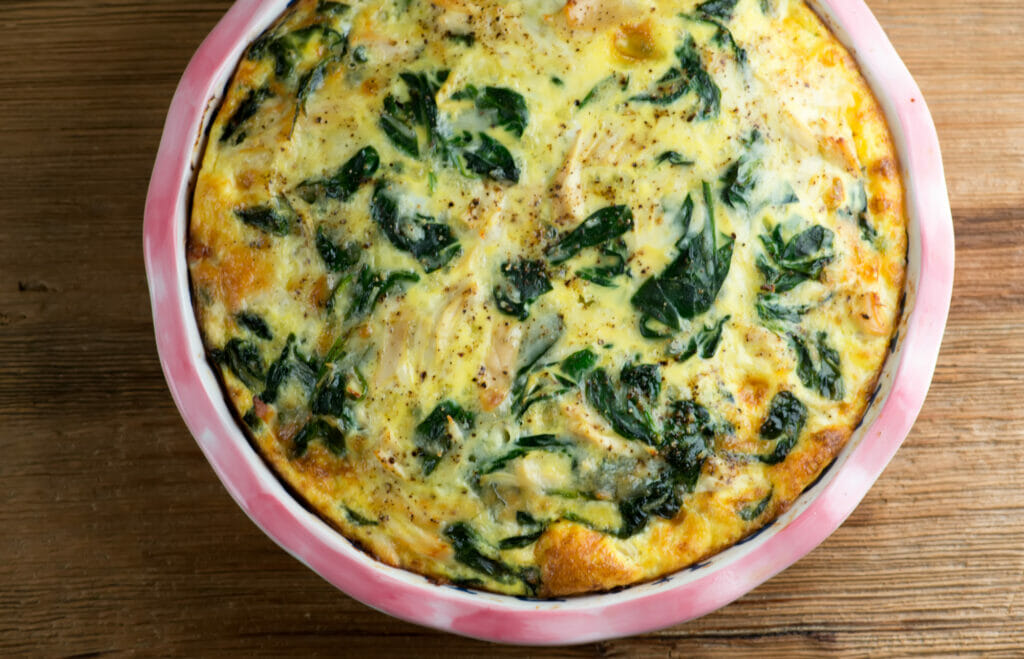 First of all, can I just say how dang happy I am about the pretty spinach pattern in this cheesy chicken spinach oven frittata?
I will go on the record right here as saying that eggs are one of my Photographic Challenges, in that they are super hard for me to capture their good side, and that goes double for frittatas.
So when this baby emerged from the oven, I was all kinds of happy that the spinach had magically arranged itself into a lovely swirly design. Thank you, spinach!
And speaking of photographic challenges, have you heard of/participated in the Dolly Parton Meme Challenge?
I have never met a viral photography thing that I could resist, so you know I hopped right on this bandwagon.
Basically you pick out pictures that you think show you as you want to be seen on LinkedIn (professional), Facebook (family life), Instagram (fun times) and Tinder (um).
Since I am on three out of the four, I quickly filled in the first three, and did my best with Tinder (sorry Mom!).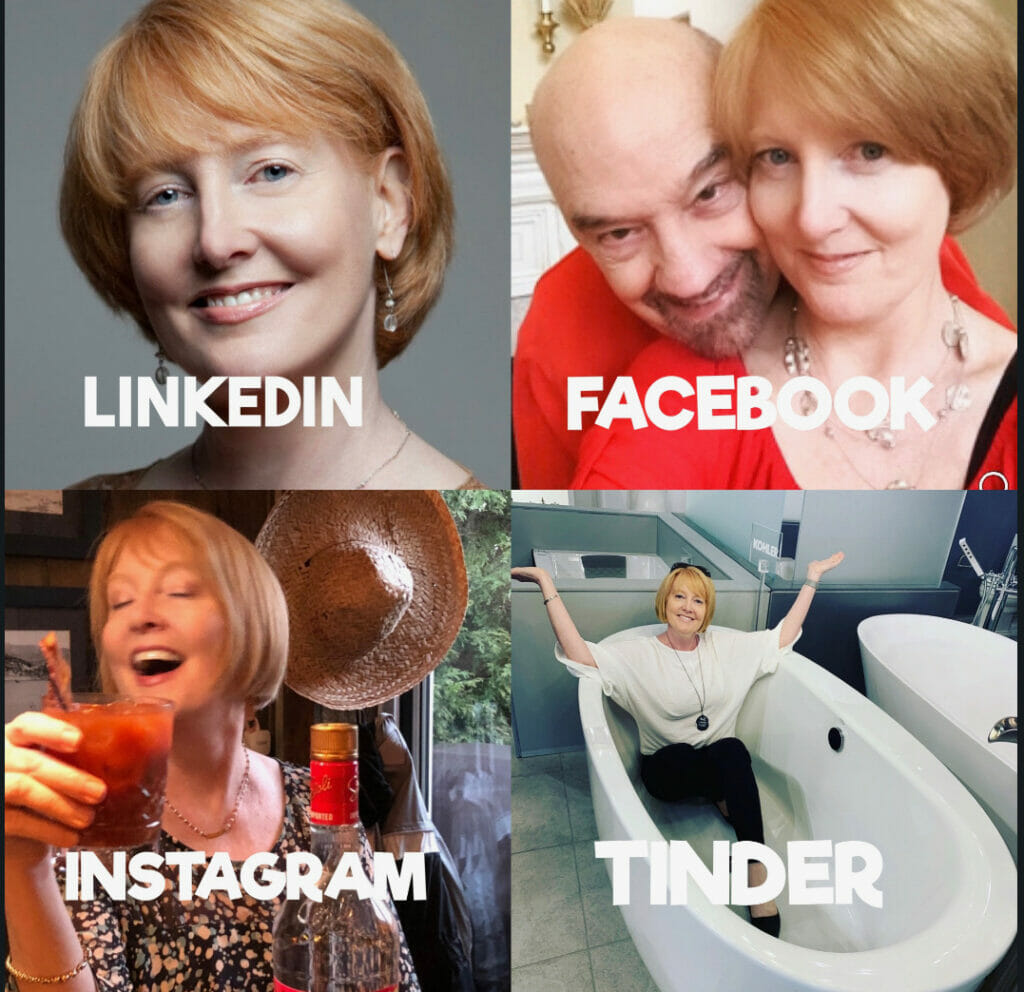 Her caption was "get you a woman who can do it all" which is SO VERY DOLLY. I love her.
And this gives me a chance to say I would be super happy if you would follow me on Instagram (where there are lots of Southern husband antics in our Instagram Stories) and Facebook (where I do my best to share my favorite recipes and some fun food jokes).
I actually AM on LinkedIn, although I rarely look at it. And while I know what Tinder is (sorry Mom!) you will be relieved to know that I never have and never will have a Tinder account.
(I do love our Carolina house future bathtub though).
None of which has anything to do with this cheesy chicken spinach oven frittata, so let me get back to what you are actually here for.
Here's how you make a cheesy chicken spinach oven frittata!
This is a great way to use up any leftover cooked chicken you may have lounging around in your fridge, and it's also one of the easiest recipes in my collection, so bonus points for each of those things!
Whisk yourself up some eggs with a little milk, and then stir in that cooked chicken, some baby spinach and a couple of cups of Swiss cheese (and if you want to swap out cheddar or mozzarella for the Swiss, go for it!)
Pour it all into a greased deep dish pie plate and pop it into the oven for about 45 minutes.
Out will come a lovely, spinach-swirled conglomeration of cheesy deliciousness with some chicken providing a little healthy protein.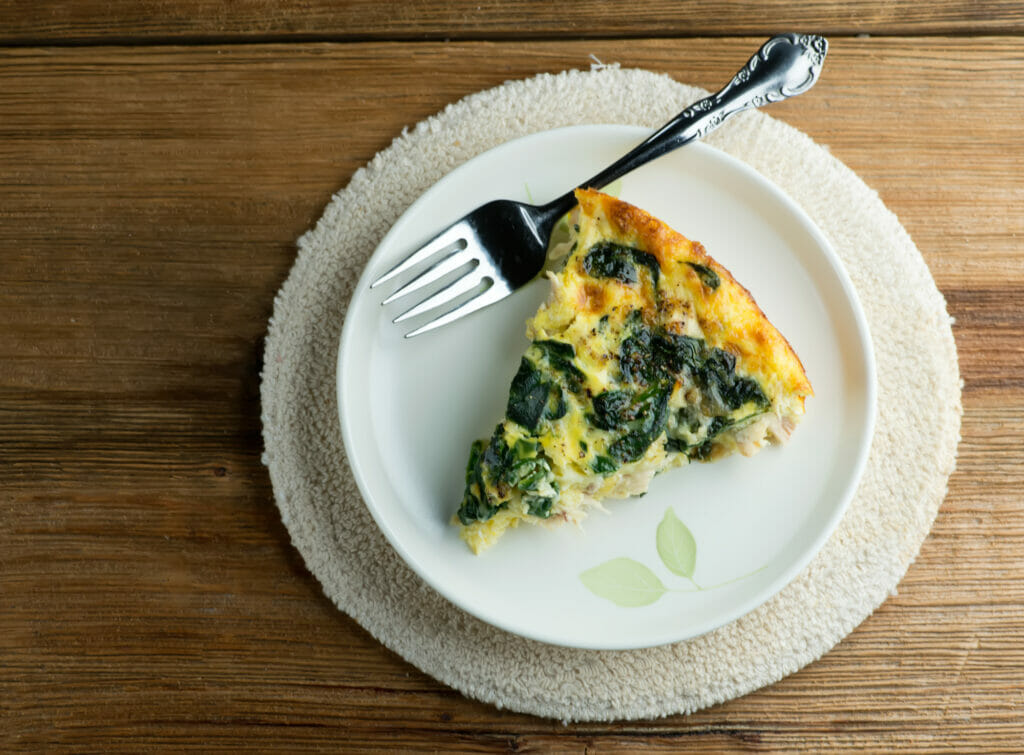 Slice it into wedges and serve it up…because this is a nice low calorie meal, I sometimes splurge by making the Southern husband some muffins on the side.
And as you can see from Instagram Kate, I've been known to enjoy a Bloody Mary with my brunch from time to time. :)
This concludes my adventures in frittatas and social media for today…except to say thank you – truly! – for following me, here there and everywhere. It means the world to me!
Want to round out your meal? This recipe pairs well with...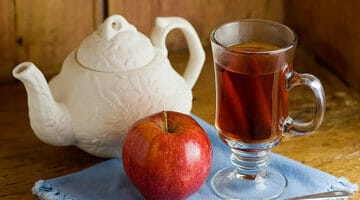 Apple Lemon Tea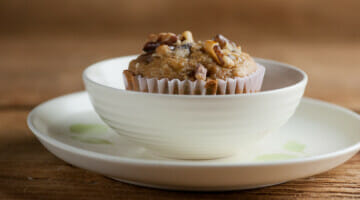 Banana Graham Cracker Muffins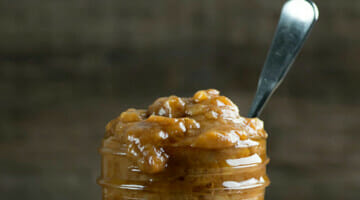 Banana Jam
Print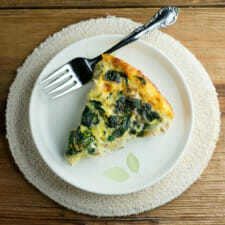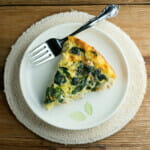 Cheesy Chicken Spinach Oven Frittata
---
Author:

Prep Time:

5 minutes

Cook Time:

45 minutes

Total Time:

50 minutes

Yield:

4

1

x
Category:

Breakfast, Lunch

Method:

Oven

Cuisine:

American
Description
This easy one bowl frittata recipe combines chicken and spinach in a cheesy egg mixure that bakes up to tender perfection in your oven. A perfect brunch treat!
---
Ingredients
6

eggs, beaten

¾ cup

milk

2 cups

shredded cooked chicken

6 ounces

baby spinach, cooked

2 cups

shredded Swiss cheese

¼ teaspoon

pepper
---
Instructions
Preheat oven to 375 degrees and spray a deep dish pie pan with cooking spray.
Add the milk to the eggs and whisk until well combined. Stir in the chicken, spinach and cheese. Pour into prepared baking dish.
Sprinkle with pepper and bake for 45 minutes or until set.
Cut into wedges and serve it up!