This easy recipe for pasta with walnut anchovy sauce will make an anchovy believer out of you! This is a fast and flavorful supper with a rich taste, so givethose anchovies a second chance and twirl your fork around this amazing pasta.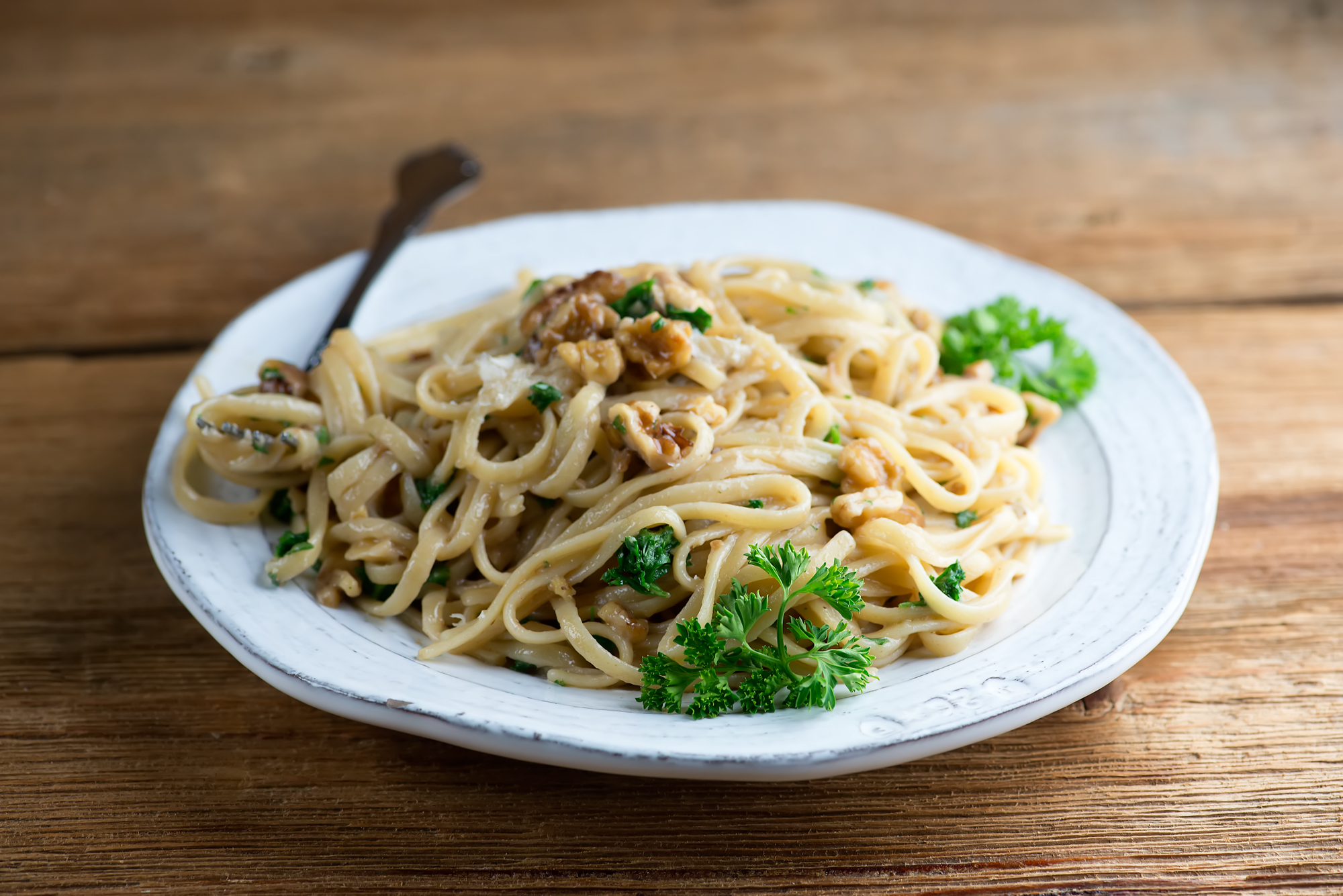 Okay, before I get to this recipe for pasta with walnut and anchovy sauce, let me cut right to the chase by saying I am NOT an anchovy person. I am so much not an anchovy person that I make the Southern husband open the anchovy can so I don't accidentally get any anchovy oil on my fingers.
I am so much not an anchovy person that when someone else even suggests getting anchovies on even a portion of a pizza that I will be sharing I give them a look that suggests that ordering anchovies on pizza might be the end of the civilized world as we know it.
What am I doing putting anchovies in perfectly good spaghetti then? I honestly don't know, other than the fact that I, completely illogically in every way, actually LIKE a tiny bit of the anchovy taste in Caesar salad, and there was something about the idea of mixing that slight anchovy taste with olive oil and garlic and walnuts and parmesan cheese and parsley that made me throw caution to the wind and buy one of those little containers of anchovies.
After all, it only called for using four of the teeny little anchovy strips in the entire recipe, and the recipe called for mashing them into the hot olive oil until they broke down and melted into the oil.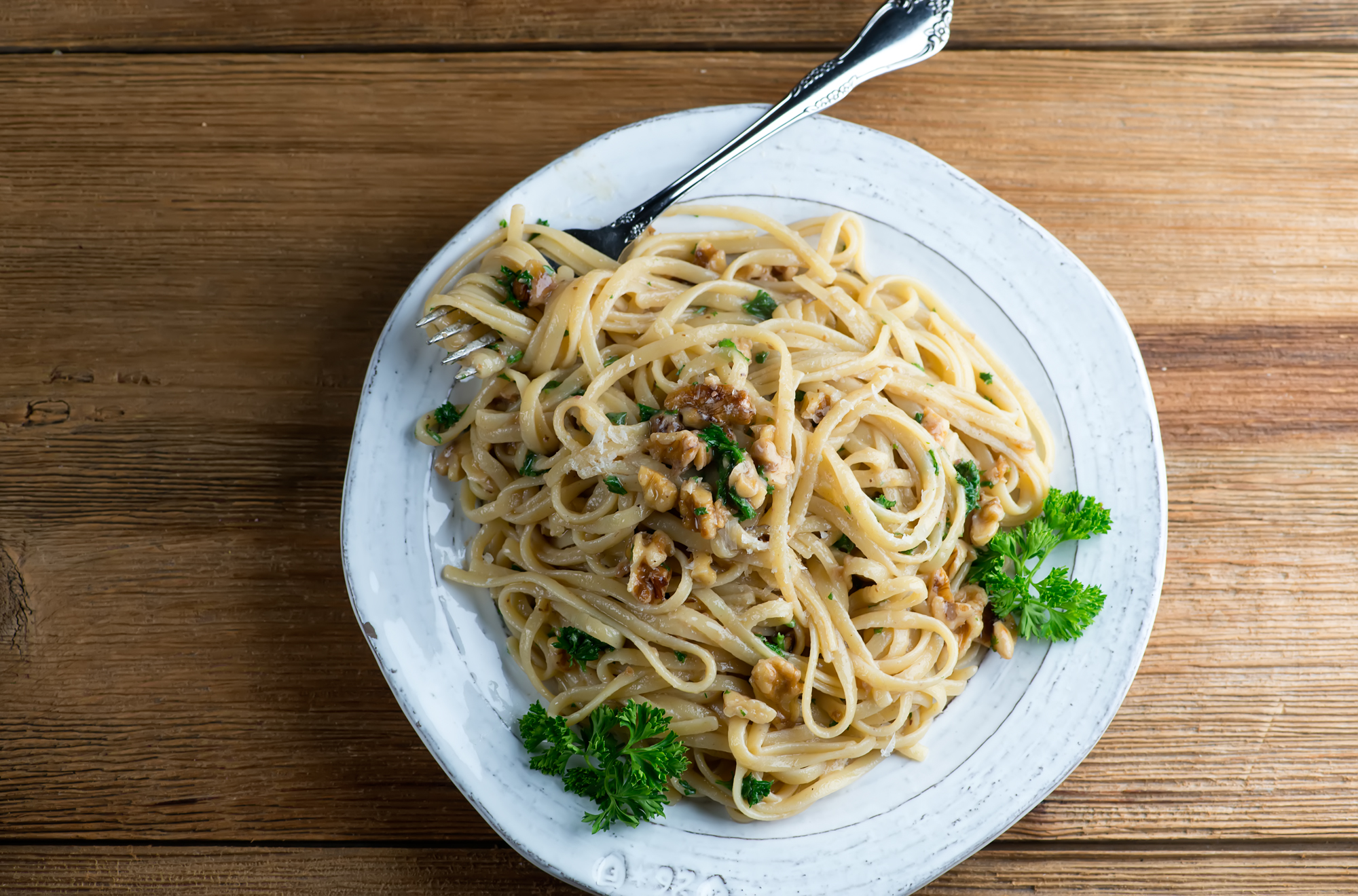 I can get into ANYTHING that melts into olive oil, so I mustered up my courage and went for it. (While still making the Southern husband open the can, just to be perfectly clear.)
And I have to say, it was absolutely, perfectly, mesmerizingly delicious…one of those pasta dishes where you twirl the first bite around your fork, put it in your mouth, and then have to close your eyes at the sheer heaven of it all.
Anchovies, I owe you an apology. I am truly, deeply sorry from the bottom of my heart. I still want my pizza plain though. Rome wasn't built in a day.
Want to round out your meal? This recipe pairs well with...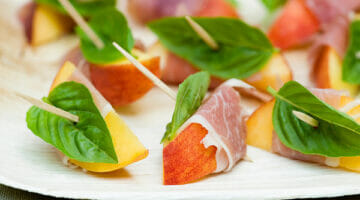 Spiced Peaches with Serrano Ham and Basil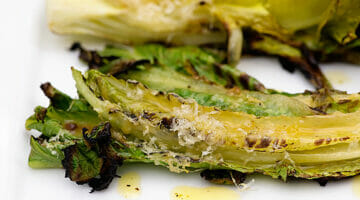 Grilled Caesar Salad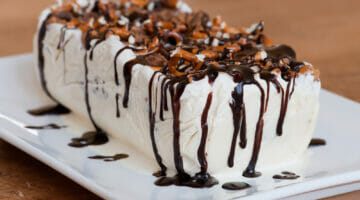 Peanut Butter Cup and Pretzel Ice Cream Cake
Print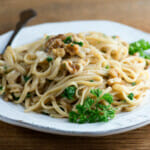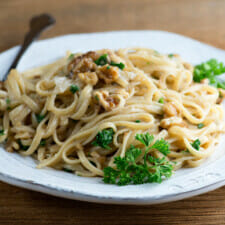 Pasta with Walnut Anchovy Sauce
---
Author:

Prep Time:

5 minutes

Cook Time:

15 minutes

Total Time:

20 minutes

Yield:

4

1

x
Category:

Main Course

Method:

Stovetop

Cuisine:

Italian
Description
This easy recipe for pasta with walnut anchovy sauce will make an anchovy believer out of you! A fast and flavorful supper with a rich taste.
---
Ingredients
1/2 cup

shelled walnuts

1/4 cup

olive oil

2

garlic cloves, minced

4

anchovy fillets, coarsely chopped

8 ounces

spaghetti or linguine

1/4 cup

minced parsley
freshly ground pepper

1/2 cup

parmesan
---
Instructions
Cook pasta according to package directions. Scoop out a cup of pasta water before you drain it.
Meanwhile, put the walnuts in a skillet over medium high heat until they start to toast. Scoop them out and give them a quick chop, and set aside.
Add the oil to the skillet and heat over medium heat. Add the garlic and stir for about 30 seconds and then add the anchovies.
Smoosh the anchovies with twith a fork until they begin to fall apart and melt into the oil. Add the walnuts, stir quickly and take the skillet off the heat.
Add about 1/4 cup of the pasta water to the pan with the walnuts and anchovies, and turn the heat back up. Add the pasta and toss, and then add the cheese and parsley, adding more pasta water if you think it needs more sauce. Season to taste with salt and pepper.
Ladle into warm bowls, sprinkle a little more parsley on top and serve!
Notes
This is a rich pasta dish, so I usually make about 2 ounces of pasta per person. So if you are super hungry, you might want to increase the quantities a bit!
Spiffed up from a previously published Framed Cooks post!