This easy recipe for chicken pot pie with mashed potato crust is a whole new level of comfort food. Make it ahead for easy weeknight cooking!
I do love a good pot pie, and I love it even more when the pot pie crust is made out of creamy, dreamy mashed potatoes.  And I also love dishes that I can make ahead and then just bake up later when things are busy.  I get all of this and more with this easy recipe for chicken pot pie with mashed potato crust…the more is the delicious taste of tender chicken with carrots and celery in a light herbed sauce, and did I mention the mashed potato topping?  Ready for your new favorite pot pie?  Let's make it!
This is exactly the kind of recipe you want to have on hand to make ahead and then pull out on a busy weeknight.  Halloween, for example.  Once your little trick or treaters are back from their rounds, you can pop these in the oven to try and distract them from eating only Snickers for dinner.
Which gives me the chance to give you a peek at our office Halloween party that we had this past Friday.  We take Halloween SERIOUSLY at my place of work, and part of that is always having our festivities a few days before so that folks who want to be with their kiddos on the day don't have to miss Adult Halloween.
We generally go for costumes that are related to our daily work of making children's books.  Above is yours truly as Runny Babbit, and my friend Margaret as a walking version of what happens when we need to, as we say in the business, crash a project through.  Crash…get it?
I loved this group costume…
This is our fabulous digital team, being…A SEARCH ENGINE.  I love it!!
Our designers are ridiculously clever every single year.  Rachel is dressed up as our recycling center, and she had candy in those buckets.  And speaking of candy, this year we had a Halloween bake-off.  Guess who got to be one of the judges?
It was next to IMPOSSIBLE to decide.
It was a tough assignment.  I know.  You feel for me.
We ultimately chose the Halloween in Narnia cake, which combined artistry and a children's book them and maximum scrumptiousness.
So if your Halloween is going to be similarly busy and festive, you might want to whip up this easy chicken pot pie – once it is assembled, it can sit in the fridge until you are ready to pop it in the oven.  It is full of delicious and nutritious veggies…
…all cooked up with some chicken and did I mention, topped with MASHED POTATOES?
All treat.  No tricks.  Happy Halloween!!
Print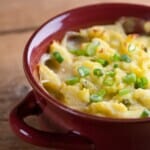 Chicken Pot Pie with Mashed Potato Crust
---
Author:

Prep Time:

20 minutes

Cook Time:

60 minutes

Total Time:

1 hour 20 minutes

Yield:

4

servings

1

x
Category:

Dinner

Method:

Stovetop and Oven

Cuisine:

American
Ingredients
4

medium Yukon Gold potatoes, quartered

4 tablespoons

butter

1 teaspoon

salt

1/4 teaspoon

pepper

1/4 cup

milk

2

scallions, chopped

2 tablespoons

butter

1/2

red onion, chopped

4 tablespoons

flour

2 cups

chicken broth

2 cups

diced carrots

2 cups

diced celery

1 teaspoon

salt

1/2 teaspoon

pepper

1 teaspoon

sage

1/2 cup

milk

2 cups

cooked and shredded chicken
---
Instructions
If you are cooking the pot pies immediately, preheat the oven to 375.
Start by making the potatoes: put the potatoes into a saucepan, cover them with water and bring to a boil.  Simmer until the potatoes are tender, about 15 minutes.  Drain and return to the pot.
Add 4 tablespoons of butter and 1 teaspoon salt.  Mash with a potato masher and then add the pepper and the milk.  Stir in half the scallions and set aside.
In another large saucepan, melt 2 tablespoons of butter over medium high heat.  Add the onions and stir until they are starting to turn tender, about 3 minutes.
Whisk in the flour, followed by the chicken broth.  Simmer for 5 minutes.
Add the carrots, celery, 1 teaspoon salt and the sage.  Simmer for another 5 minutes.
Add the milk and the chicken and simmer for another 5 minutes.
Spoon the chicken mixture into one large casserole or individual casseroles.  Top with the mashed potatoes, spreading them to the sides of the casserole.  At this point you can put them in the fridge if you are baking them later, just let them come to room temperature before you bake.
Place the casserole on a rimmed baking dish and bake for 30 minutes.  Cool slightly, garnish with remaining scallions and serve!