This easy recipe for chicken pot pie with mashed potato crust is a whole new level of comfort food. Make it ahead for easy weeknight cooking!
I do love a good pot pie, and I love it even more when the pot pie crust is made out of creamy, dreamy mashed potatoes.
And I also love dishes that I can make ahead and then just bake up later when things are busy.
I get all of this and more with this easy recipe for chicken pot pie with mashed potato crust…the more is the delicious taste of tender chicken with carrots and celery in a light herbed sauce, and did I mention the mashed potato topping?
Ready for your new favorite pot pie? Let's make it!
This is exactly the kind of recipe you want to have on hand to make ahead and then pull out on a busy weeknight.
It is full of delicious and nutritious veggies…
…all cooked up with some chicken and did I mention, topped with MASHED POTATOES? Let's do this thing!
ingredients you need to make this comfort food casserole!
Here's how to make this Chicken supper!
(Scroll down for the handy complete printable recipe with nutrition info!)
Start by making a batch of mashed potatoes – the recipe below has directions for making them from scratch but if you'd rather pick up a pre-made container of them, I WON'T TELL. (I may or may not have done this myself. Don't tell my mamam.
Once you have your mashies done, melt some butter in a large pot and saute up some chopped sweet onion.
Add some flour, followed by some chicken broth, whisk it up until it's nice and smooth, and then add in some chopped carrots and celery, along with some salt and a little dried sage. Let it bubble away until things start to thicken up a little.
Stir in some shredded cooked chicken and a little milk, and then pour it into a casserole (or if you have used an oven-safe pot like a Dutch oven you can leave it right in there!. You can also divide it among four individual little casseroles if you like.
Now spread those mashed potatoes on top and pop it into a 375 oven for a half hour or so. Lounge on the sofa with a glass of wine while someone else sets the table.
30 minutes later…voila! Comfort food happiness!
More tips for making this Chicken Dinner!
What's the best way to get the cooked chicken for this recipe?
If you have the time, my favorite way to get myself a pile of cooked chicken is to pop a few chicken breasts in the slow cooker with about 2 cups of chicken broth and let it cook for 8 hours on low. It will be amazingly tender.

Or, you can put the chicken in a pot of water, bring it to a boil and turn off the heat. Cover the pot and let the chicken cool completely. This is called poaching the chicken and again…so tender.

OR, you can buy a rotisserie chicken at your supermarket, or use leftover chicken.

Where can I find pre-made mashed potatoes?
They are usually in the dairy section, somewhere near the tubes of biscuits. I don't recommend using the instant potatoes in the box but hey, if you love them go for it!
Have a question I didn't cover?
Pop your question in the comments and I promise to answer pronto!
I've said it before and I'll say it again: winner, winner, comfort food chicken dinner!
Like the looks of this recipe? Pin it now so you can make it later!

Print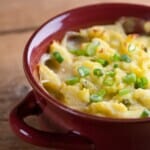 Chicken Pot Pie with Mashed Potato Crust
---
Author:

Prep Time:

20 minutes

Cook Time:

60 minutes

Total Time:

1 hour 20 minutes

Yield:

4

servings

1

x
Category:

Dinner

Method:

Stovetop and Oven

Cuisine:

American
Ingredients
4

medium Yukon Gold potatoes, quartered

4 tablespoons

butter

1 teaspoon

salt

1/4 teaspoon

pepper

1/4 cup

milk

2

scallions, chopped

2 tablespoons

butter

1/2

red onion, chopped

4 tablespoons

flour

2 cups

chicken broth

2 cups

diced carrots

2 cups

diced celery

1 teaspoon

salt

1/2 teaspoon

pepper

1 teaspoon

sage

1/2 cup

milk

2 cups

cooked and shredded chicken
---
Instructions
If you are cooking the pot pies immediately, preheat the oven to 375.
Start by making the potatoes: put the potatoes into a saucepan, cover them with water and bring to a boil. Simmer until the potatoes are tender, about 15 minutes. Drain and return to the pot.
Add 4 tablespoons of butter and 1 teaspoon salt. Mash with a potato masher and then add the pepper and the milk. Stir in half the scallions and set aside.
In another large saucepan, melt 2 tablespoons of butter over medium high heat. Add the onions and stir until they are starting to turn tender, about 3 minutes.
Whisk in the flour, followed by the chicken broth. Simmer for 5 minutes.
Add the carrots, celery, 1 teaspoon salt and the sage. Simmer for another 5 minutes.
Add the milk and the chicken and simmer for another 5 minutes.
Spoon the chicken mixture into one large casserole or individual casseroles. Top with the mashed potatoes, spreading them to the sides of the casserole. At this point you can put them in the fridge if you are baking them later, just let them come to room temperature before you bake.
Place the casserole on a rimmed baking dish and bake for 30 minutes. Cool slightly, garnish with remaining scallions and serve!