Hot dogs and crescent roll dough are all you need to make this fun Halloween treat…no tricks needed! Hot dog mummies make a quick and easy Halloween supper, and a great first course before the candy eating begins!
Boo!  It's just about that time again, and amid all the fun-sized Snickers bars and candy corn and caramel apples and pumpkin-infused everything, we are also at some point going to need to feed the kids some Regular Food.
And while these Halloween hot dogs aren't the fanciest dinner entree, they  ARE festive and they DON'T involve chocolate, which on October 31st pretty much qualifies them as dinner.
So move over Three Musketeers bars…the hot dog mummies are in town!
And speaking of Halloween, allow me to share my most memorable Halloween story with you.  (Those of you who have already heard my catharsis about this episode, feel free to skip down to the recipe.)
But just in case….travel back with me in time to kindergarten.  I have lobbied hard to get one of those costumes in the cardboard box from Woolworth's.  The ones with the thin plastic mask with the elastic band, and the (probably flammable) shiny sparkly princess dress.
My mother, meanwhile, has spent hours thinking up and then sewing a perfectly amazing sunflower outfit for me.  My brown school shoes are the ground, my green turtleneck and tights are my stem, and she has spent hours with felt and yarn to make me leaves and a sunflower head.
I am a complete ingrate because I want to be a polyester princess, but I pose in the backyard anyway.
Off we go to school, and at role-call time, our teacher decides that when she calls our names, instead of saying "Here!" we should instead make the noise of whatever we are for Halloween.
At this point, let me remind you that I am a sunflower.  The last thing I remember is panic setting in as I realize I am about to be marked Absent because sunflowers do not make a noise.
I'm sure some of my present-day character flaws can be traced back to this exact moment in time.  It definitely explains why I was so incredibly tolerant when the teenager decided at various points in her life to be Batgirl, Supergirl, a belly dancer and Ke$ha.
This concludes my Halloween trip down memory lane, except to say I'm sure I could have been completely consoled by a dinner of Hot Dog Mummies.
Here's how you make hot dog mummies!
These quick and festive characters are made by cutting cresent roll or breadstick dough (yes, the kind that comes in the can…we have a busy schedule on Halloween!) into 1/4 inch strips, winding the strips around hot dogs, baking them for about 10 minutes until the dough is golden, dotting the tops of the mummies with some mustard eyes, and handing them out.
No forks or even plates necessary!
And with that, the only thing I have left to say is Happy Halloween to All! (And an incredibly belated thank you…really!…to my creative mother!)
Print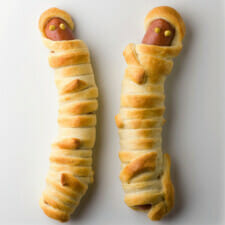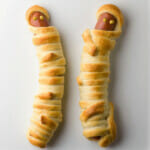 Hot Dog Mummies!
---
Author:

Prep Time:

20 minutes

Cook Time:

10 minutes

Total Time:

30 minutes

Yield:

6

hot dog mummies!

1

x
Category:

Dinner

Method:

Oven

Cuisine:

American
Description
Hot dogs and crescent roll dough are all you need to make this fun Halloween treat…no tricks needed! Hot dog mummies make a quick and easy Halloween supper.
---
Ingredients
6

hot dogs

1

can refrigerated crescent roll or breadstick dough
---
Instructions
Preheat oven to 375 degrees.
Open dough and unroll and lay it flat on a cutting surface. Cut the dough into 1/4 inch strips.
Wind the strips around hot dog until everything is covered except a little opening for the "face." Depending on the size of your hot dogs, you will need to use 3-4 strips per dog.
Place the hot dogs on a baking sheet and bake until golden, 10-12 minutes.
Cool slightly, add mustard drops as "eyes" if desired and serve!