Some fresh corn, a little butter and a skillet is all you need for this incredibly creamy side dish! Buttered skillet corn is one of the most heavenly thing you can do with a few ears of fresh sweet summer corn.
As these last warm wonderful summer days drift by I am trying to pack in as many summertime things as the day will hold. Eating supper outside, sleeping with the windows open, using up the last of my fresh outside herbs, and eating as many local tomatoes and ears of corn as one person can possibly eat. It's use it or lose it time! And while a plain old ear of sweet corn is totally fine with me, this summer I am kind of in love with buttered skillet corn.
Some fresh corn, little butter and a skillet is all you need for this incredibly creamy side dish!
Click To Tweet
Now you do have to start with those wonderful fresh ears of corn, but instead of popping them into hot water or on to your grill, I want you to grab your handy paring knife and cut the kernels off. I find the best (and neatest) way to do this is to hold one end firmly and stand the ear vertically in the middle of a large shallow bowl. Run the paring knife down the bottom half of the ear with a little bit of back and forth motion to cut the kernels off. When you have gone all around the ear, flip it over and do the other half. Fast and easy and better than any corn you'll ever find in a can or a bag.
Now for the skillet part: heat a little oil in yes, a skillet, and cook the corn until it just starts to turn a teeny bit brown…about 5-10 minutes. Now stir in a mixture of a little flour, sugar, salt and pepper with a little water. This is going to turn into a creamy sauce that you will swear includes actual cream…but no, it's just the wonderful juice coming out of your corn. Simmer this all together until the water is gone but the corn is beautiful and creamy, and then add just a little bit of butter.
I'm not saying you won't ever eat a plain old ear of corn again, but you might just think about it. Go eat up that corn while we still have it!
Print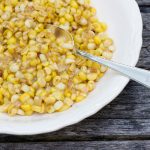 Buttered Skillet Corn
---
Yield:

6-8 servings
Ingredients
Kernels sliced from 8 ears of corn
1 tablespoon flour
1 teaspoon sugar
1 teaspoon salt
1/2 teaspoon pepper
2 tablespoons vegetable oil
3/4 cup water
1 tablespoon butter
---
Instructions
Combine flour, sugar, salt and pepper in small bowl.
Heat oil in skillet over medium high heat. Add corn and cook until starting to get brown, about 5 to 10 minutes, stirring occasionally.
Add flour mixture to skillet and stir until corn is coated. Add water, reduce heat and simmer until water is almost gone and corn is creamy, about 10 to 15 minutes.
Stir in butter and serve at once.
Recipe adapted from Cooks Country