There's fried chicken and then there is buttermilk fried chicken. Here's a classic recipe that delivers all the crispy goodness to your dinner table…pair it with biscuits, cornbread, mashed potatoes, skillet corn and/or tomato salad, and you are in fried chicken heaven.
Last weekend I made, oh, the best fried chicken I have ever had in my life, thank you very much and if I do say so myself. And as I always do, I took its picture, nestled on a plate with some cornbread and a fresh tomato basil salad, and was all set to share that with you, my wonderful blog-reading friends.
Then I looked at the picture.
And I looked at it again, and I thought, well, that's not so bad. I showed it to my fried chicken-loving Southern husband, who looks at all my food pictures and says exactly the same thing: "That's beautiful! It could be in a magazine!"
He looked at this one said, "that's nice, honey."
Uh-oh.
Because my rule is, if I don't have a nice picture of it, it doesn't go up on the blog. I considered re-shooting it, but first I went online to look at other pictures of fried chicken, and realized that there has never been a nice picture of fried chicken taken in the history of the world.
Well, maybe there are nice chicken leg pictures, but not chicken breasts, which is what I made. I felt vindicated. (and for all of you who know the existence of lovely fried chicken breast pictures, don't tell me. This is my story and I am sticking to it.)
So I resigned myself to no fried chicken blog post, which made me slightly sad because it was so GOOD, but I am resilient and I moved on…and then the emails started coming. Because yes, I had Twittered and Facebooked that I was making buttermilk fried chicken, and you guys wanted to know where the goods were.
So I thought, I will be clever and take some sort of chicken picture. Surely I have something resembling a chicken in the house. And guess what, right there in my little kitchen studio, there was my hammered metal chicken pictured above. Bingo! All set for the post.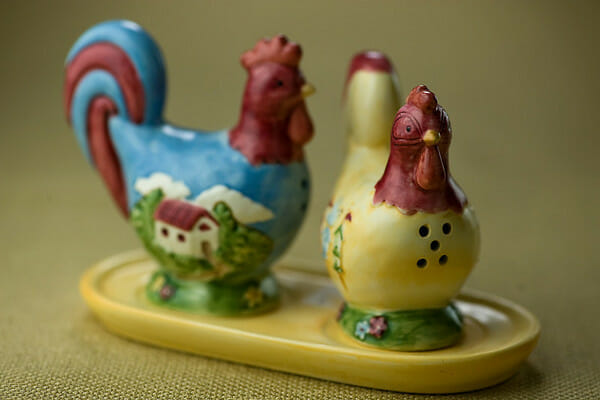 Oh wait — I also seem to have chicken salt and pepper shakers.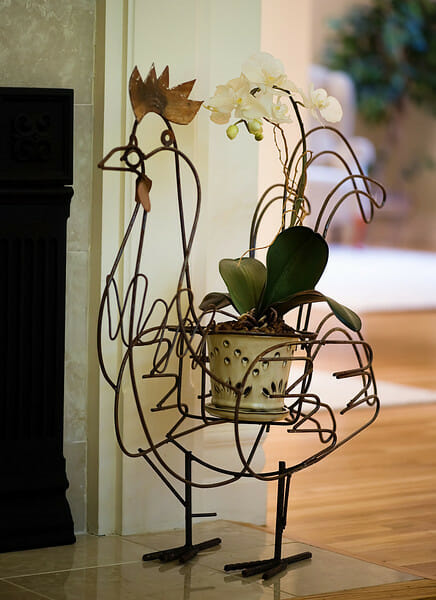 Um, and a giant bent iron chicken next to my fireplace.
Oh dear. I hadn't realized. I have surrounded my poor unsuspecting family with chickens.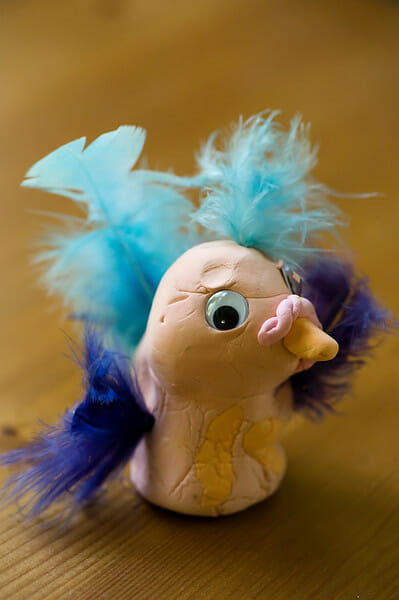 Now, THIS one was a GIFT.
At this point I decided to start NOT looking for any more chickens in my house, and just get on with the recipe posting. So for all of you who have been so patient, here is the recipe for Buttermilk Fried Chicken. I promise you it is worth the wait.
And if you ever come to visit me, whatever you do, please don't bring me a chicken. I obviously have poultry issues.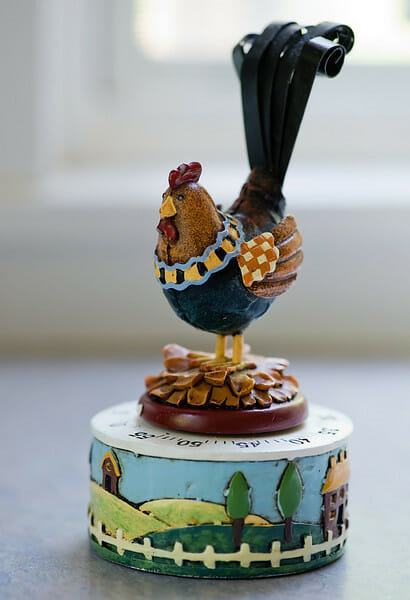 I have no idea how this got into my kitchen.
Cluck, cluck.
Print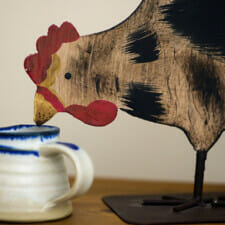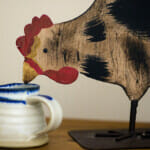 Buttermilk Fried Chicken
---
Author:

Prep Time:

15 minutes

Cook Time:

30 minutes

Total Time:

45 minutes

Yield:

4

-

6

servings

1

x
Category:

Dinner

Method:

Stovetop

Cuisine:

Southern
Description
There's fried chicken and then there is buttermilk fried chicken. Here's a classic recipe that delivers all the crispy goodness to your dinner table. 
---
Ingredients
1 cup

coarse salt

1/4 cup

sugar

2 tablespoons

paprika

3

heads of garlic, cloves separated and peeled

2 quarts

buttermilk

1

whole bone-in chicken, cut into pieces. (see note)

4 cups

flour

1

egg

1 teaspoon

baking powder

1/2 teaspoon

baking soda

4 cups

canola oil
---
Instructions
Combine salt, sugar, paprika and garlic in a large zippered plastic bag. Using a mallet, smash garlic into salt mixture. Pour mixture into large bowl, add 7 cups of buttermilk and until salt is dissolved.  Add the chicken and pop it in your fridge for about 2-3 hours.
After the chicken has marinated, take it out of the buttermilk mixture and put it in single layer on a wire rack set over rimmed baking sheet. Pop it back in the fridge for 2 hours.
When you are ready to fry things up, put the flour in shallow dish (a pie plate works great for this). Mix the egg, baking powder and baking soda in a medium bowl and pour in the rest of the buttermilk.
Dredge the chicken in flour, then use tongs to dip the chicken in the egg mixture and then back in the flour again. Return to wire rack.
Heat oil to 375 degrees (using instant read or candy thermometer) in large Dutch oven. Add the chicken to the hot oil with tongs (don't put the pieces too close –  you will probably have to work in batches). Fry until golden brown on the bottom, about 6-8 minutes. Turn over and  fry until second side is golden, another 6-8 minutes.
Transfer cooked chicken to paper towel-lined plate and drain for a couple of minutes.
Serve with any of the following: mashed potatoes, cornbread, corn on the cob, green beans, tomato salad, biscuits…you get the idea. And by the way, if you think this chicken is heavenly right out of the frying pan, just wait until you have a cold piece for lunch the next day. Life doesn't get too much better.
Notes
You can also use only chicken breasts or only chicken thighs if you prefer.  We love chicken breasts, and I cut the chicken breast halves in half again for easier eating!
SaveSave
SaveSave