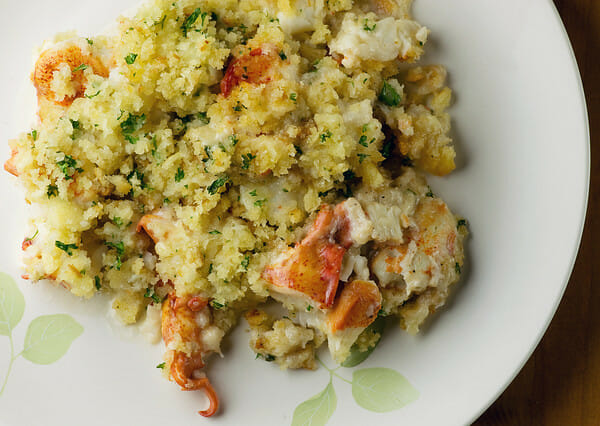 One of my very favorite cookbooks is one called POT PIES: COMFORT FOOD UNDER COVER. It is full of recipes for, you guessed it, pot pies…but not just the typical kind with the pastry crust. Nope, in this fabulous book basically anything that involves something covering the main ingredient counts as a pot pie, so this cookbook includes Shellfish Pie with Artichoke Crust. And Shepherd's Pie Topped With Garlic Mashed Potatoes. And Tuscan Braised Pork Pie with Polenta Crust.
But my very, very favorite recipe in this book is for something that is simply called Lobster Pie. So let me explain this one a little. It is actually Lobster Pie with a Buttered Parmesan Parsley Breadcrumb Topping.
I know.
I know!
You take two lobsters (which your supermarket has steamed for you and your significant other has shelled for you) and cut the meat into pieces, and heat it up in a sauce made out of butter and flour and clam juice and sherry and cream, and pour it into an oven-safe dish. You probably won't need all the sauce — just use your best judgement to see how much you need to make it sauced but not too soupy.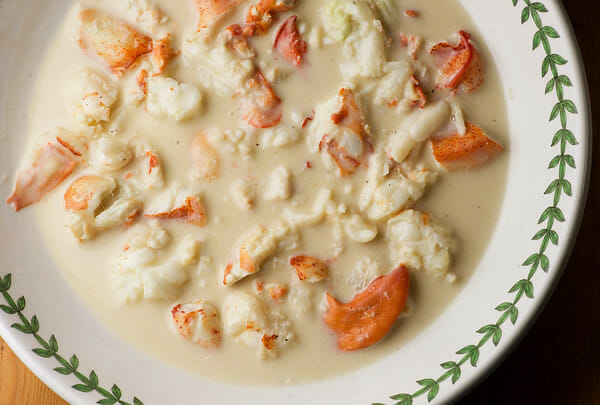 Then you take some nice bread – I used french bread — and whiz it up in your food processor. Add some melted butter and chopped parsley and fresh grated Parmesan cheese to the crumbs and spread it over your lobster mixture.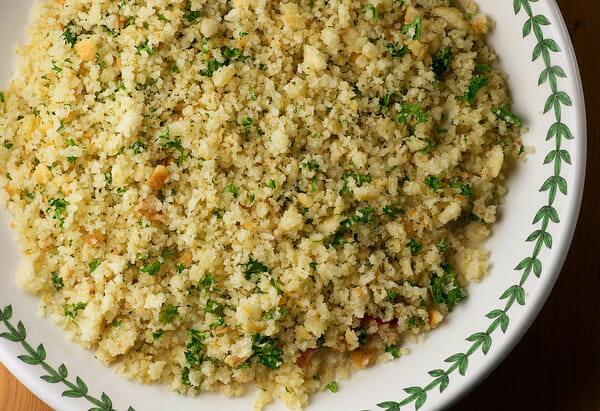 Bake it all up until the crumbs are golden.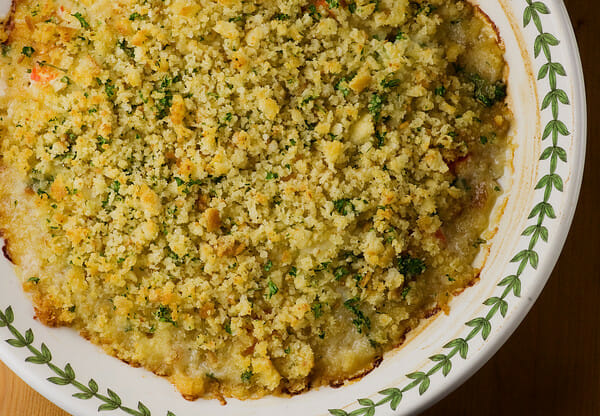 I promise you, it is all you hope and dream it will be.
Recipe adapted from POT PIES: COMFORT FOOD UNDER COVER.
Print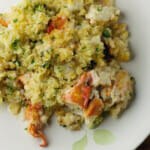 Lobster Pie
---
Ingredients
4 tablespoons butter, plus 6 tablespoons melted
1/4 cup flour
1 1/2 cups clam juice
1/4 cup sherry
1/2 cup heavy cream
2 lobsters, cooked, shelled and meat cut into chunks
salt and pepper to taste
3 cups soft french bread crumbs
1/3 cup freshly grated parmesan cheese
2 tablespoons chopped fresh parsley
---
Instructions
Melt 4 tablespoons butter in a saucepan and add flour, whisking until smooth. Gradually whisk in the clam stock until the sauce is smooth and thickened, about 5 minutes or so.
Add sherry and cream and bring to a boil. Reduce heat to low and add lobster. Taste sauce and add salt and pepper to taste. Using slotted spoon, transfer lobster to oven-proof casserole and spoon just enough sauce over to cover the lobster without making it too soupy.
Preheat oven to 375. Place bread crumbs, parsley and cheese in mixing bowl, pour melted butter over top and mix thoroughly. Spread crumbs over lobster.
Bake for 20 minutes, or until crumbs are golden. Serve immediately.