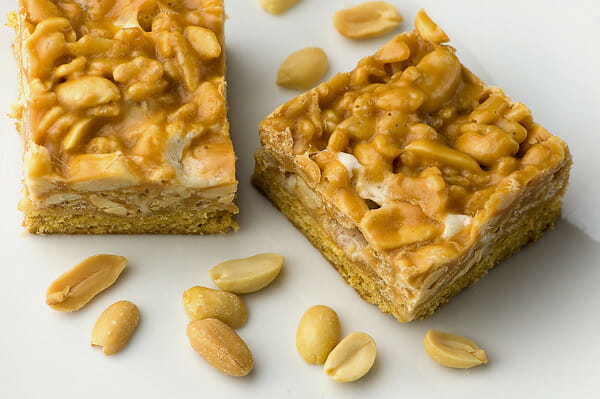 I have learned so many, many things from the Southern husband. For example: convertibles are light-years better than regular cars. Few meals in life are better than crayfish steamed in Old Bay spices and chased with Dixie beer. All the words to more Springsteen songs than I can count. And Payday candy bars.
Before he bought me my first Payday bar, lo these many years ago, I foolishly thought that all candy bars needed to involve chocolate. Not so…the wonderful Payday bar is peanuts and caramel with not a bit of chocolate anywhere, and it is GOOD. You don't see them around too often, but when you do, it's well worth buying one. Or two. And if you can't find an actual Payday bar (or even if you can!), these Payday cookie bars are the next best thing!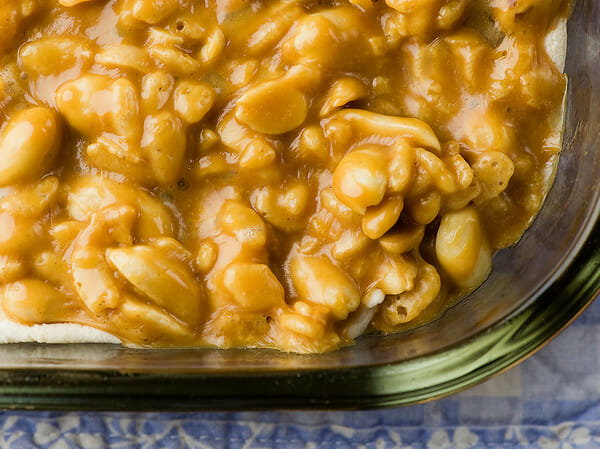 This is the third dessert in a row that I have made with yellow cake mix as a base...what does this MEAN? Probably that I should start buying yellow cake mix at Costco. (Any excuse to go to Costco!) Anyway, this is a three-step recipe, and each of the steps are easy — honestly, the hardest part of this entire thing was cutting the final product into squares. This is rich and dense and chewy, so cut those squares small. A little of this fabulous recipe goes a very long way!
Which also goes to show you…always listen to the Southern husband. 🙂
Print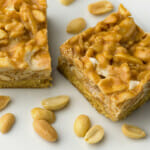 Payday Cookie Bars
---
Ingredients
Layer One: The Crust
1 box yellow cake mix
2/3 cup butter, softened
1 egg
Layer Two: The Marshmallows
2 cups of mini marshmallows
Layer Three: The Peanutty Deliciousness
1 bag peanut butter chips
2 tablespoons butter
2/3 cup corn syrup
2 cups crispy rice cereal
2 cups salted peanuts
---
Instructions
Layer One
Mix all of the ingredients, press into a slightly greased 9X13 pan. Bake at 350 for 20-25 minutes or until the edges are golden.
Layer Two
Sprinkle marshmallows over top of crust. Bake for another 5 minutes
Layer Three
Melt chips, butter and corn syrup in a saucepan. Remove from heat and stir in cereal and peanuts. Poor over base and spread evenly. Cool, cut into squares. Small squares. Trust me on this.