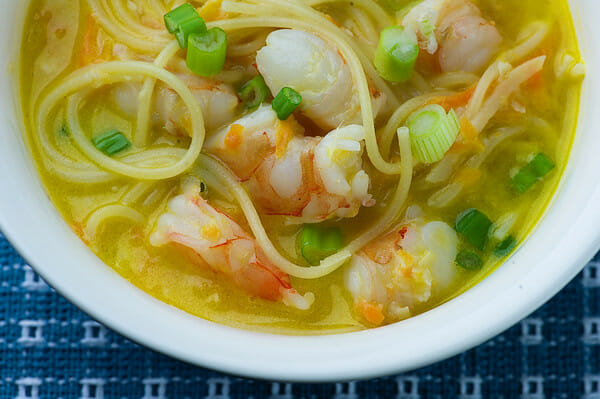 If I had to make a list of my all-time favorite things to eat, soup, shrimp and coconut would be right there at the top of the list. Okay, so they would be after bacon, but still right there near the top. Okay, maybe behind chocolate too — but still at the very head of the class.
So this speedy little soup is a great favorite of mine. It combines shrimp and coconut milk with angel hair pasta and carrots and it all comes together in a delicious, rich-tasting mixture that is part soup, part stew, and totally wonderful. I like to sprinkle some flaked coconut on top each serving – it gives it a little of that sweet and salty kick that I am so hopelessly addicted to. It's like a little taste of the tropics, right here in the middle of snowy, cold, snowy, windy, snowy February. (Did I mention that we had some snow?)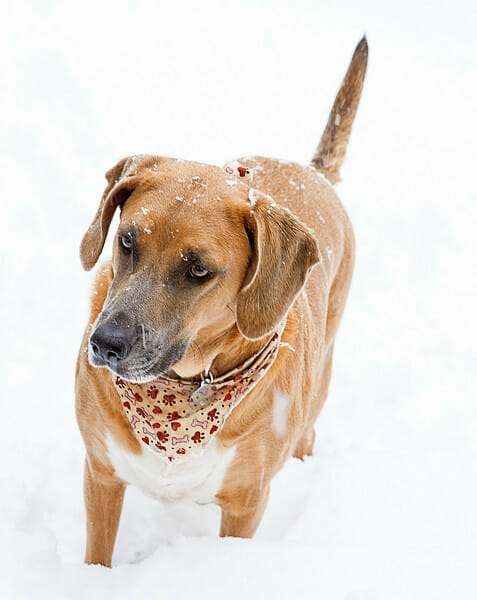 Go warm up with some nice hot coconut shrimp soup.
Adapted from Everyday Foods 

Print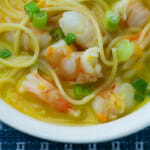 Coconut Shrimp Soup
---
Ingredients
1 tablespoon vegetable oil
1 grated fresh ginger
2 cloves garlic, minced
1/4 to 1/2 teaspoon red-pepper flakes
1 pound (6 to 8 medium) carrots, peeled, halved lengthwise, and thinly sliced
1 can (13.5 ounces) coconut milk
1 tablespoon cornstarch
4 ounces angel-hair pasta
1 1/2 pounds large shrimp, peeled, deveined, and chopped
1/4 cup freshly squeezed lime juice
Coarse salt
4 scallions, thinly sliced
Flaked coconut for garnish
---
Instructions
Heat oil in a large saucepan over medium-low heat. Add ginger, garlic, and pepper flakes; cook, stirring, until fragrant, about 1 minute. Add carrots, coconut milk, and 3 cups water. In a small bowl, mix cornstarch and 2 tablespoons water until smooth; add to pot. Bring to a boil.
Break pasta in half; add to pot. Return to a boil, reduce heat to medium, and simmer until pasta is al dente and carrots are just tender, 3 to 4 minutes.
Add shrimp; stir until opaque, about 1 minute. Remove pot from heat, and stir in lime juice; season with salt. Ladle into serving bowls, and garnish with scallions and flaked coconut.