This easy, speedy recipe for linguine with bacon bread crumb sauce is the ultimate in speedy suppertime comfort food, and you might just have all the ingredients on hand right now!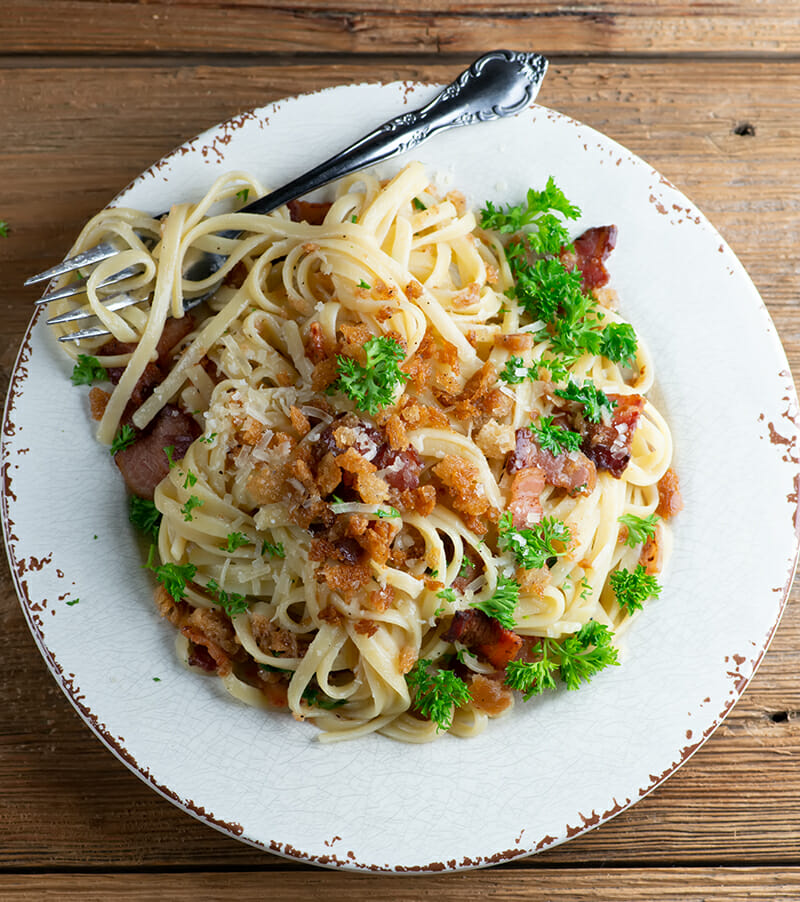 I do love a pantry supper, or in other words a recipe where I know I have all the ingredients on hand no matter how long it's been since I have gone to the supermarket.
This ultra comfort food recipe for linguine with bacon bread crumb sauce falls smack into that pantry supper category, because you KNOW I always have pasta in the pantry, bacon in the freezer, bread on the counter and Parmesan cheese in the fridge.
And since spring has sprung, I also have parsley merrily growing in my kitchen herb barrels, all ready to garnish this up.
And the other day I was in major need of an easy, breezy pantry supper because the Southern husband and I had just driven back from our old stomping grounds in New Jersey, where I got to hug and kiss so many of my dear ones for the first time in a year.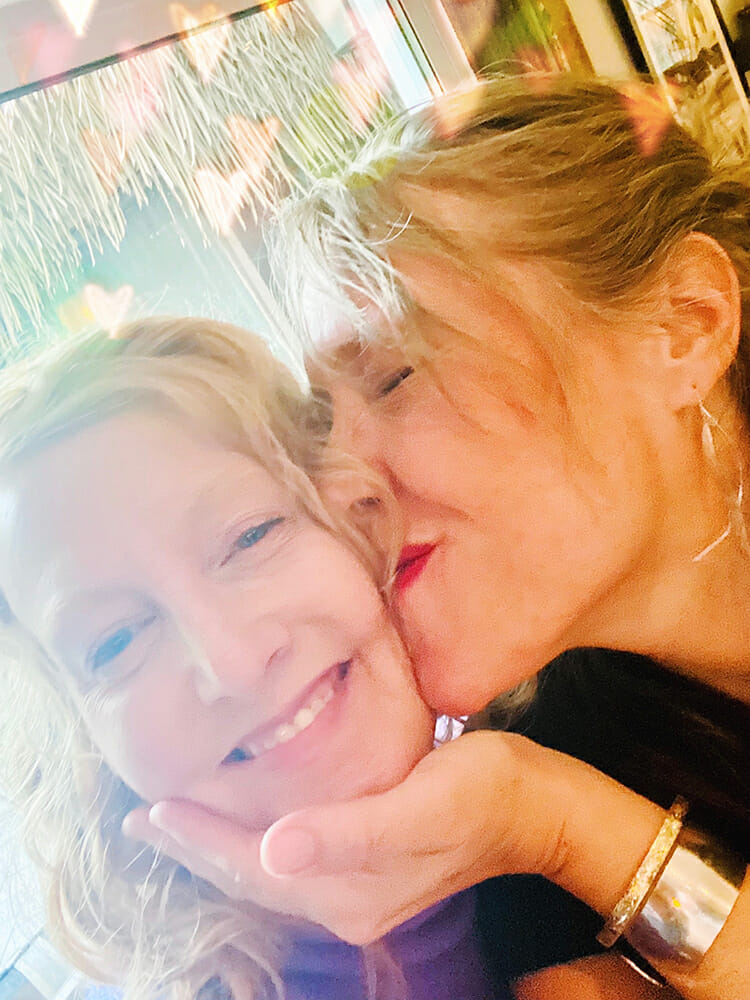 We love every single inch of the Carolina Dream House, but there is nothing that can compare with my dearies in the Garden State. WHAT A WEEK.
I was still all kinds of tired the day after we came home, and days like that you want to make a supper that practically makes itself for you. And has bacon.
And crunchy bread crumbs that have been toasted up in the bacon drippings.
And a sauce that is created with a little of the magical water the pasta has cooked in and some CHEESE.
And is ready in 30 minutes or less. Pantry pasta supper, here we come!
TIPS FOR MAKING LINGUINE WITH BACON BREAD CRUMB SAUCE!
What is the best way to measure pasta?
You can get all kinds of pasta-measuring gadgets, but I swear by my good old food scale. I aim for two ounces of uncooked pasta per person, but if you have hearty appetites around your table, go for three.
What is pasta water and why is it magical?
Once your pasta (for this or any other recipe) has cooked up in salted water, that water is infused with some of the lovely starch from the pasta, and it is perfect for drizzling into the cooked pasta with whatever else you are tossing with it. It gives the sauce a lightly silky and savory (and yes, magical!) taste. So keep a measuring cup by your pasta pot and scoop out a cup before you drain!
Can I use any kind of bread to make fresh bread crumbs?
Pretty much yes! I tend to use whatever sandwich bread I have on hand, but in a pinch you can use anything from a hot dog roll to an English muffin.
What's the best way to grate Parmesan cheese?
I absolutely ADORE my official cheese grater, but if you only need a little, a microplane zester is perfect. And of course you can use the pre-grated kind, but if you have a chunk of Parm in your fridge it will keep for ages, and there is nothing like fresh grated!
So there you have it – there are only a handful of ingredients between you and this plate of suppertime deliciousness…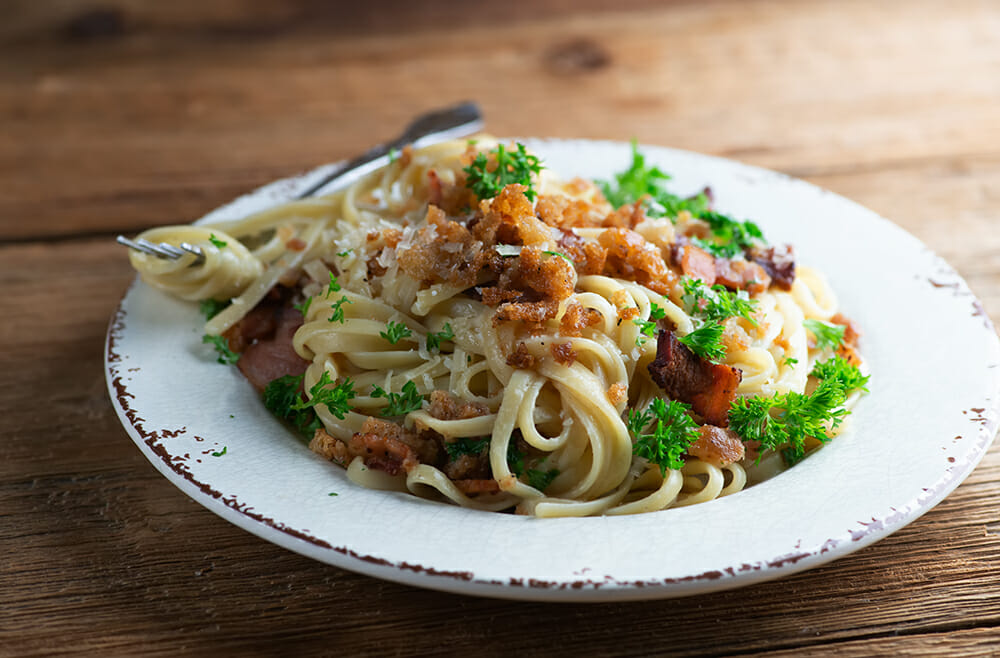 …and it's almost as good as a hug from your dear ones. Almost.
Love, Kate x
OTHER PASTA AND BACON RECIPES THAT MAKE US WANT SECONDS!
Print
Linguine with Bacon Bread Crumb Sauce
This easy, speedy recipe for linguine with bacon bread crumb sauce is the ultimate in speedy suppertime comfort food, and you might just have all the ingredients on hand right now!
Author: Kate Morgan Jackson
Prep Time:

15 minutes

Cook Time:

15 minutes

Total Time:

30 minutes

Yield:

4

1

x
Category:

Dinner

Method:

Stovetop

Cuisine:

American
2

slices bread

8 ounces

linguine

8

slices of the best bacon you know
Fresh ground pepper

½ cup

freshly grated Parmesan cheese
Chopped fresh parsley for garnish
Instructions
Tear the bread into quarters, pop it into your food processor and pulse until it is in crumbs. Set aside.
Cook the pasta in heavily salted water according to package directions. Scoop out a cup or so of pasta water right before you drain it.
Put the bacon in a large skillet over medium high heat and cook the bacon to your liking. Scoop it out to drain on paper towels, leaving the drippings in the pan.
Add the breadcrumbs and a pinch of pepper to the drippings and sauté over medium heat, stirring constantly until golden. Scoop them out and set aside. (So much scooping!)
Add the pasta and the parmesan cheese to the skillet and toss. Drizzle in some of the reserved pasta water until you have a light sauce and toss again. Add the bacon and most of the breadcrumbs (hold back a few for garnishing) and toss again.
Divide among bowls, top with the rest of the breadcrumbs and some parsley and serve!
Equipment We Used to Make This Recipe
Notes
Need to add something to your kitchen equipment to make this recipe? Below are some of the items we used in the Framed Cooks kitchen to help cook this up. These are affiliate links to things we use and love, which helps to pay for all that bacon I keep buying!
Keywords: linguine with bacon bread crumb sauce, pasta with bacon sauce, pantry pasta recipes