Start the week by making a weekly menu, and you'll never find yourself at the end of the day wondering what on earth you are going to do for supper. Here are my Weekly Menu Planning 101 tips!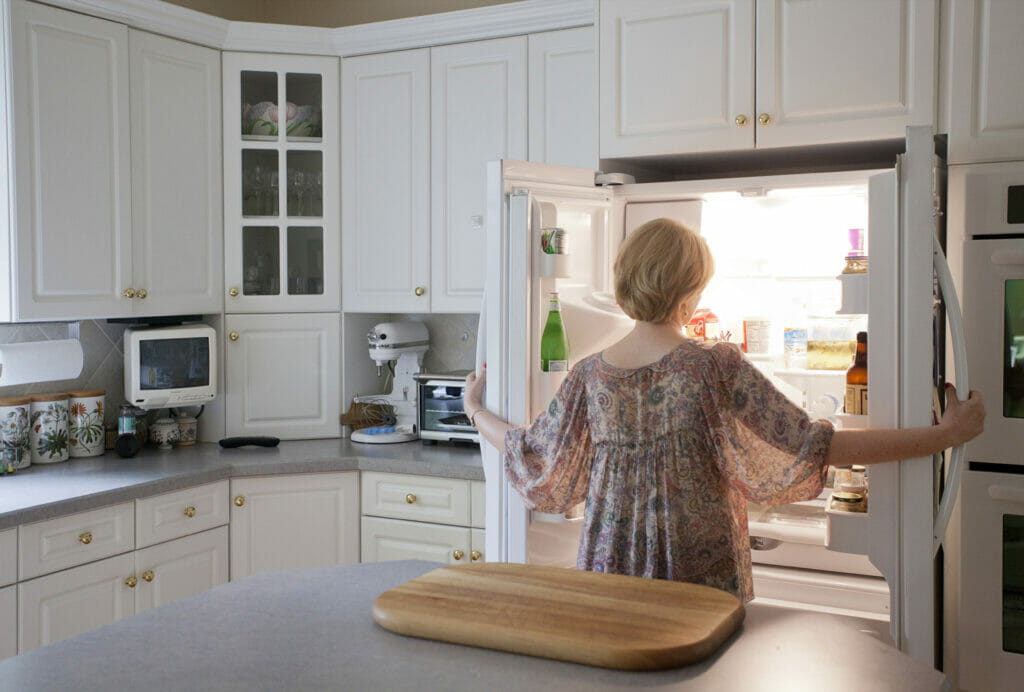 One of the questions I get most often is how I go about figuring out the menu, shopping for all the groceries and then putting it all together to get supper on the table every day, all without driving myself and those around me crazy.
My menu planning is highly complicated by this here blog that you are reading, because I cook every day except Friday, when the Southern husband and I go to our favorite pizza joint.
And because everything else that goes into keeping this website humming along keeps me hopping from down until dusk, I've developed my patented Framed Cooks Weekly Menu Planning 101 method. Okay, so maybe it isn't patented, but it does keep me sane, and here's how it goes!
How To Figure Out What The Heck To Make Week After Week
My first rule: Pick one day – whatever one works best for you – and make that Weekly Menu Planning Day. Don't let anything interfere with it – make it a hard and fast appointment with yourself.
Yep, you are going to figure out the weekly supper menu for the next week all at once. Trust me – it's going to make the rest of the week so much easier!
On Fridays – my one cooking day off! – I figure out my weekly menu for the next 6 days, and I get my meal ideas as follows.
Have A List Of General Categories To Help You Choose
I try and have one chicken, one pasta, one soup, two seafoods (good and so good for you!) and I'll rotate an egg dish or a red meat dish or a vegetarian dish or even a sandwich in for that last day. This way I know I have a variety of dishes on deck.
Ask For Suggestions
I ask the Southern husband (and/or anyone else who might be in residence that week!) if they have a yearning for something. They always do, and that fills in one slot. (This week he asked for steamed cheeseburgers. And I'm here to tell you that steamed cheeseburgers ROCK.)
Use Up The Leftover Ingredients
I keep a running list on my desk of leftover perishable items in my fridge. (We have a strict No Ingredient Left Behind Rule in our house.)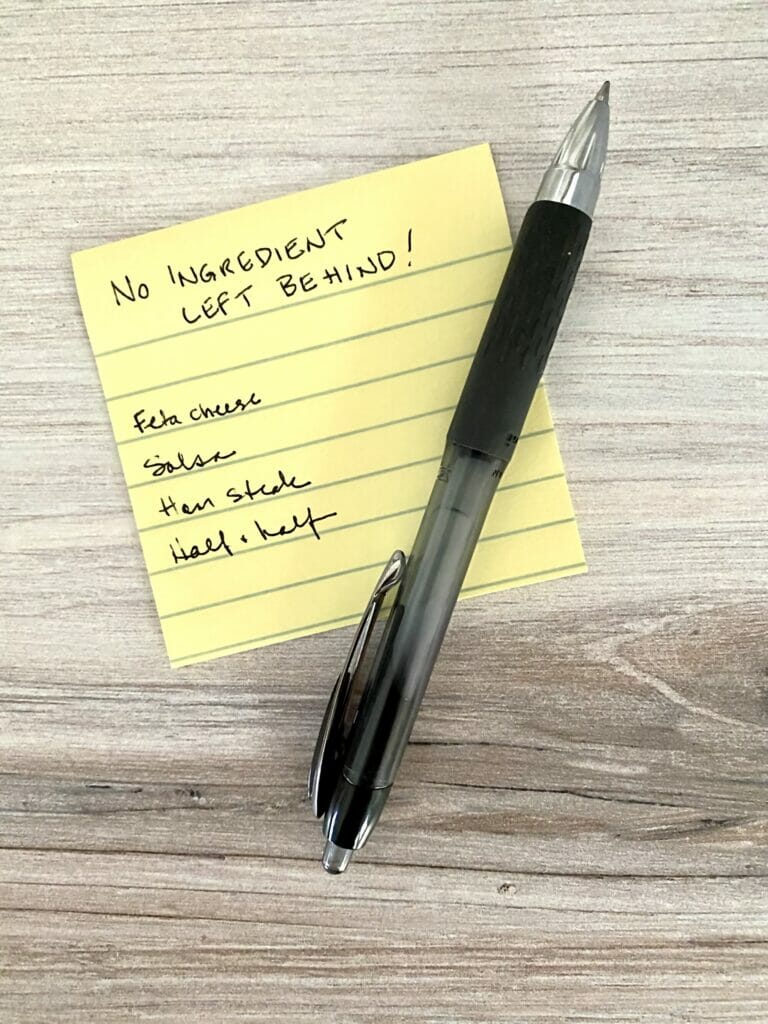 Right now that list reads "Feta cheese, salsa, half and half, ham steak." Then I will search my list of favorite or upcoming recipes for anything that calls for those ingredients, and that takes care of another dinner or two.
Keep A Running Collection Of Recipes To Try
We all run across interesting meal ideas throughout the week, so here are some ways to both keep an eye out for them and capture them for menu planning time!
Pinterest: Set up a board called Recipes To Make, and every time you run across something you are interested in, Pin it! You can get super fancy and have multiple boards (chicken, pasta, etc) and/or you can give your family access so they can pin as well.
Cookbooks: We've all got 'em. Set aside an afternoon every once in a while, arm yourself with some little post-its, and go through an armful of books, marking the recipes that catch your eye. If any cookbook doesn't turn up at least 5-10 possibilities, it's time to donate it to your local library.
Back of Box Recipes: I always check the back of boxes and cans because almost all of them have easy to make recipes and some of them ROCK.
Day of the Week Menus: It is totally fine to have a regular Monday recipe – or for that matter, an every day of the week recipe. If you always plan spaghetti and meatballs for Monday nights, that doesn't mean you can't change it up if you get inspired. But if not, you always have your regular Monday menu item to fall back on. My Nana made leg of lamb with peas and carrots and mashed potatoes every Sunday, and it was wonderful.
Favorite Recipes Folder: When you make a recipe that is a family hit, print it out and stick it in this folder. That way you will always be able to put your hands on surefire recipes when you need inspiration.
Food Blogs! You knew that was coming, right? At the end of this post is a little round-up of some of my favorite food blogs that you can check out for ideas. All of them have handy search features, so if you are still looking for that elusive chicken recipe, you can look it up!
Make Your Grocery List!
So far so good? Yay! At this point you have your list of recipes, and it's time to make your grocery list. Don't get up until you have matched up those recipes with whatever you need to make them, and written them down.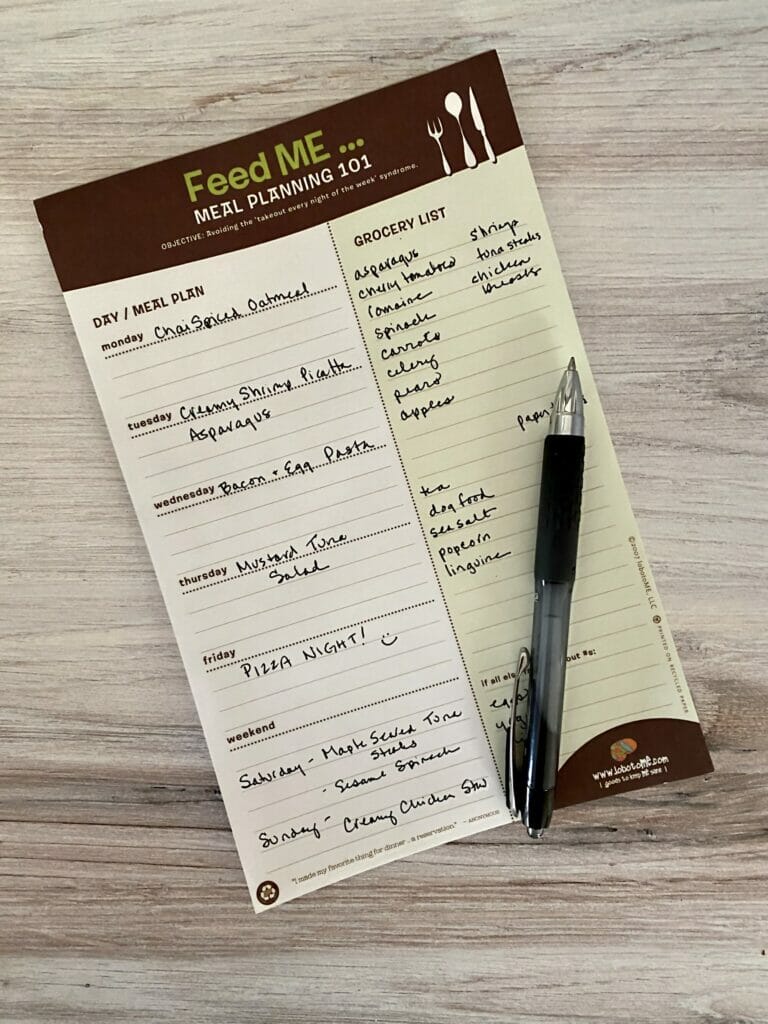 I like the Feed Me menu planner – it lets me keep my menu plan and my grocery list in the same place.
I like to group things in the order of my supermarket, so I can swing by first the veggies, then the fish/poultry/meats, then the dairy.
I try to stay out of the middle of the supermarket except for things I absolutely need, otherwise I find myself standing in the cookie aisle gazing longingly at the Devil Dogs, and the next thing you know they are in my basket.
Knock Off Your Shopping With One Weekly Trip
On Monday mornings the Southern husband and I are off to the supermarket right after breakfast. It's usually relatively calm and quiet and you can do your shopping in peace, except for the crowing rooster noises in the background (what IS it with the rooster noises, Wegmen's?).
Oh, and I should mention that from late spring through late fall, we stop first at our local farm market and snap up whatever local fresh produce is on our list, and we fill in the rest once we get to the supermarket.
Here's the perfect place for me to make my pitch for reusable shopping bags! We have a nice collection of tote bags that live in the back of our car so we don't forget them, and we recently added these bags from Net Zero – we pop our produce in them instead.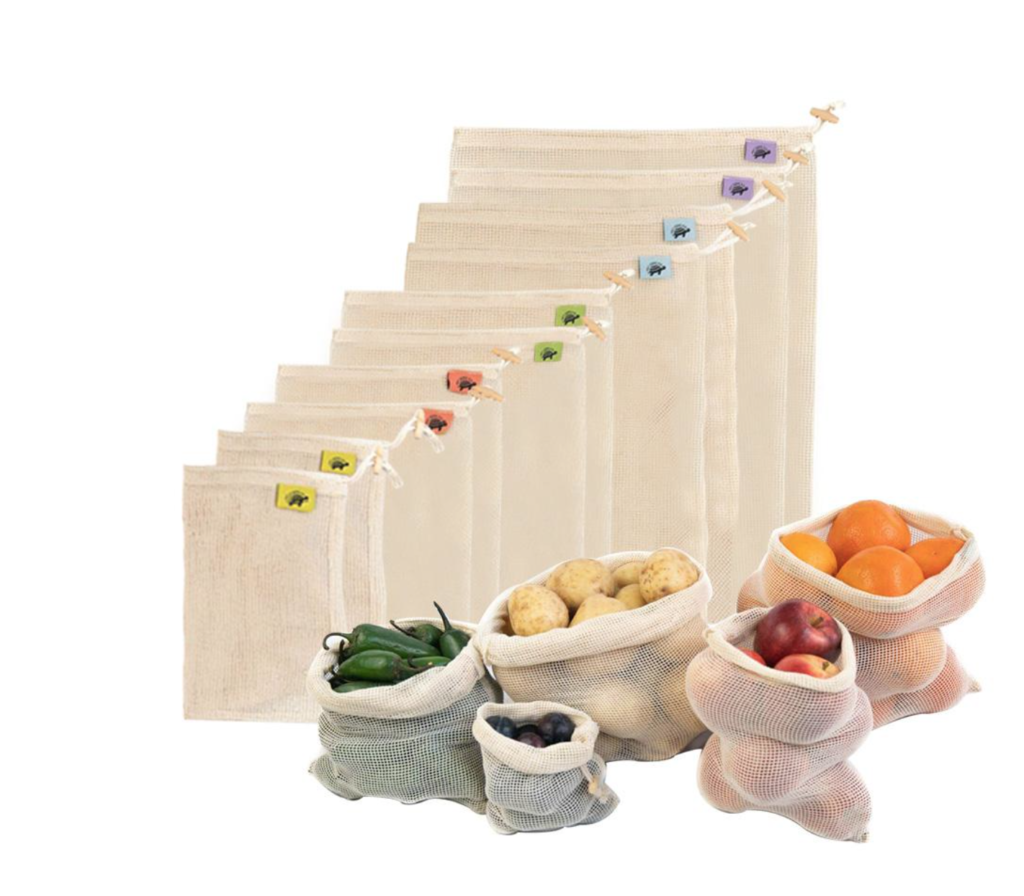 They add less than a penny to the cost, weight-wise, and it's that much plastic to toss out.
We try and stick pretty closely to the list, and as soon as we get home, we tuck everything away and pop those reusable bags back in the car for next Monday.
Whether you pick Saturday mornings or Wednesday afternoons, make the weekly shopping trip a permanent, regular part of your week.
Oh, and when you get home, pop that menu list on the front of the fridge so that you remember what's scheduled for dinner every night, along with printouts of the recipes. Who knows, maybe someone will get it started before you get home!
Pantry Dinners/I Just Can't Face Cooking Tonight
We all have those nights. Our menu is set, our ingredients are ready and waiting, but we just…can't…face it. As tempted as you are to dial that take-out number, here are a few options.
Breakfast for dinner: Scrambled eggs, French toast, oatmeal with brown sugar and raisins, pancakes made from good old Bisquick – all of these can be ready in less than 15 minutes, and I bet there's someone in your house who can make them.
Sandwich night! PB&J, grilled cheese, whatever cold cuts you have on hand. Yes, they might have had the exactly same thing for lunch. They will survive.
Frozen dinners: I know! Here is your friendly neighborhood food blogger saying that yes, I always have a couple of frozen mac and cheeses in my freezer for those ultra-exhausting days. It's still better (and less expensive) than ordering in a giant pizza or a vat of Chinese food.
The Cheerios Option: This is for the picky eaters in your house. We always had The Cheerios Option, meaning that if you didn't care for whatever was for supper, you needed to TRY it, and if you still didn't like it, you could have good old Cheerios with milk.
Because mama is not a short order cook, and everyone likes Cheerios.
However, you may be surprised at how having dinner already decided and the ingredients already in the house gives you the motivation you need to cook up those scrumptious suppers you've planned out!
And last but definitely not least, here are some of my favorite cooking and recipe websites to get you inspired for that weekly menu planning I know you are about to do!
Recipe Girl * Add A Pinch * Leite's Culinaria * Dine & Dish
The Pioneer Woman * Pinch Of Yum
Do you have any tips and tricks for keeping that weekly menu planning under control? Tell us in the comments!