Love asparagus? Love goat cheese? Love pasta? Got 15 minutes? Then this easy recipe for pasta with asparagus and goat cheese can be all yours for dinner tonight, full of springtime asparagus and creamy, dreamy goat cheese flavor!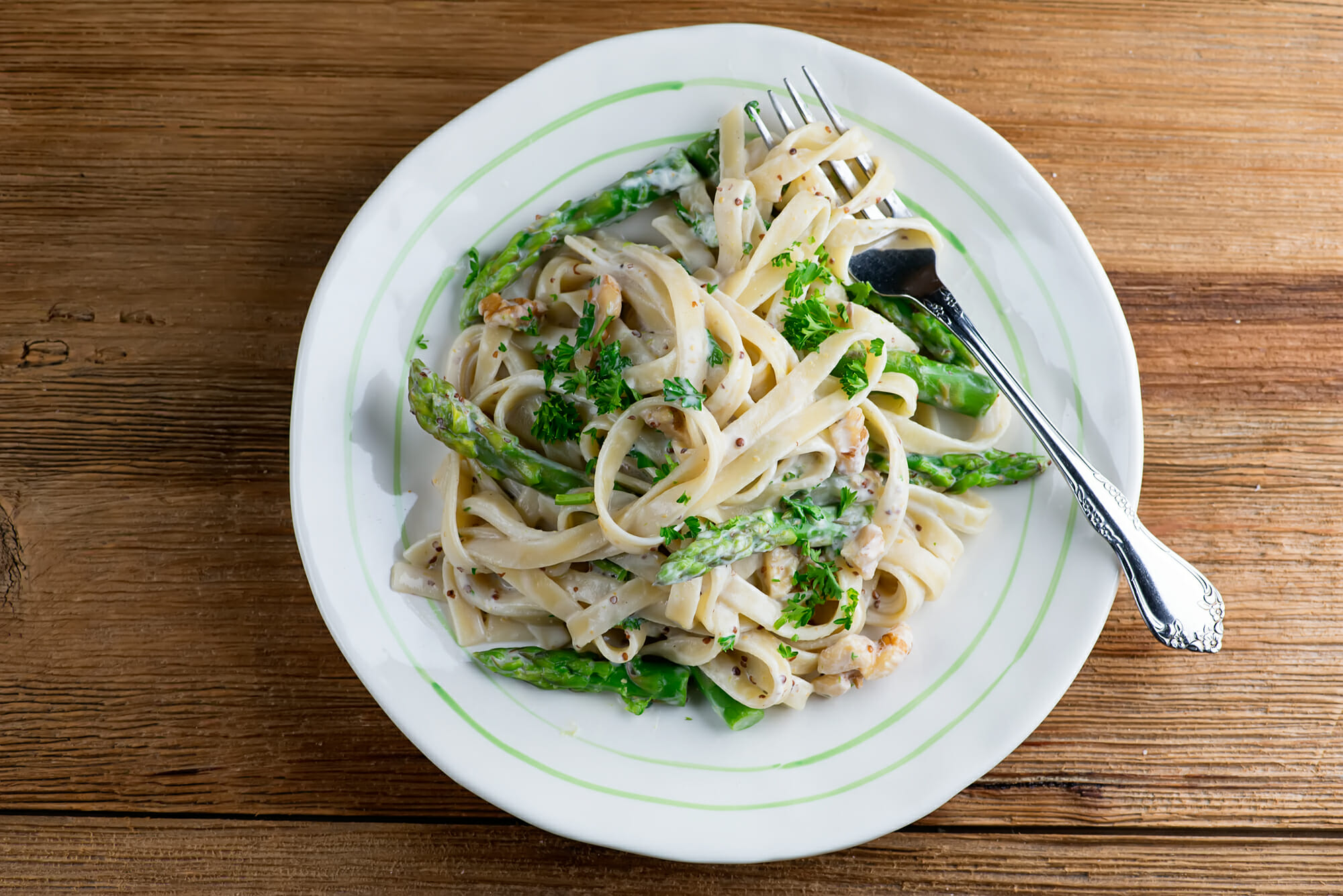 One of the things that I love about this recipe (besides the pasta and the goat cheese and the asparagus parts) is that it is a proud member of my Dinner In A Hurry category of recipes.
And by dinner in a hurry, I mean recipes that call for very few ingredients and that can be on your supper table in 15 or 20 minutes, but still tasting like you might have been slaving away in the kitchen all day.
And this one is in heavy rotation during the fabulousness that is Asparagus Season, when I am tossing gorgeous local asparagus in just about everything.
So, Can You Really Make Pasta With Asparagus And Goat Cheese In 15 Minutes? Really?
You can! First, first get your hands on a bunch of asparagus.
It's of course always in the supermarket, but if you have a local farm market nearby like we do, show them some love and go buy their asparagus (they might also be getting in some local strawberries, so double win if they are)!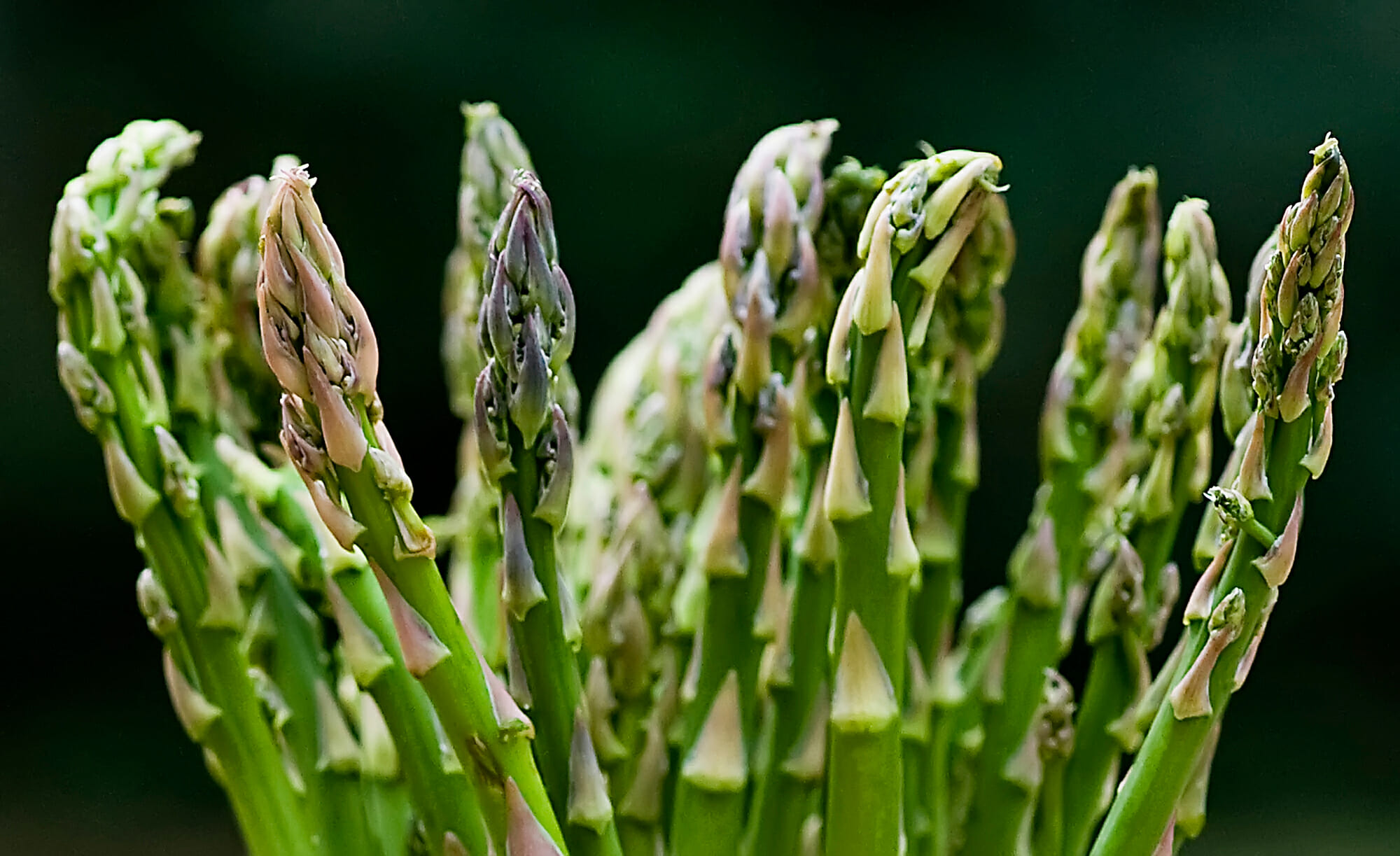 Snap the ends off and cut them into two inch pieces.
You also need some nice soft goat cheese. Which gives me yet another chance to show you one of my favorite pictures I've ever taken…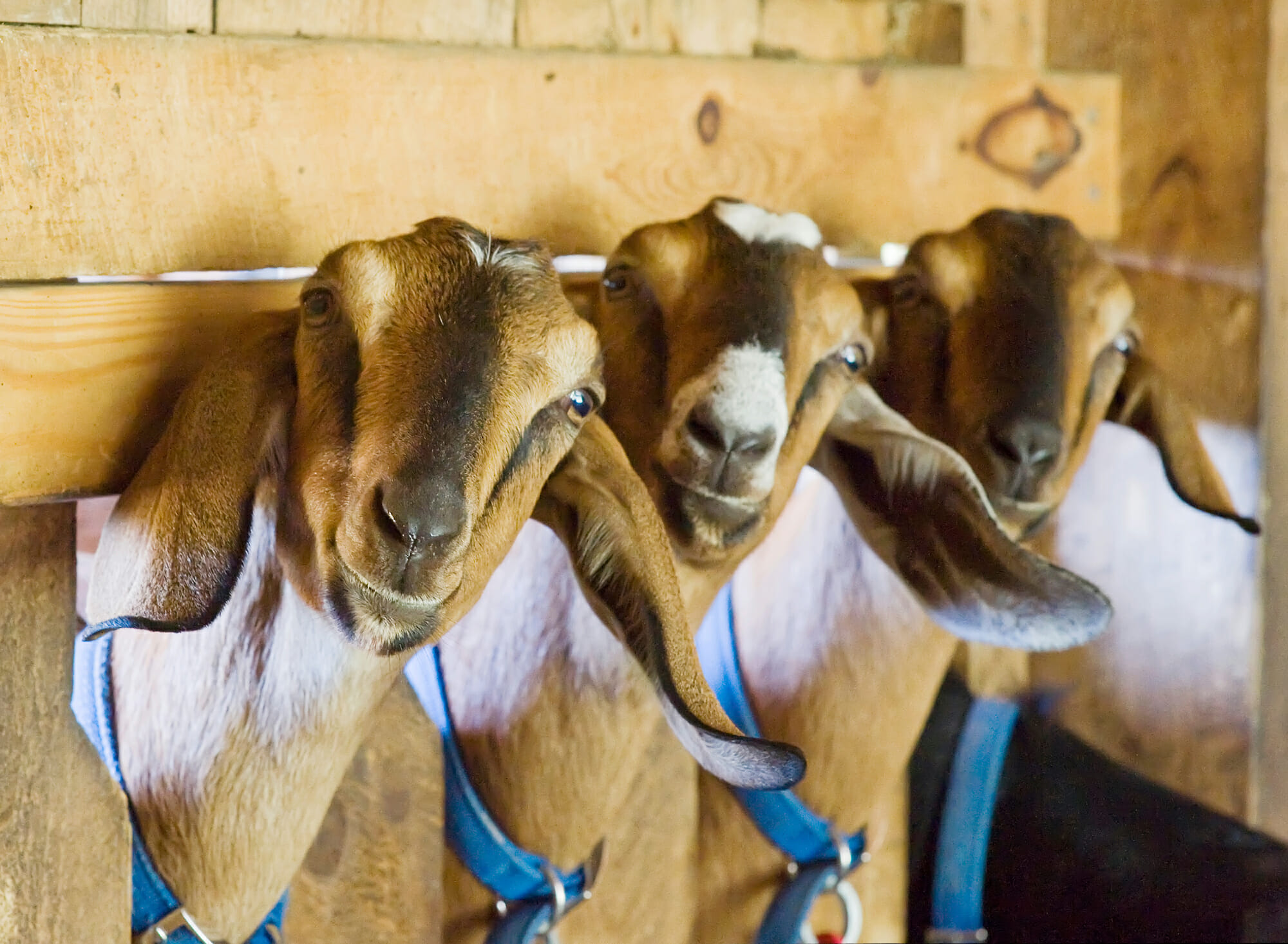 These are the goats at Hildene in Manchester Vermont, AND THEY ARE SMILING. Maybe because the Hildene goat cheese is amazing. I also love Vermont Creamery goat cheese, which you can probably find at your supermarket. Bring it to room temperature and tear it into chunks.
Now round up some walnuts, some grainy mustard, some parsley and some pasta. Pretty much any pasta will work with this recipe, but we like to use a long pasta like fettuccine or linguine.
Now here we go: drop the pasta in boiling water that you have heavily salted and 3 minutes before the pasta is done, drop in the asparagus so it can cook in the pasta water.
Before you drain it, scoop out a cup-full of that pasta water (more on that in a sec). Drain the pasta/asparagus mixture and put it right back in the pot.
Now add the walnuts, goat cheese, mustard and parsley and drizzle in about a quarter of the pasta water. Toss the whole thing around with your handy kitchen tongs, and keep drizzling in the pasta water until you have a nice light sauce. And…you're done!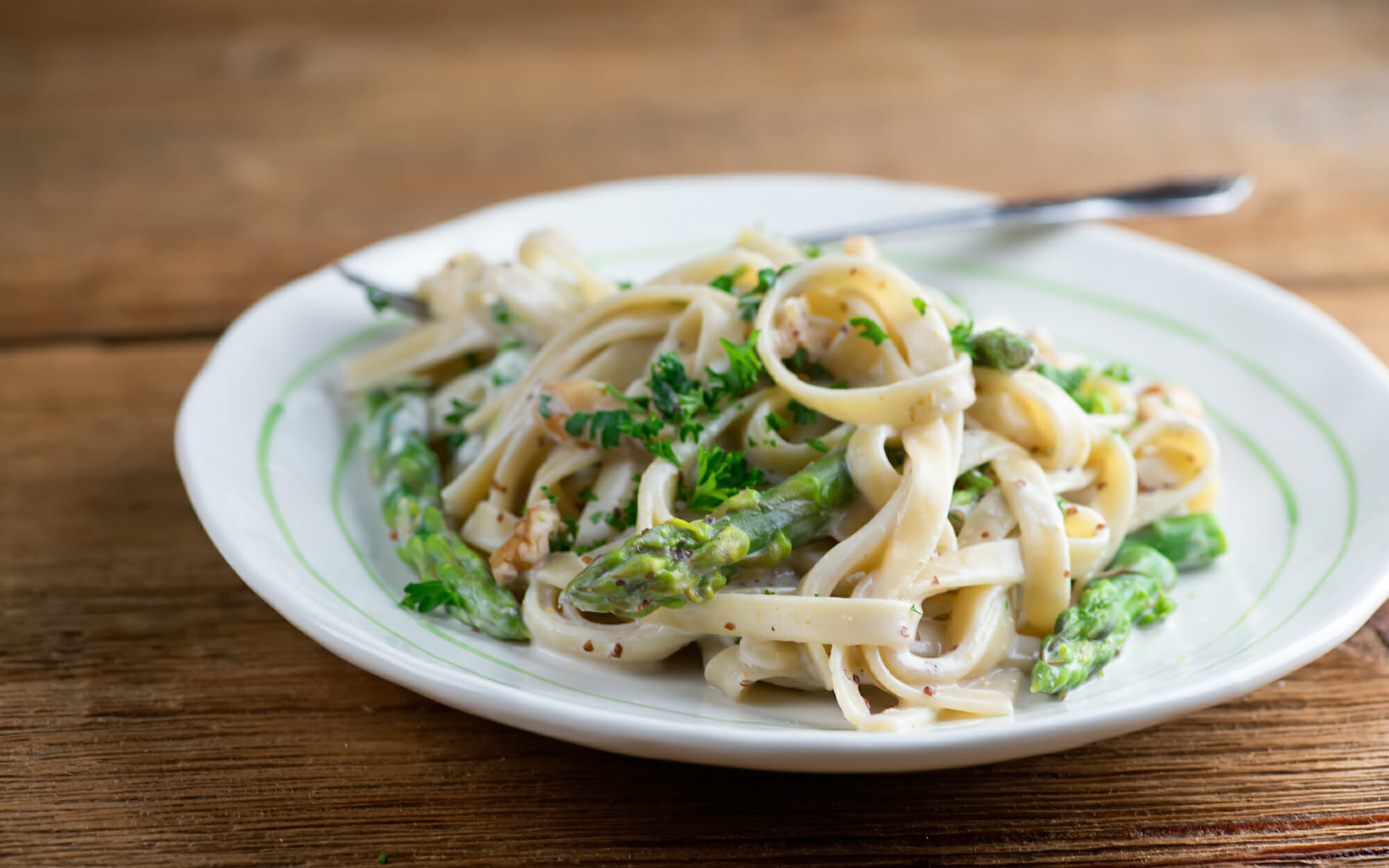 What Is The Deal With The Pasta Water?
Pasta water is magical stuff, and I automatically scoop out a cup whenever I am cooking pasta right before I drain it just in case, and here's why.
As the pasta cooks, it is releasing flavorful starch into the water – that is why pasta water looks cloudy at the end. And since you have liberally salted your pasta water (it should literally be like seawater) that pasta water has a lovely seasoning to it.
What that means is that whatever sauce you are making can be loosened up and made super silky by drizzling in just a little of that starchy, salty, magical pasta water.
And if you don't have a sauce, toss your cooked pasta with some butter, grated parmesan and some pasta water and you will be walking directly into pasta heaven.
And with that, here's the recipe for my beloved pasta with asparagus and goat cheese…happy asparagus season! And if you have your own favorite asparagus recipe, tell me in the comments!
Print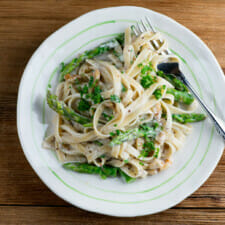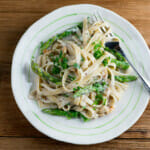 Pasta with Asparagus and Goat Cheese
---
Author:

Prep Time:

5 minutes

Cook Time:

10 minutes

Total Time:

15 minutes

Yield:

4

Category:

Dinner

Method:

Stovetop

Cuisine:

Italian

Diet:

Vegetarian
Description
This easy recipe for pasta with asparagus and goat cheese comes together quickly for a delicious supper full of rich springtime flavor.
---
Ingredients
1/2 cup

walnuts

8 ounces

pasta (any kind will work, but we love fettuccine for this one!)

1

bunch asparagus, trimmed and cut into

2

inch pieces

4 ounces

goat cheese, room temperature and cut into pieces.

2 tablespoons

grainy mustard

2 tablespoons

chopped fresh parsley
---
Instructions
Cook pasta according to package directions in heavily salted water.  Add the chopped asparagus 3 minutes before the pasta is done, and scoop out a cup of the pasta water before you drain everything.
Return the drained pasta and asparagus to the pot.  Add the walnuts, goat cheese, mustard and parsley and drizzle in about 1/4 cup of the reserved pasta water.  Toss with tongs until everything is well mixed and the goat cheese is melty.
Keep drizzling in the pasta water until you have a nice light sauce, then divide among warmed plates and serve!
Notes
Need to add something to your kitchen equipment to make this recipe? Below are some of the items we used in the Framed Cooks kitchen to help cook this up. These are affiliate links to things we use and love, which helps to pay for all that bacon I keep buying (without any extra cost to you)!  Thanks for using them to keep our kitchen cooking…xoxo!
Equipment
Updated and made more delicious from a previously published Framed Cooks post!