Love your burgers thick and juicy? This recipe is for hearty and flavorful tavern burgers is the hamburger of your dreams!
We do love a good burger in our house, and now that burger season is kicking into high gear, this week I am going to be all about the burgers.
Because while there is unanimous agreement in our house that we do love our burgers, we definitely fall into different camps as to HOW we like our burgers.
And I'm not talking about the temperature – we are both medium rare to rare burger-lovers.
Nope, we are divided between the thick, juicy, got-to-open-wide-to-bite-into-it tavern style burgers, and the smashed flat, lots of nooks and crannies, diner style burgers.
So! In this corner of the blog, we have the tavern burger. Big, tender, most often found in taverns and pubs and steakhouses.
So, the first thing you need to know about both these burgers is that we don't make them on the grill. There are lots of things that we DO love the grill for…for example, I am working on a recipe for spicy steak and cherry tomato skewers for you guys.
That is my sous chef with his Clemson orange covered grill gloves, which is how he likes to wrangle skewers. I'm almost ready with this recipe! One or two more tests and adjustments to go!
Meanwhile back in the kitchen, I make all our burgers either in my cast iron skillet or my electric griddle.
I want a super hot, flat surface that will cook the burgers evenly and with no chance of them breaking through any of the grill bars. Tavern burgers in particular are so tender and juicy that they need a lot of support from their cooking surface.
Here's How To Make Tavern Burgers!
So! Fire up your skillet or your griddle, and while it is heating up, take your ground chuck and divide it into 1/2 pound portions. Yep. Half pound. It's going to shrink a little when it cooks, but I'm not going to lie – these are Significant, Thick Burgers.
And while we are discussing the chuck, here is my regular plea for you to try grinding your own, which you can do in your food processor or if you have a Kitchen-Aid mixer, they make a terrific meat grinding attachment.
If you aren't up for doing that, then go to the meat counter and your supermarket and ask for freshly ground chuck steak. I guarantee that it is going to be better than anything in the shrink-wrapped packaging. AND YOU'RE WORTH IT! :)
Season your piles of beef with a little salt and pepper, and then gently form them into thick, round burgers. Handle the meat as little as possible while still making sure the burger is securely smooshed together – this makes for maximum tenderness.
Now! Lay the burgers on the griddle or skillet and leave them alone for 3 minutes. I'm not kidding. You want them to form that perfect dark brown sear on the outside, and if you move them around while this magic is happening you will mess with tavern burger perfection.
After three minutes, flip them over and cook them for another two, and then top them with a piece of American cheese (yes, American please, for extreme meltiness) and cover them with the lid of a pot. This helps the cheese melt to perfection.
Some of it is going to run down the sides of the burger, and this is just FINE. It is more than fine!
(Pro Tip: have someone unwrap the cheese slices ahead of time. There is nothing more anxiety-provoking than getting to the exact second you need to add the cheese and then having to do battle with the cheese wrappers.)
After one more minute, use a spatula to remove the burgers to a plate while you get the rolls ready – you want them to sit for about a minute, and preparing the rolls will distract you from the mouthwatering cheeseburger just inches away.
I like to put the lettuce on the bottom half, and top the burger with ketchup and a pickle slice, but you be you with the toppings.
After that endless minute, place the burger on the bun, do your topping thing, pop the top of the bun on the burger, and serve them up! You have just made tavern burgers in your very own home tavern.
This is the burger style of choice for the Southern husband AND the Southern daughter.
Next up is the diner style burger, which is the smashed flat, lots of nooks and crannies for the cheese kind of burger. Think Shake Shack, or Smashburger. Or your favorite diner! This is my favorite, and the dog's favorite. (Ha. The dog will take whatever style burger she can get.)
What's your favorite? Tell me in the comments, you burger-lovers, you!
Print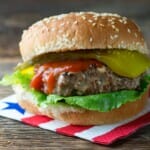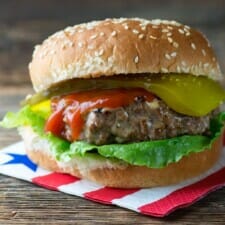 Tavern Burgers
---
Author:

Prep Time:

5 minutes

Cook Time:

6 minutes

Total Time:

11 minutes

Yield:

2

servings

1

x
Category:

Dinner

Method:

Stovetop

Cuisine:

American
Description
Love your burgers thick and juicy? This recipe is for hearty and flavorful tavern burgers is the hamburger of your dreams!
---
Ingredients
1 tablespoon

butter

1

pound ground beef chuck steak

1/2 teaspoon

salt

1/4 teaspoon

pepper

2

slices American cheese

2

hamburger rolls
Your choice of toppings: lettuce, ketchup, mayo, mustard, relish, sliced pickle, etc!
---
Instructions
Divide the ground chuck into 2 portions and season the portions with salt and pepper.
Gently form them into two thick burgers.
Heat a cast iron pan or a griddle to medium high, and add butter. When the butter is melted, increase the heat to high and add the burgers. Cook them for three minutes on the first side WITHOUT moving them.
After three minutes, flip them over carefully and cook them for another 2 minutes. Lay a piece of cheese on top and cover the skillet (if you are using a griddle, a large pot cover will work for this). Cook one more minute until the cheese is melted.
Remove the burgers to a plate and let them rest for a minute or so. Place them on rolls with your choice of toppings (I like to layer them like this: bottom bun, lettuce, burger, ketchup, pickle slice, top of bun), open wide and take a bite!
Notes
This recipe is for medium rare burgers. If you like your burgers more well done, simply increase the cooking time on each side by a minute or two. One way or the other, add the cheese during the last minute of cooking.