What on earth is chicken bog, you ask?  I know you are thinking that, and so was I one day when I was scrolling through my Facebook feed and my friend Kiera had written on her page that she was making her all-time favorite comfort food.  Chicken bog.  It took me about 3 seconds to email her and say hey, what on earth is chicken bog, Kiera?  And as it turns out, chicken bog is a conglomeration of rice and sausage and shredded chicken and onion, and once you make chicken bog for yourself everything will be right with your world.  Which just goes to show you that scrolling through Facebook is an important activity in life, because if I hadn't been scrolling through Facebook I might have lived my whole life without having known about chicken bog.
And to celebrate the face that this all happened, I'm going to give away a few sets of the most beautiful books I know, but first…chicken bog.  Let's make it!First things first: this is my friend Kiera.
I don't think I've ever seen her without that beautiful smile and a bow or a flower in her hair.  Besides being adorable and generous about sharing her chicken bog knowledge with me, she is also a writer.  As in, a writer who has written a whole bunch of wildly romantic, heart pounding, GORGEOUS books.  Oh, and by the way, every single one of them has been a New York Times bestseller.  Because she is not only adorable and generous, she is also ridiculously talented – click here to get an idea of how wonderful she is.  
That's a box full of her amazing books (and more on that box in a little bit), but first, the chicken bog.  When she sent me her grandmother's recipe for this deliciousness,  Kiera said "welcome to the comfiest of comfort foods…I called my mom today to see if she was okay with me sharing and she was like 'Yes! Share it with the wooooooooorld!""  So I should say thank you to Kiera's mom too (Thank you, Kiera's mom!!) because it IS the comfiest of comfort food.  Here's how it goes.
You take some bone-in chicken pieces – Kiera's original recipe called for chicken thighs, but I had chicken breasts in my freezer so that's what I went with.  Simmer them up in water or chicken broth (I like using chicken broth to ramp up the chicken-y flavor) until the chicken is fully cooked.  Scoop it out and let it cool.  Now you want to chop up an onion and slice up some kielbasa or other smoked sausage (Kiera uses turkey sausage) and pour it into the leftover broth.  Turn up the heat and once things are boiling, pour in some rice.  Cover the pot and let things simmer until the rice is done.
At this point, the rice will absorbed all the liquid and it will be delectably soft and flavorful.  Shred the cooked chicken and stir it into the rice mixture along with some salt and pepper. At this point, you can get creative about what you want to add…Kiera's husband likes to add barbecue sauces and her daughter likes shredded cheese on top.  I decided to give the Southern husband his bowl of chicken bog with a drizzle of spicy Sriracha sauce, and he was about one hundred kinds of happy.
As for me?  I put a dollop of soft Kerrygold butter on mine, and I pretty much wanted to die of chicken bog happiness.  The last step on the recipe that Kiera sent to me said "Eat way too much because you just can't help yourself."  And Kiera?  I followed ALL the directions.
And if giving you the comfiest of comfort food recipes wasn't enough, I'm going to celebrate the existence of chicken bog by giving away three of those beautiful box sets of Kiera's beautiful SELECTION series books.  I think reading THE SELECTION while eating a bowl of chicken bog might just be the ultimate in happiness.  You can enter this delicious giveaway by leaving me a comment telling me what your favorite family recipe is, and in a week I will randomly pick three lucky, lucky winners.  I'll start: my favorite is my grandmother's recipe for molasses cookies.  Such scrumptious memories.
And in the meantime, with thanks to Kiera and her mom and her grandmother, let's make chicken bog!
This giveaway is now closed…but you can still make the chicken bog!
Print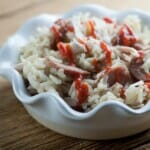 Chicken Bog
---
Author:

Prep Time:

10 minutes

Cook Time:

70 minutes

Total Time:

1 hour 20 minutes

Yield:

4

-

6

servings

1

x
Category:

Dinner

Method:

Stovetop

Cuisine:

American
Ingredients
2

bone-in chicken thighs or chicken breast halves

4 cup

s water or chicken broth

2 cup

s sliced kielbasa or other smoked sausage

1

sweet onion, peeled and chopped

2 cup

s rice
Salt and pepper to taste
Your choice of toppings! Bbq sauce, shredded cheese, hot sauce or butter are all great.
---
Instructions
Place chicken and broth or water in a heavy deep pot and bring to a simmer. Cover and simmer until the chicken is fully cooked, about 45 minutes. Remove chicken and cool. When it is cool enough to handled, shred the chicken into bite sized pieces, discarding the bones.
Add the sausage and onion to the broth and heat to a simmer. Add rice, cover and simmer until rice is tender, about 25 minutes. Stir the mixture periodically, adding a little water if needed as the rice cooks.
When the rice is done, stir in the shredded chicken and season to taste with salt and pepper. Serve as is, or with your choice of toppings.
Eat way too much because you just can't help yourself.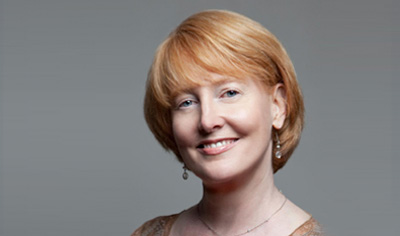 Hi there!  I'm Kate, and I'm a recipe writer, food photographer and devoted bacon lover.  I started Framed Cooks in 2009, and my mission is to create and share family-friendly recipes that make cooking both easy and fun…yes, I said FUN!  My kitchen is my happy place, and I want yours to be that place too.  And if you make this recipe, I would love you to tag @FramedCooks on Instagram so I can see the deliciousness!