Make your favorite take-out supper with all fresh ingredients with this easy recipe for slow cooker beef with broccoli.
I adore – adore! – this recipe for slow cooker beef with broccoli for many reasons (not the least of which is that it is a scrumptious conglomeration of cheery broccoli and tender steak in a silky sauce)…but here are two of the top reasons.
First of all, it lets me enjoy one of my favorite take-out treats without any of the suspicious extra ingredients I always wonder about when I eat that take-out version.
Nope, only fresh ingredients in this recipe, all pronounceable and not that many of them!
And second, it cooks up in the slow cooker, so on those days when I have a feeling that I am going to have a burning desire to order dinner in, I pop this in the slow cooker instead and voila!  All the deliciousness in a pretty healthy version, and courtesy of my favorite kitchen appliance.
I felt that "I don't want to cook dinner" feeling very recently, because I was just back from the American Library Association meeting in Florida.
As part of my non-food blogger life, I get to work with an amazing group of editors, authors and artists creating children's books, and once a year we all get together with the brave and brilliant librarians who do so much to put books in the hands of kids and teenagers all over the country.
The authors and artists sign loads of their books, we show off the new books we have coming out, and we all get together for much celebrating of the very best books of the year.
All culminating in what we sometimes call the Academy Awards of Children's Books meets the Children's Books Prom, otherwise known as the Newbery and Caldecott Awards Dinner.
This year our brilliant, creative authors and artists received a Caldecott Honor (for WAITING, by Kevin Henkes), the Printz Medal (for BONE GAP, by Laura Ruby) and the Coretta Scott King Author Medal (for GONE CRAZY IN ALABAMA by Rita Williams Garcia.
There's Rita on the right in the picture below, standing next to the wonderful Sara Pennypacker (do not miss her incredible new novel, PAX) and Nadia Hashimi, whose beautiful novel ONE HALF FROM THE EAST is just out.
Yes, we sent them all back with the table arrangements, because they deserve All The Flowers.  And then some.
We also got to hang with some of the librarians.  Librarians are the bravest, most passionate, most dedicated people I know (and I'm not just saying that because I am married to a library guy).
This group of brilliant librarians not only worked for months reading untold numbers of young adult books before choosing BONE GAP to be this year's Printz Medal winner.
Nope, they didn't stop there.  BONE GAP has a bee on the jacket, and so they all got various versions of bee tattoos to celebrate this awesome book and author.  Yes, permanent ones.
Because that is how librarians roll.  They are ALL IN, and then some.
This is also the one time of year I get to get all fancily dressed up, for that Newbery Caldecott dinner.  Hello, little black dress and high heels!
Related: it is super hard to take a selfie of your own back.
ANYWAY.  By the time I got home from 4 days of celebrating books and authors and artists and librarians, I was tired.  The kind of tired that actually lets you snooze through turbulence on the plane.
The kind of tired that makes you want to give in to the take-out menu.
But I'm still trying to be all kinds of good and healthy, so I pulled out my trusty slow cooker and whipped up this easy version of beef and broccoli, and at the end of my first day home I was curled up in my pajamas with my bowl of beef and brocolli goodness.
So the next time you are craving take-out, try the stay-in kind.  And then have a great book for dessert!
Print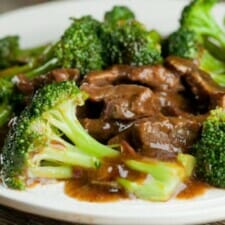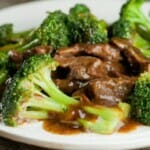 Slow Cooker Beef with Broccoli
---
Author:

Prep Time:

10 minutes

Cook Time:

3 hours, 20 minutes

Total Time:

3 hours 30 minutes

Yield:

4

servings

1

x
Category:

Dinner

Method:

Slow Cooker

Cuisine:

Asian
Description
Make your favorite take-out supper with all fresh ingredients with this easy recipe for slow cooker beef with broccoli.
---
Ingredients
1 1/2

pounds flank steak, cut into strips

1 cup

chicken broth

1/3 cup

low-sodium soy sauce (don't use the full sodium stuff, it will be too salty!)

1 tablespoon

sesame oil

1/3 cup

brown sugar

3 tablespoons

cornstarch

3 cups

broccoli (I like to use both the florets and stalks, but you can use florets only if you like)
---
Instructions
Place beef in slow cooker.
Mix up broth, soy sauce, sesame oil and brown sugar and pour over beef. Cover and cook on low for 3 hours until meat is tender.
Remove about 1/4 cup of the liquid from the slow cooker and whisk cornstarch into it. Return the mixture to the slow cooker and stir. Add broccoli and replace lid.
Increase heat to high and cook for another 20 minutes or until broccoli is tender. Season to taste with salt and pepper and serve!