This recipe for pounded pork chops is absolute perfection for my ongoing love/hate relationship with pork.  The love part is that it is scrumptious, and when I manage to cook it well, it is everything delicious that I hope and dream of for supper.  The hate part is that I have a talent for drying out even the plumpest and juiciest looking pork chop.  Yep.  Juicy pork chops are not safe around me.  So this recipe, which involves pounding pork chops until they are as thin as a chicken cutlet and then sautéing them juuuuuust until they are tender solves every single pork problem I have ever had, and has the extra added attraction of letting me pound out the frustrations of the day.  All that in one pork chop recipe…let's make it!
First you need some nice thick boneless pork chops, which you are going to take and cut horizontally, opening up the two sides of the pork chop like you are opening a book.  Here is one of my current favorite books to open.
LOVE.  LOVE LOVE LOVE this book.  LOVE.
Anyway…if you started with a 1 inch pork chop, you now have a much bigger 1/2 inch pork chop.  You can either leave it nice and big, or you can cut all the way through so that you have two 1/2 inch thick pork cutlets.  Now put the cutlets between two pieces of plastic wrap, take your handy dandy pounder and pound them up until they are even a little bit thinner, somewhere between 1/2 and 1/4 inches.  You don't have to actually measure – just look for general thinness.  The idea is that we are going to be able to cook these babies through in a pretty short period of time, because pork needs to be cooked all the way through, but we want to keep it from drying out.  Less cooking time = less drying out = more pork chop happiness.
Once your pork chops are nice and pounded, we're going to dip them in flour and then eggs and then breadcrumbs to give them a nice crust, and then we are going to cook them for just 2 minutes per side.  Cover them with foil to keep them warm while you make a quick little gravy out of the pan drippings, some mustard, some white wine and a few other things.  I love gravy a ridiculous amount of love, so you are not allowed to skip this step.
Once the gravy is done, drizzle it generously over your crispy perfect pork chops.
I served mine up with some roasted string beans and walnuts, but next time I am totally going for some brown butter mashed potatoes on the side as well.  Now that I can make perfect pork chops.  No pork chop fear!
Print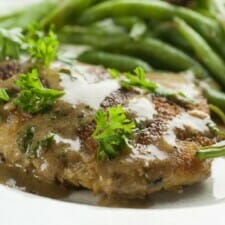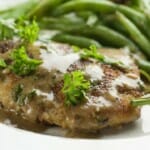 Pounded Pork Chops
---
Author:

Prep Time:

15 minutes

Cook Time:

10 minutes

Total Time:

25 minutes

Yield:

2

servings

1

x
Category:

Dinner

Method:

Stovetop

Cuisine:

American
Ingredients
2

one inch thick boneless pork chops

1 cup

flour

1 cup

breadcrumbs

2

eggs, beaten

3 tablespoons

butter

3 tablespoons

olive oil

2 tablespoons

flour

1 tablespoon

mustard

1/2 cup

white wine

1/2 cup

chicken stock
Chopped fresh parsley
---
Instructions
Slice the pork chops horizontally almost all the way through, and open them up like you are opening a book. Place between two sheets of plastic wrap and pound until they are about 1/4 inch thick.
Dredge the pork chops in flour, then egg, then bread crumbs.
Heat one tablespoon of butter and oil in a large skillet over medium high heat. Fry the chops for 2 minutes per side, then remove and keep warm while you make the gravy.
Add 2 tablespoons flour to the skillet. Whisk in the wine and broth and simmer until reduced a little.
Whisk in the remaining butter and the mustard.
Spoon over the pork chops and garnish with parsley,