Add some pasta to your frittata and take things to whole new heights with this crispy, tender, scrumptious recipe for a pasta frittata! Easy, cheesy, eggy, bacon-y deliciousness.
I do love a good frittata, and I have a number of them on the blog – baked frittatas, taco frittatas, LOBSTER frittatas…and I don't like to play favorites, but I'm about to play favorites. Because this frittata not only features the things I love about frittatas, which are eggs and cheese cooked into creamy deliciousness, but it also features pasta. And bacon.
It's kind of like if pasta carbonara decided to transform itself into a savory egg pie. It's magically delicious. And you have to make it.
And to make things even better, it cooks all in one skillet – yes, the pasta too. It needs to be a non-stick one so that you can get the frittata out as easily as possible, because at one point in this process it needs to be flipped over. Don't be scared – there's an easy trick to this.
so how do I make a pasta frittata?
You start by cooking angel hair pasta in a bath of water, canola oil and salt in the skillet. You're going to cook it until the water is absorbed, the pasta is tender and it's starting to sizzle on the bottom. Here comes the Most Important Part: at this point you want to grab your trusty spatula and start gently scraping under the pasta, all the way to the middle, so it doesn't stick to the bottom.
Don't worry about messing up the shape of the frittata – it's super pliable and we can smooth things out later. The goal here is to make sure it slides back and forth in the skillet when you shake the skillet.
Once it's unstuck, peek underneath to see when it starts turning golden brown. This is your signal to grab your handy tongs and pull the top layer of pasta over to the edges of the pan so that the mixture of egg and bacon and cheese that we are about to pour on top has a nice full bed to lie on.
Pour on the egg mixture, lifting up strands of the pasta here and there so things can sink in, and let it look until the egg mixture is barely set.
Now comes the flipping.
Get out two large flat plates. Slide the frittata on to the first plate, helping it along with your spatula as needed. Put the second plate over the first one. Flip. Slide the frittata, golden side up, back into the skillet and cook it for another few minutes until the the bottom is nicely golden too.
Now turn off the heat and let the frittata settle down for a few minutes, and then you can either slide it onto a serving plate as is, or do the flipping thing again – I find that the second side is usually the prettiest. And I like things pretty. Look how pretty!
What you have at this point is gently crispy pasta on the outside, tender egg and cheese and bacon and tomatoes on the inside, and I like to scatter a little parsley on top for a pop of color.
Now cut this gorgeousness into wedges, please.
This is why I can't help having favorites. You understand, right?
Print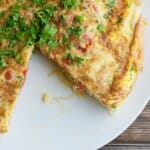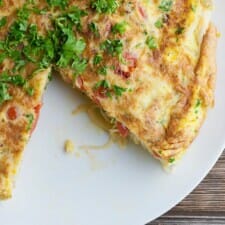 Pasta Frittata
---
Author:

Prep Time:

5 minutes

Cook Time:

25 minutes

Total Time:

30 minutes

Yield:

6

-

8

servings

1

x
Category:

Dinner

Method:

Stovetop

Cuisine:

American
Description
Add some pasta to your frittata and take things to whole new heights with this crispy, tender, scrumptious recipe!
---
Ingredients
3

slices bacon, chopped

3 cups

water

3 tablespoons

canola oil

6 ounces

angel hair pasta, broken in half

8

eggs

1/2 cup

freshly grated parmesan cheese

1/3 cup

chopped cherry tomatoes

3 tablespoons

olive oil
Pinch each of salt and pepper
Chopped fresh parsley
---
Instructions
Cook bacon in a ten inch non-stick skillet until crispy. Drain on paper towels and wipe out skillet.
Put water, canola oil and pasta in the same skillet. Bring to a low boil and cook until water is absorbed, about 8 minutes.
While the pasta is cooking, whisk together all remaining ingredients except parsley until well combined.
Run a spatula under the pasta, shaking the skillet until the pasta isn't sticking to the bottom. Using tongs, pull some of the pasta to the sides of the skillet so the bottom of the pan is covered.
Pour egg mixture on top and cook until just barely set. Slide the frittata out onto a plate. cover with another plate, invert so the golden side is on top and slide the frittata back into the skillet.
Cook for another few minutes until bottom is golden. Turn off the heat and let the frittata sit for a few minutes to settle.
Slide out onto a plate, invert again if you like to get the prettier side up, and garnish with parsley. Cut into wedges and serve!