Marinate your steak in this glorious bath of buttermilk, garlic, rosemary and pepper for a tender and delicious barbecued supper.  Hurray for buttermilk grilled steak!

So, let's talk about buttermilk grilled steak. One of my favorite, favorite, favorite recipes on this here site is the one for buttermilk grilled chicken, and I've gotten lots of emails from folks telling them that it is their favorite way to make grilled chicken too.  (It gives me such a warm fuzzy feeling to know that there's a nice big posse of folks all united in their love of buttermilk grilled chicken.)
Anyway, I figured what's good for the chicken might be good for the steak as well.  It couldn't hurt to try, right?  Yep.  It definitely didn't hurt.
Here's how you make glorious buttermilk grilled steak!
I took a very similar approach to the chicken version – I mixed up some buttermilk, a few cloves of mashed up garlic and some rosemary stalks that I rolled between my hands until they were crushed and the aroma of rosemary oil was wafting through my kitchen.
I also ground in a lot of pepper, because pepper and steak just need to be together.   I poured all of this into a ziplock bag, popped in a steak and went about my business for the rest of the day.
When suppertime rolled around, the Southern husband fired up the grill (the first time this year!  hurray!) and I fished the steak out of the bag.  He popped it on the grill for 5 minutes per side, which makes the steak come out on the medium rare side the way we like it.  If you like yours rarer, take it down by a minute per side – if you like it more well done, leave in on for a minute or two more per side.
Now comes the hard part.  Put it on a cutting board, put some foil over it, and leave it alone for at least 5 minutes.  I know you want to dig right in, but if you do all those delicious steak juices are going to run right out onto your cutting board.  If you let it rest, a lot of them will stay inside the steak where you want them.
Has it been five minutes?  Okay, slice!

The steak will taste lightly of rosemary and garlic and pepper, and the buttermilk will have tenderized it perfectly.  I used a shell steak for this, but a flank steak would also be ideal for this recipe.
And with our first grilled steak, I officially declare grilling season Open For Business!
Print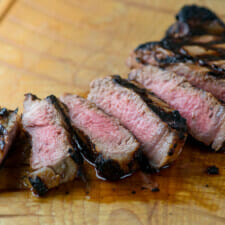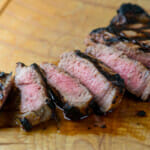 Buttermilk Grilled Steak
---
Prep Time:

5 minutes

Cook Time:

10 minutes

Total Time:

15 minutes

Yield:

4

servings

1

x
Category:

Dinner

Method:

Grill

Cuisine:

American
Ingredients
One

1/2

to

2

pound steak (shell, flank and sirloin all work well for this recipe)

2 cups

butermilk

4

cloves garlic, peeled and smashed

4

fresh rosemary sprigs, rolled between your palms to crush the leaves
Fresh ground pepper
---
Instructions
Combine buttermilk, garlic and rosemary. Grind in a generous amount of pepper. Pour into a zippered plastic bag.
Add the steak to the bag, seal and turn it over a few times to make sure the steak is coated. Place in fridge for at least 8 hours, or overnight.
Heat grill to high. Grill steak for 4-5 minutes per side for medium rare.
Transfer steak to cutting board, cover with foil and let rest for 5 minutes before slicing and serving.
SaveSave