These delicious no bake rum balls cookies require exactly no baking…and bet you can't eat just one! Perfect for the holidays or any time.
You know those days when you really, really, really want a homemade cookie, but the thought of the mixing and the baking and the cooling and the cleaning up makes you reach for the box of supermarket cookies instead, when what you really wanted was the homemade deal?  That is where these delectable little rum balls come in.  They require exactly no oven, no cookie sheet, no baking, no cooling and about 15 minutes from "I think I want a cookie" to popping into your mouth.
Ironically, they do START with supermarket cookies – Nilla Wafers, to be precise.  You're going to pulverize about 2 cups of wafers to make about 1 3/4 cups of Nilla Wafer crumbs…this is best done in your food processor.  Do the same thing with walnuts – about 3/4 cups to make 1/2 cup of finely ground walnuts.  Now dump all of that into your stand mixer with some powdered sugar, some butter, some water and a little rum extract (which you can find in the baking aisle next to the vanilla extract).  Let the mixer rip until you have a nice stiff dough.
Now roll the dough into little balls (about one inch across), and then roll the balls in a little powdered sugar until the are nice and coated.  And that's it – you're done.
Seriously!  Done.  Homemade cookies.  Ready for the eating.  Sometimes the easiest things are also the most delicious!
Print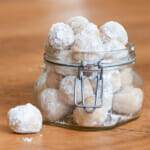 No Bake Rum Balls!
---
Yield:

About 30 rum balls
Ingredients
1 3/4 cups powdered (confectioner's) sugar, plus extra for rolling
1 cup Nilla Wafer fine crumbs (from about 1 1/2 cups cookies processed to crumbs in food processor)
1/2 cup finely chopped walnuts (from about 3/4 cup walnut pieces processed to crumbs in food processor)
6 tablespoons soft butter
2-3 tablespoons water
1/2 teaspoon rum extract
---
Instructions
Combine sugar, cookie crumbs, walnuts, butter, 2 tablespoons water and extract in mixer. Mix until a stiff dough forms, adding another tablespoon of water if needed to make the dough come together.
Take scant tablespoons of dough and roll them in your hands into ball shapes, and then roll in powdered sugar to coat.