Hearty and substantial, this Irish brown bread recipe is perfect with soups, stews, or all by itself with a slathering of soft butter.  With love to my Irish mama!
My week of Irish recipes continues here with a recipe that is a lot more authentic than the mashed potato dip I kicked off with, but every bit as wonderful.
This is a hearty, chewy, dense and delicious loaf of Irish wonderfulness, full of things that are good and good for you. It's the perfect partner to a cup of Irish breakfast tea, a bowl of steaming Irish stew, or all by itself, slathered with homemade butter and jam.
And while I am usually the one who cooks up all the things you see on this blog, I need to give credit where credit is due on this one, and that is to my beautiful Irish mother.
Here we are, my mama and I…
Ever since that picture was taken, my mother has taught me more things than I could possibly tell you…there isn't a day that goes by that I don't do something that I learned by her side, and of course one of those is cooking.
Not just the doing of it, but the loving of it.  The joy of making delicious things for family and friends is something I saw happening in my mother's kitchen every day growing up, and I'm guessing she is in her kitchen right this minute stirring up something that she knows will light up somebody's day.
So when I asked her if she would mind making me a loaf of her wonderful Irish brown bread for my week of Irish cooking, she made two.
One for me and one for whomever was the next lucky person who walked into her kitchen, and as a result, the recipe below makes two loaves.
I don't think my mom knows how to cook for less than a crowd of hungry people, and you're not going to have any problem dispensing with two loaves of this wonderfulness anyway.
A quick word about the ingredients – I've listed oat bran as one of those ingredients, and my mother does use it often in this bread.
But she also sometimes uses some other grains depending on what she has on hand, and I've listed a whole bunch of alternatives in the recipe notes.
You should be able to track most of them down at your supermarket, especially if it has a health food or organic section, but any and all of them can be found at the marvelous King Arthur website – click here for that.
And with that, my mama's Irish brown bread, made with love.  Make sure you pay extra special attention to Step 6.  :)
Print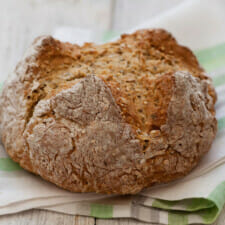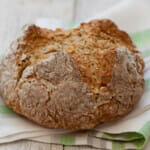 Irish Brown Bread
---
Author:

Prep Time:

20 minutes

Cook Time:

40 minutes

Total Time:

1 hour

Yield:

2

loaves

1

x
Category:

Breakfast

Method:

Oven

Cuisine:

Irish
Description
Hearty and substantial, this Irish brown bread recipe is perfect with soups, stews, or all by itself with a slathering of soft butter.
---
Ingredients
2 ½ cups

all purpose flour

2 teaspoons

baking soda

1 teaspoons

baking powder

2 teaspoons

salt

1 cup

whole wheat flour

1/2 cup

oat bran (see note)

1/2 cup

wheat germ

1/2 cup

rolled oats oatmeal

1/2 cup

steel cut oatmeal

2 cups

buttermilk

1

egg

¼ cup

honey
---
Instructions
Preheat oven to 350.
Combine 1 cup white flour, baking soda, baking powder, salt, whole wheat flour, oat bran, wheat germ and oatmeal. In another bowl, mix together buttermilk, egg and honey.
Pour buttermilk mixture into flour mixture and stir together as lightly as possible just to combine. Turn out on floured surface (if you have a silicone baking mat that is a great surface to put the dough on). The dough will be very sticky.
Fold the dough over on itself a few times, adding as much of the remaining white flour as needed to make a dough that is not too sticky. Divide in half.
Form into two rounds, tucking the dough under to form a taut rounded top. Place on a parchment or Silpat lined cookie sheet.
Cut a cross in the top of each loaf. Prick each quarter once to let the fairies out.
Bake in the preheated oven for about 40 minutes, rotating the pan after 20 minutes. Internal temperature shoul be about 190 degrees. Remove to a rack to cool before cutting.
Notes
You can use any of the following in place of the 1/2 cup of oat bran:
King Arthur Harvest grains blend, Malted Wheat flakes, Barley flakes, Organic Oat Bran, Whole flax seed or any combination of these. The King Arthur website is a great resource for all these ingredients.