This easy recipe for gingerbread pancakes with warm buttered apples on top takes this favorite breakfast dish to new heights of wonderfulness!
Well, we knew it was going to happen.  It's officially fall.  Which means summer is officially over.  Which means we officially need some nice fall comfort food.
Which means gingerbread pancakes with buttered apple topping.  Because what could be more fall-like than gingerbread and apples?
Gingerbread pancakes are pretty close to regular pancakes, except with a few extra ingredients that make them all gingerbread-tasting-ish.
Some you would expect (ground ginger and cinnamon and brown sugar) and some you might not (hello, molasses!), but they all come together in a perfect gingerbread way.
Here's How You Make Gingerbread Pancakes With Buttered Apples!
One thing that you definitely need to keep in mind is that because of all the sweet goodness in these…the brown sugar and the molasses…they will burn if you have the heat too high or don't keep a good eye on them.
So keep that heat at medium and feel free to keep peeking at the undersides of them as they brown up.
But before you make the pancakes, you need to make the simple and simply wonderful apple topping, so that it is all ready to pop on top of the warm pancakes as they come off your griddle.  All you need is an apple or two, some butter, a little brown sugar and a little cinnamon.
Dice the apple into little pieces (no need to take off the skin, hurray!).  Melt the butter in a small skillet over medium high heat and then add in your apples with the sugar and the cinnamon.
Stir it around for just a few minutes until the apples are soft, and then set it aside to cool a little bit while you make pancakes!
The pancakes are an easy mixture of the usual pancake ingredients with those extra added ingredients.  Measure out the batter in 1/4 cup increments (if you have a 1/4 cup measuring cup that's the easiest way…you can just scoop it out) and cook them over medium heat – no hotter than that – until the bottom is golden brown and there are a few bubbles on the top.
Flip 'em over, press down a teeny bit and cook the other side, still watching carefully.  This recipe is going to make about 8 good sized pancakes, so you will probably need to do them in batches.
You can keep the already-cooked pancakes warm in a 200 degree oven – just pop them on a cookie sheet while you cook up the others.
Once all the pancakes are done, scoop out a generous spoonful of apples and scatter on the top of each serving, and then drizzle on as much maple syrup as you like.
Yep, this is kind of like dessert for breakfast…or dinner, depending on your schedule!  And it's guaranteed to make you not miss summer so much.  Although I'm not gonna lie…I am kind of excited to take out my fall clothes.
Happy pancakes!
Print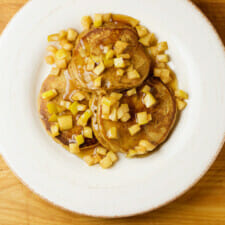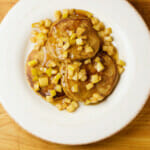 Gingerbread Pancakes with Buttered Apples
---
Author:

Prep Time:

15 minutes

Cook Time:

20 minutes

Total Time:

35 minutes

Yield:

8

good-sized pancakes

1

x
Category:

Breakfast

Method:

Stovetop

Cuisine:

American
Description
This easy recipe for gingerbread pancakes with warm buttered apples on top takes this favorite breakfast dish to new heights of wonderfulness!
---
Ingredients
2

apples, cored and diced

2 tablespoons

butter

1 tablespoon

brown sugar

1/4 teaspoon

cinnamon

1 1/4 cup

flour

1 teaspoon

ground ginger

1 teaspoon

cinnamon

1 teaspoon

baking powder

1/2 teaspoon

baking soda

2

eggs

1/4 cup

brown sugar

3 tablespoons

molasses

2 tablespoons

melted butter
Maple syrup for serving
---
Instructions
Heat 2 tablespoons butter in a medium skillet until melted. Add apples, 1 tablespoon brown sugar, 1/4 teaspoon cinnamon and stir until apples are softened, about 3-5 minutes. Transfer to bowl and set aside.
Spray a griddle or large frying pan with nonstick spray, and heat oven to 200 if you are going to use it to keep the pancakes warm.
Mix together flour, ginger, remaining cinnamon, baking powder and baking soda in a large bowl.
Whisk together eggs, remaining brown sugar, molasses and melted butter. Add to flour mixture and stir until combined (don't worry if there are a few lumps!)
Heat griddle over medium heat for 2 minutes. Scoop out 1/4 cup of batter for each pancake and pour onto heated griddle. Cook until the underside is golden and there are a few bubbles on the top, peeking at the underside a few times to make sure the pancakes aren't cooking too fast. Flip, press down a little and continue cooking until the second side is done.
If you need to cook in two batches, keep the first batch warm on a cookie sheet in the heated oven.
Divide pancakes among plates, top with apple mixture and syrup and serve!