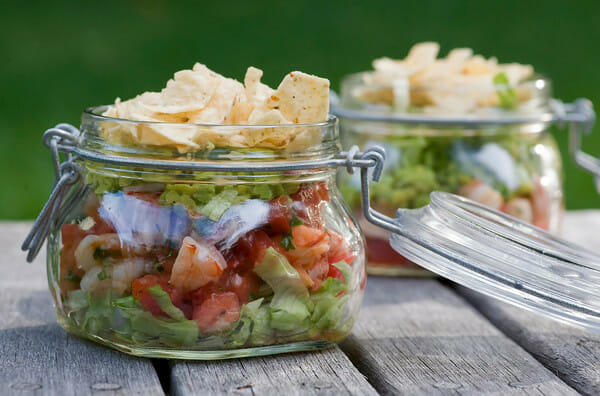 Okay, so I know this particular dish is half novelty and half supper, but honestly, the whole thing made me just ridiculously happy, and how often can you say that about a Tuesday night supper?
This all started with a trip to Costco, where the Southern husband (who THINKS he has more self-control than I do at Costco but really doesn't) not only bought a huge bag of shrimp but also a Costco sized bag of avocados. Now, the shrimp can be sub-divided into many freezer bags and stored away for future meals. The avocados? Not so much. It was use-it-or-lose-it time, avocado-wise. And since I am a girl who loves a challenge, I spent a week making many avocado-based things while still trying to keep it interesting. We had:
BLA's (Bagel with Lox and Avocado)
And…Shrimp in a Jar, which is basically layers of chopped lettuce, fresh tomato salsa, cooked chopped shrimp, mashed avocado with lime juice, all topped with crumbled tortilla chips. But the beauty part is the jar. Why? I have no idea — but for some reason it was just so much fun! I picked up these little wide-mouth jars at The Container Store, and once you have finished eating your supper out of them they make GREAT little storage devices. They are currently lined up on my counter with four different types of cookies in them.I'm already thinking up new possibilities for what the Southern husband is already calling "jar food." In the meantime, here's the recipe.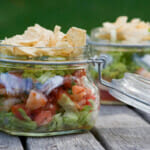 Shrimp in a Jar
---
Ingredients
2 medium tomatoes, chopped
1/4 cup chopped white onion
1/4 cup finely chopped cilantro or parsley
1 to 2 teaspoons chopped fresh jalapeno
2 tablespoons ketchup
2 to 3 tablespoons fresh lime juice, divided
1 pound peeled cooked shrimp, cut into 1/2-inch pieces
2 firm-ripe avocados
2 cups shredded lettuce (I used iceberg)
1/2 cup coarsely crumbled tortilla chips
---
Instructions
Stir together tomatoes, onion, parsley, chile, ketchup, 1 tablespoon lime juice, and 1/2 teaspoon salt.Stir in shrimp and season with salt and pepper.
Mash avocados with remaining 1 to 2 tablespoons lime juice and 1/2 teaspoon salt.
Divide lettuce among jars and layer shrimp mixture, avocado, and crumbled chips on top.
Shrimp in a Jar, adapted from Epicurious