Here's another in my series of cookies that are not the prettiest cookies on the block, but pack a sweet and perfect taste that will make it really hard to keep your hand out of that cookie jar.  Hermits are soft, sweet spice cookies that are packed with raisins and walnuts and deliciousness.  Why are they called hermits?  I have no idea (and if YOU do, please tell me?)…what I do know is that I love them.  Love. Them.
Hermit cookies may be shy, but this sweet spice cookie deserves a place amid your favorite treats!
Click To Tweet
They are also the simplest thing in the world to make.  Shortening (yes, you need to use shortening), sugar and eggs, flour, baking soda and spice, and a generous amount of walnuts and raisins all get mixed together, and then you drop the batter in generous teaspoonfuls on a cookie sheet.  12 minutes later you have warm and wonderful cookies that are like a little baby spice cakes in cookie form.
It's enough to make you hide away with the whole jar of them and a pot of tea all by yourself, eating them one by one with no social contact whatsoever.
Hey, wait a minute…
Print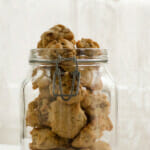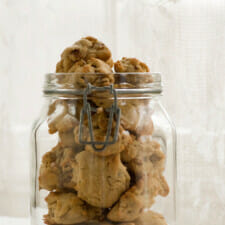 Hermit Cookies
---
Yield:

About 30 cookies
Ingredients
2 cups flour
2 teaspoons baking soda
1 teaspoon cinnamon
1/2 teaspoon nutmeg
1/4 teaspoon ground cloves
1/4 teaspoon salt
1/2 cup shortening
1/2 cup granulated sugar
1/2 cup brown sugar
2 eggs
1 cup raisins
1 cup chopped walnuts
---
Instructions
Preheat oven to 350.
Whisk flour, baking soda, all the spices and the salt.
Put shortening, both sugars and eggs in a mixer and beat at high speed until well combined.
Add flour on low speed, and then stir in raisins and nuts.
Drop generous teaspoonfuls of dough onto a greased cookie sheet and bake until lightly golden, about 12-14 minutes. Cool on rack.