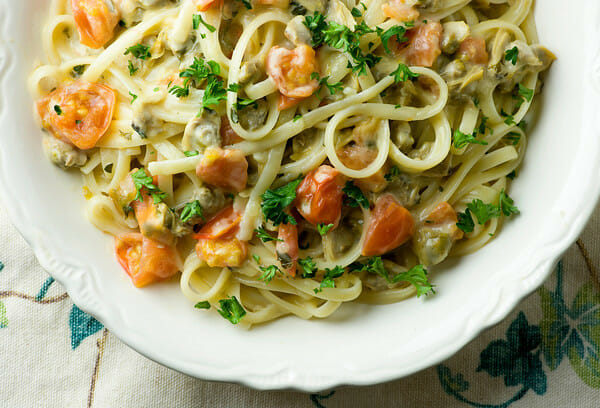 I love linguine with clam sauce…love it, love it, love it.  I love it the traditional way, made with fresh clams.  I love it the down and dirty way, made with chopped clams.  But lately my favorite is the creamy way, made with tomatoes, baby clams, and, yep, cream.  Cream makes it silky and decadent and, well, creamy.
Even better, this is one of those wonderful, quick recipes you can make on a Wednesday night when you only feel like spending 20 minutes on dinner, and it's going to come out like you were slaving away in the kitchen all afternoon.  I don't know about you, but there's something SUPREMELY satisfying about whipping up a restaurant-quality supper in less time than it takes to watch Modern Family.  (I love Modern Family, by the way.  I completely identify with Claire.  She and I would be best buds.  If only she was a real person.  Just saying.)
Anyway, one important note about this recipe.  If you are making it in the summer, feel free to use whatever kind of tomato you want.  If you are making it in the dead of winter, as I did with this particular picture, please use cherry tomatoes.  Tomatoes in winter are a pale, tasteless shadow of their wonderful summer selves…except for cherry tomatoes.  Somehow those manage to stay sweet and delicious all year long.  And they are easier to cut up as well.  Double win!!
Happy creamy clam sauce!
Print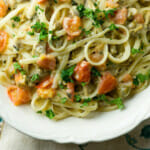 Linguine with Creamy Clam Sauce
---
Ingredients
2 tablespoons olive oil
1 tablespoon chopped garlic
2 tablespoons chopped fresh parsley, plus more for garnish
1 cup chopped fresh tomato
1 eight ounce can whole baby clams
1 cup heavy cream
2 tablespoons cornstarch
12 ounces cooked linguine
---
Instructions
Heat olive oil in large skillet over medium heat. Add garlic, parsley and tomatoes and cook for two minutes.
Add baby clams with their juice and cream and simmer for 5 minutes. Mix cornstarch with 3 tablespoons cool water and add to the sauce. Simmer another 2 to 3 minutes or until slightly thickened. Season to taste with salt and pepper.
Toss sauce with cooked pasta, divide among plates, garnish with parsley and serve.