This easy recipe for shepherd's pie just might be the best comfort food EVER. Warm and wonderful and just right for your supper table.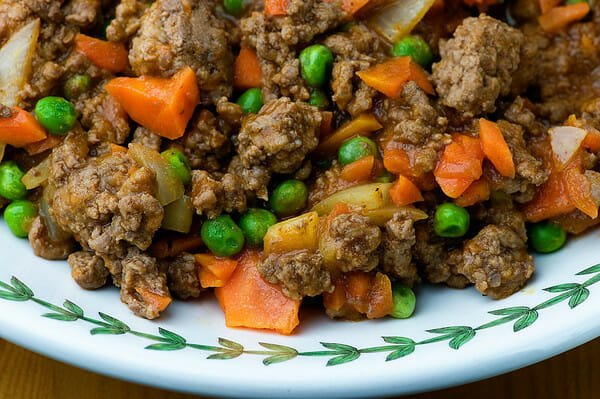 This easy recipe for shepherd's pie just might be the best comfort food EVER.
Click To Tweet
Shepherd's Pie…it might be my all-time favorite comfort food, and I never get tired of making it. I am very particular about the kind of shepherd's pie that I like, though, and that all dates back to my days right out of college, living with my dear friend Cynthia in the world's smallest studio apartment on the Upper East Side of Manhattan.
Ah, that apartment — it had exposed brick walls that got red-hot in the winter (why? we didn't know and were afraid to ask), the world's dinkiest, oldest refrigerator, and a reclusive next door neighbor named Bruce who was straight out of a Seinfeld episode. We made a combined salary of about $25,000 per year, and probably spent $20,000 of it on rent for this glorious pad, and so our nights out on the town were few and far between, and divided between what is STILL the best pizza place I have ever been to and this Irish joint called Finnegan's Wake.
Finnegan's was loud and dark and the floor was sticky and they served the best, cheapest, most delicious shepherd's pie I've ever had. It was made with beef, not lamb, and featured peas and carrots in a thick tomato-ish sauce, all topped with mashed potatoes. (The picture above is before the addition of the potatoes, in case you are wondering. Because once you put the potatoes on top it would look like a picture of, well, potatoes.)
The Finnegan's version spoiled me forever in terms of shepherd's pie, and ever since I have been in search of a recipe that stood up to Finnegan's. (Of course, it might have tasted so good because the rest of the time we were eating cold cereal, ramen noodles and macaroni and cheese out the box, but whatever.)
So this recipe has all those elements, and whenever I have leftover mashed potatoes I make it. By the way, I'm not sure exactly why it is called shepherd's pie — maybe shepherds eat it? Maybe because – eek – it is usually made with lamb? At any rate, it's also a good excuse for me to show you the one and only picture I have ever taken of a sheep.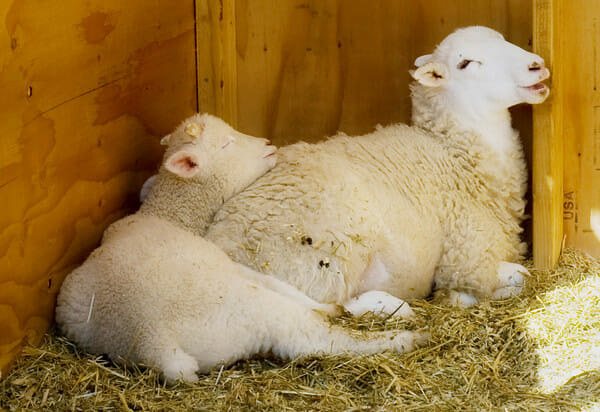 And now that you have all this useful information, here's the best part, which is the actual recipe.
Print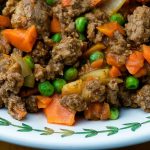 Shepherd's Pie
---
Author:

Yield:

4-6
Ingredients
2 pounds freshly ground beef
1 large onion, finely chopped
4 carrots, coarsely chopped
2 tablespoons tomato paste
2 tablespoons flour
1 to 2 tablespoons Worcestershire sauce
Coarse salt and ground pepper
10 ounces frozen peas, thawed
Potato Topping:
2-½ pounds russet potatoes, peeled and quartered
Coarse salt and ground pepper
1 cup milk
6 tablespoons butter
---
Instructions
Preheat oven to 425°. Heat a large skillet over high heat. In two batches, cook beef until no longer pink, about 5 minutes per batch. Transfer beef to a colander set in a bowl; let fat drain off and discard.
Add ¼ cup water to the skillet, scraping up browned bits with a wooden spoon. Reduce heat to medium; add onion and carrots. Cook, stirring occasionally, until softened, about 5 minutes. Stir in tomato paste. Add flour; cook, stirring, 2 minutes.
Add Worcestershire sauce, 2 cups water, and beef. Season with 2 teaspoons salt and ¼ teaspoon pepper. Simmer until thickened, stirring occasionally, about 10 minutes. Stir in peas; cook 1 minute. Divide among eight 8-ounce ramekins or two 9-inch glass pie dishes.
Meanwhile, make potato topping. Spread over pies; use a fork to make peaks. Bake on a baking sheet until tops are browned, 25 to 30 minutes. Cool slightly; serve.
Potato Topping:
In a medium saucepan, cover potatoes with salted water by 1 inch; bring to a boil. Reduce heat; simmer until fork-tender, 15 to 20 minutes. Drain.
In pan, bring milk and butter to a simmer; remove from heat. Return potatoes; mash. Season with 2 teaspoons salt and 1/4 teaspoon pepper.