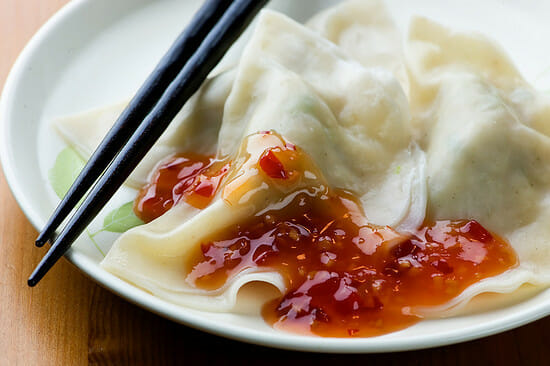 I just love this recipe, and I have to tell you, I am not sure why I made it in the first place, because I was absolutely sure it was going to be a disaster. But I found the recipe on the Steamy Kitchen blog (quick aside: Steamy Kitchen is a fabulous recipe site, written and photographed by the even more fabulous Jaden Hair. Jaden is one of those rock star food bloggers with a television show and a huge blog and a cookbook…and she still took the time to visit my little blog when it was in its toddler stages and leave me an encouraging comment that made me think — hey, maybe I can actually DO this. Jaden, you rock, and I hope everyone in the USA buys your new cookbook.)
Anyway, Jaden made these dumplings look so good and sound so easy that I put them on the menu and got the ingredients. And scheduled them for a weekday dinner. And then got home on that weeknight and thought to myself — am I NUTS?? The recipe made 50 of them, and I could just see myself making dumplings into the wee hours of the morning and then watching them all self-destruct as I put them into the boiling water.
So I enlisted the helpful Southern husband, figuring it would be comforting to share the blame when everything went South (went South…Southern husband…get it?? I crack myself up!) and we got down to it. And you know what? 15 minutes later we had 50 adorable looking little pork dumplings. I held my breath and lowered them into the boiling water, and 6 minutes later we had the most perfect little cooked dumplings. Not a single one fell apart. I popped them onto plates with a puddle of Sweet Ginger Chili sauce (see link below) and they were as light and tender and delicious as can be.
I got this fabulous sauce at Fairway (natch!) but you can order it online and I promise you won't be sorry.Anyway, thank you to the amazing Jaden for this recipe, and go check out her website AND her great new cookbook:
Happy dumplings!