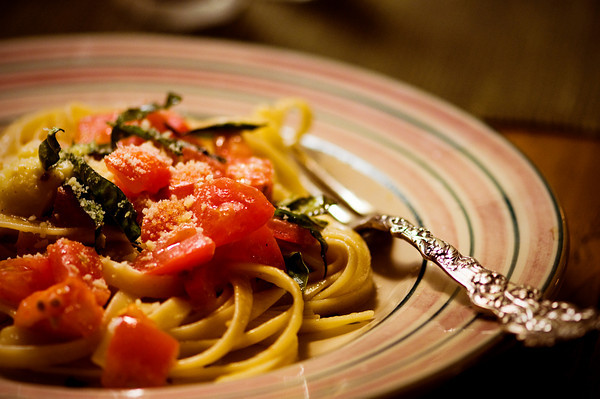 This is my favorite summer recipe EVER. It is adapted from the Silver Palate Cookbook — that first one that everyone bought back in the 1980's when they first appeared. If yours is like mine, the binding is cracked and the pages are falling out and you can't get a new one because you have all these notes and memories marked on the pages, and sentimental splotches of meals gone by staining the pages…and I STILL haven't made everything I want to make out of this classic cookbook. But I have made this one, probably 50 times over the years, because it is simple and gorgeous and tastes like heaven on a summertime plate.
You do have use really great fresh ingredients to make it work. Really good basil, which now that it is July I have more than I can use right outside my back door, so if you need any PLEASE come on over and pick some: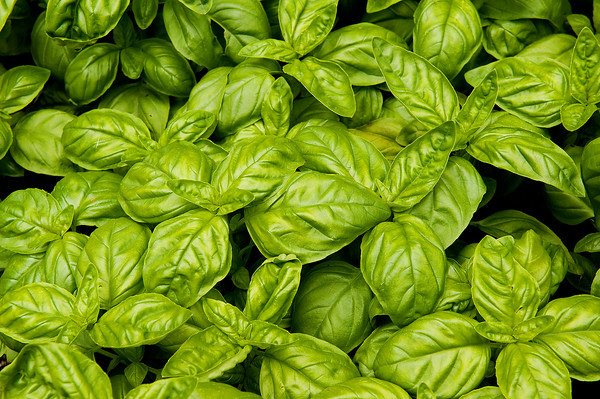 Really good olive oil. I use either Columela or Colavita, but whatever kind you like is fine. Fresh ripe tomatos (I am rushing the season just a tiny bit on this, but as soon as your local farm stand or greenmarket has them, make this FIRST! A really nice wedge of Brie – a soft creamy one, not too hard. There is a variety of Brie called D'Affinois that will make you close your eyes in bliss if you can find it — ask wherever you go to get good cheese. Fresh grated Parmesan cheese, and then the pasta of your choice. I usually use fettecine or linguine, but a short round pasta like rigatoni would work, or even bow-ties. Fresh garlic. Fresh ground pepper. And unlike most things that I make, this is not one that should be rushed — the assembly is speedy, but the ingredients need to marinate and blend for maximum effect.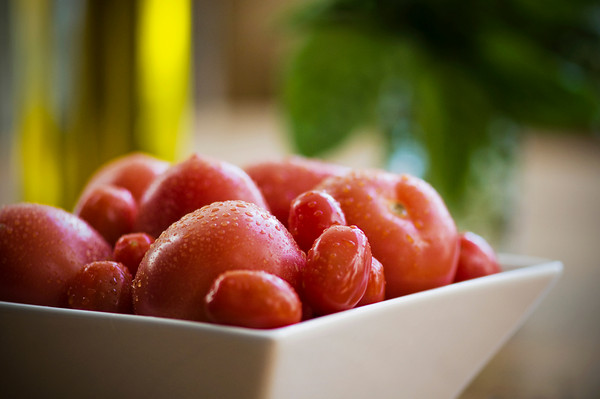 So first, get out a nice big shallow bowl. I happen to have one that says Pasta on it, just in case I forget what it is for! Pour about 1/2 cup of olive oil in it. Chop up a clove or two of garlic, depending on how much of a garlic fan you are, and add them to the oil. Now take about 3 large tomatos and chop them up as well — bite-size chunks — and drop them in as well. Now take the Brie, cut off the rind (this is best done when it is right out the fridge) and tear the cheese into small chunks. Into the bowl with everything else. Next, chop up a good amount of that fresh basil (you will see this is a LOOSE recipe — I pretty much guestimate the entire thing based on how many people are eating) and add to the bowl with everything else.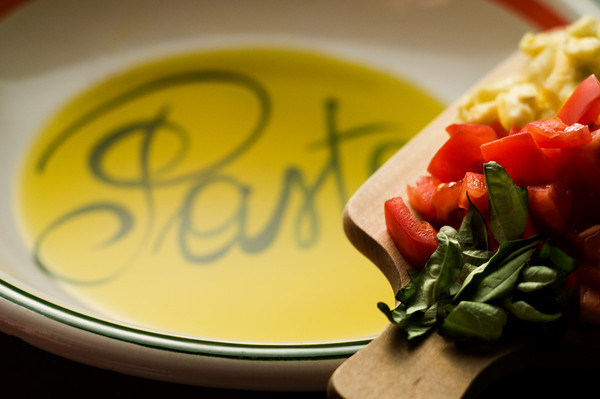 Last of all, grind a few twists of fresh pepper into the whole thing. By now you have a gorgeous mixture that is making your kitchen smell unbelievably good, and it should look something like this: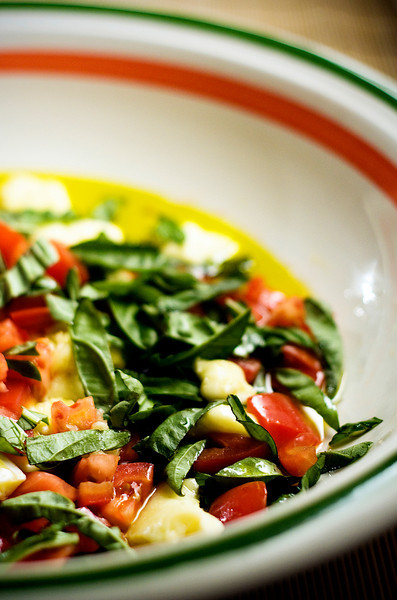 Now comes the hard part — lay a dish towel lightly over the top of the bowl…and go away for at least an hour. We must MARINATE. Let all those delicious components soak together and blend. An hour is the minimum. I have made this at lunchtime and left it on the counter until dinner, with strict warnings all around not to TOUCH it.
When you are ready to serve it up, cook whatever pasta you are using in salted water until it is done. I usually estimate about 2 ounces of pasta per person. Drain it and then dump it into the bowl and lightly toss it all together, and here is the most beautiful part: the heat of the cooked pasta will melt the cheese and it will all form the most delicious sauce you have ever tasted in your life. You have my solemn word on this.
So there you go — my favorite pasta recipe in the world. Enjoy!