For Thanksgiving or anytime when a whole turkey is just a little too much, try this recipe for butter roasted turkey breast!
Here it comes, one of my favorite holidays of the year! Yes because of the turkey and all the fixings, and even more because of the friends and family. I have so much to be thankful for I don't even know where to start.
There are various reasons you might need to cook a glorious golden buttered turkey breast instead of a whole turkey, especially this year when our gatherings might be a little smaller than we are used to.
Whatever your reason, here's your delicious answer – and it doesn't even need be Thanksgiving in order to make it.
Now is of course the perfect time to be able to find a bone-in turkey breast, which is what you want for this baby. I always buy a few and store them in my freezer for when the turkey craving hits.
You also need some butter along with some fresh thyme and rosemary – I like buying them in little plant form because they look so sweet on my counter.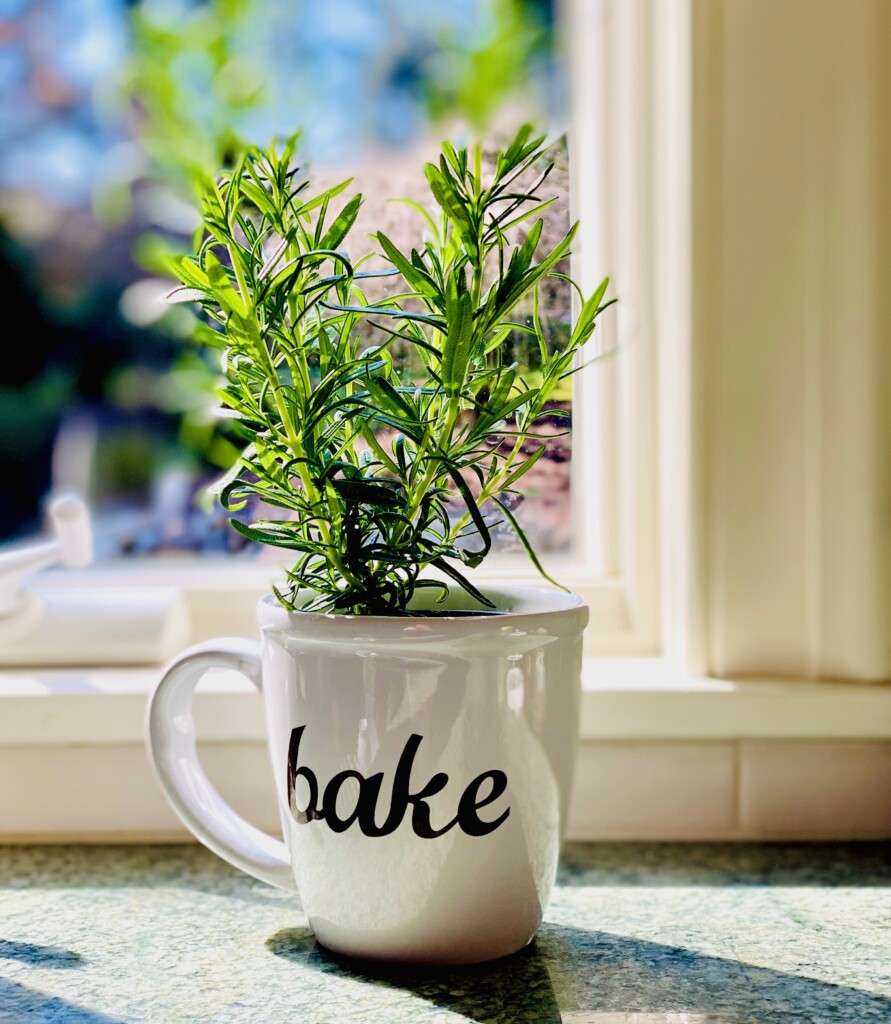 A little salt and pepper and we are ready to roast!
Here's how you make a butter roasted turkey breast!
Take that perfectly sized turkey breast and rub it inside and out with softened butter. Work some gently under the skin, and inside the cavity. Butter everywhere. It's necessary.
For Thanksgiving or anytime, when a whole turkey is just a little too much try this recipe for buttered turkey breast roast! Click to Tweet Now grab that fresh rosemary and thyme and make a nice little herb nest for your turkey on a foil-lined rimmed baking sheet.
Scatter a few more sprigs on top for good measure. Now pop it into a nice hot oven – depending on the size of the turkey it's going to take about an hour – it's always good to check it with an instant read thermometer though. You are looking for 160 degrees at the thickest part of the turkey breast.
When your turkey breast is done, let it sit for a few minutes under foil while you make a quick butter gravy (I know, more butter. It's butter heaven here.)
Pour the pan drippings into a small pot and pop a couple of tablespoons of butter in there. Stir it just until the butter melts, grind a little fresh pepper into it and pour it into a little pitcher.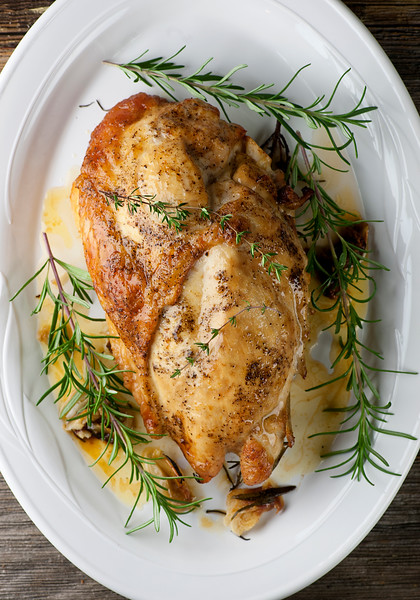 Now serve up that roasted turkey breast surrounded by a few more sprigs of herbs.
It's as glorious as any full-fledged bird – and when your happy eaters drizzle some of that butter sauce over their slices of tender juicy turkey…well, turkey might not just be for Thanksgiving anymore.
Oh, and on the off chance that you have any turkey and side dish leftovers, give this Thanksgiving Leftovers Soup a whirl!
But since Thanksgiving is coming up, I do want to take this opportunity to say I am, as always, thankful for you! My funny, friendly readers who make me a little happier with each and every one of your sweet comments and emails.
I love you more than bacon.
Print
Butter Roasted Turkey Breast
For Thanksgiving or anytime when a whole turkey is just a little too much, try this recipe for butter roasted turkey breast!
Author: Kate Morgan Jackson
Prep Time:

15 minutes

Cook Time:

60 minutes

Total Time:

1 hour 15 minutes

Yield:

4

-6

1

x
Category:

Dinner

Method:

Oven, Stovetop

Cuisine:

American

Diet:

Gluten Free
One

four

pound turkey breast, bone-in with skin

1/2 cup

butter, room temperature, plus 2 tablespoons for the gravy

6

sprigs each thyme and rosemary, plus extra for garnish
Salt and pepper
Instructions
Preheat oven to 425 and line a rimmed baking pan with foil.
Spread the 1/2 cup of butter generously over the turkey breast, gently working it under the skin.
Place 4 sprigs each of the thyme and rosemary on the baking pan in a little pile and place the turkey breast on top, skin-side up. Pop the rest of the herbs on top.
Roast for an hour or until an instant read thermometer reads 160. Remove and cover with foil while you make a nice light little gravy.
Pour the pan drippings into a small pot and add 2 tablespoons of butter. Stir until butter is melted and season with a little salt and pepper.
Slice the turkey and serve, passing the sauce around in a pitcher for drizzling!
Equipment We Used to Make This Recipe
Notes
Need to add something to your kitchen equipment to make this recipe? Below are some of the items we used in the Framed Cooks kitchen to help cook this up. These are affiliate links to things we use and love, which helps to pay for all that bacon I keep buying!
Keywords: buttered turkey breast roast, bone-in turkey breast recipe, Thanksgiving turkey breast roast recipe, how to roast a turkey breast, low carb roasted turkey breast, kid friendly buttery turkey breast, gluten-free buttered turkey breast roast, keto roasted turkey breast
Updated (and made even more delicious!) from a previously published Framed Cooks post!