This simple recipe for Julia Child's filet of sole pairs tender filet of sole with a lemony, butter sauce for the perfect seafood dinner.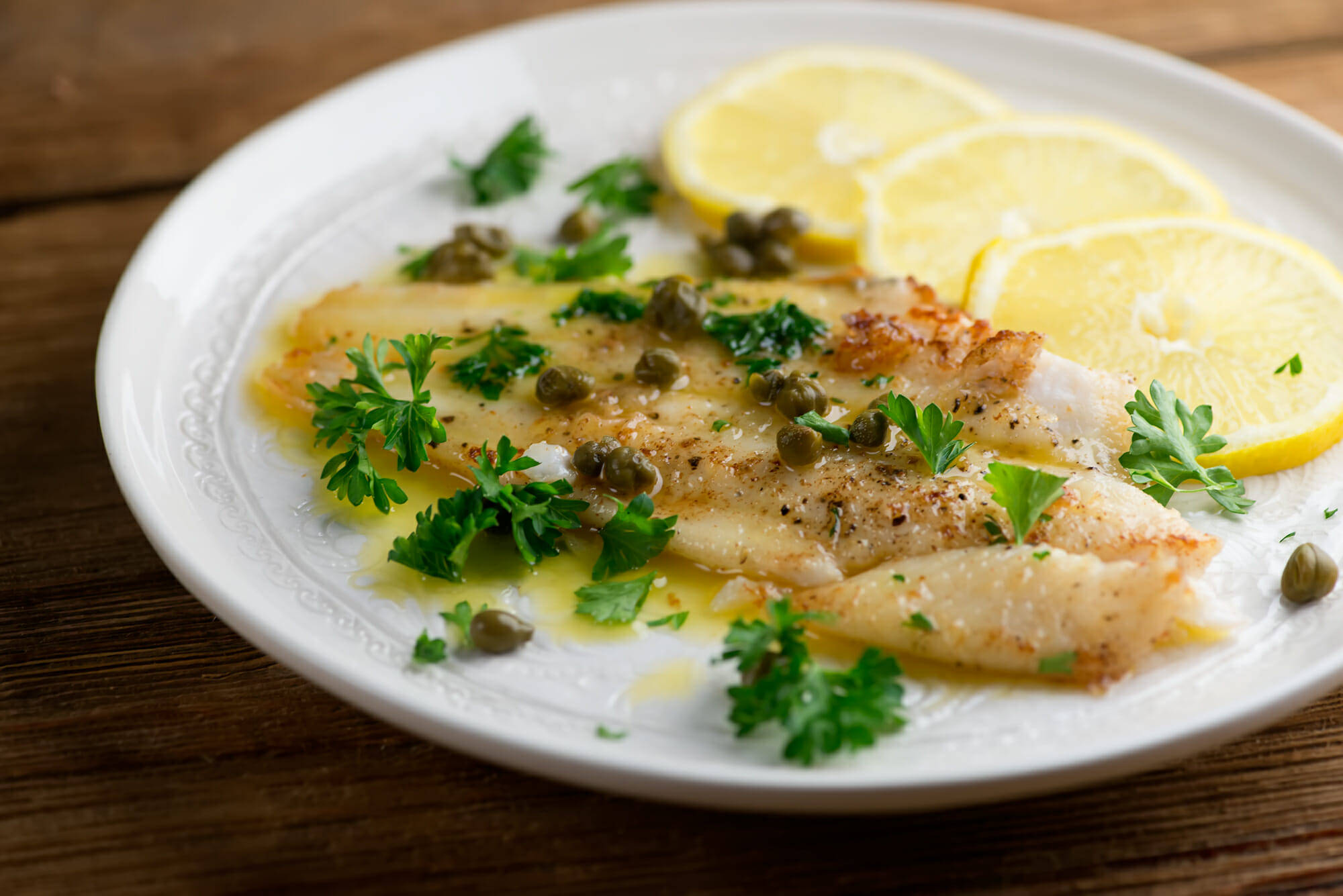 Welcome to the recipe I have decided is the most perfect seafood recipe of all time, and as the story has it, the one that Julia Child created after she had one of her first glorious dinners in France.
It's the perfect easy elegant dinner, and here's how it made its way to my kitchen!
One of the things the Southern husband and I actually love doing together is the weekly food shopping. (I know. But we do!). I make up the menu for the week before we go, and each week the Southern husband gets to pick out one dinner that he is longing for me to make.
Some weeks he picks a throwback recipe that I have made before (last week he wanted this Irish Grilled Cheese sandwich), but if he's asking for something new, he always makes a beeline for the seafood counter.
Usually he zooms in on the scallops or the red snapper, but one fateful weekend he picked out…filet of sole. And I drew a blank in terms of what to do with it. I'd never made filet of sole before, and couldn't remember having had it at a restaurant.
But that's what he wanted, and he had this face on…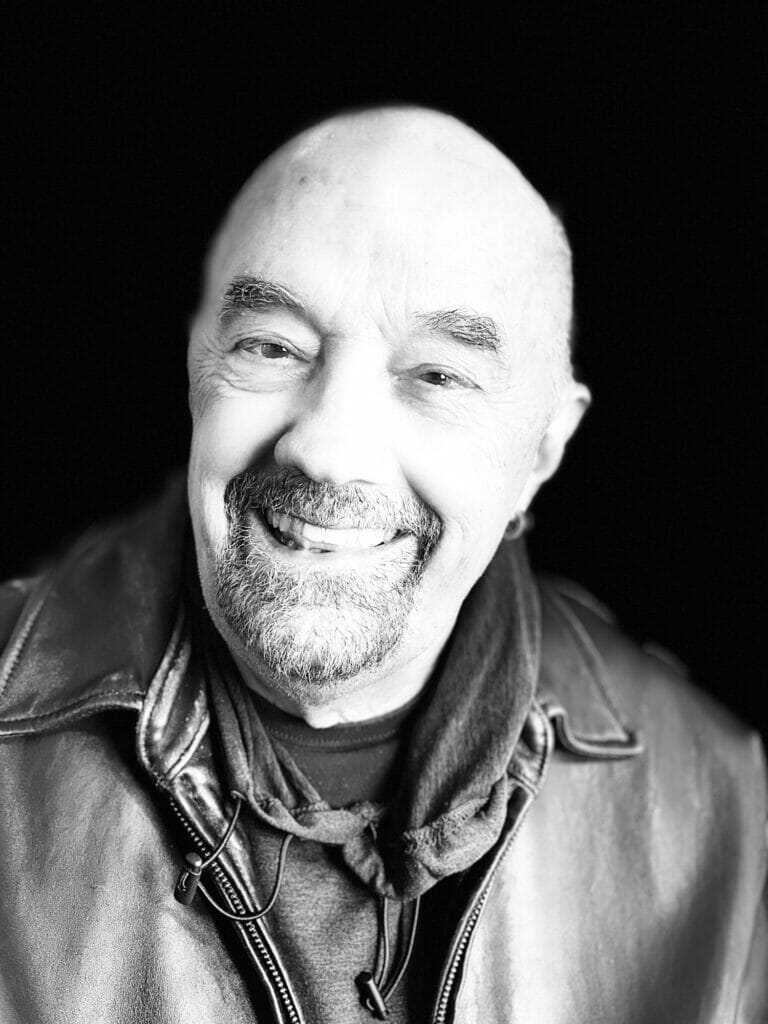 …so I bought some and off we went.
When I got it home I started searching for filet of sole recipe inspirations, and the same thing kept coming up, which is that Julia Child's way of cooking sole was pretty much perfection.
So I hauled out my copy of The Way To Cook and after much paging around I found her recipe for Sole Meuniere, which is otherwise known as that perfect recipe of hers for filet of sole.
ingredients you need to make Julia Child's Filet of sole!
Here's how you make Julia Child's filet of sole!
STEP 1: You start by sprinkling the fish with a little salt and pepper, and then you cook it ever so quickly in some butter (Julia of course made clarified butter, but I just relied on my trusty Kerrygold).
STEP 2: The sole cooks for 2 minutes a side, and then you carefully take it out (use a spatula rather than tongs – it is super delicate) and whisk in some lemon juice and parsley and chopped parsley and more butter. Julia loved butter, and she was right.
STEP 3: I added a few capers because the Southern husband loves capers, and I love him…and that was it.
5 minutes of prep time, less than 10 minutes of cooking time and I had a gourmet seafood dinner on the table.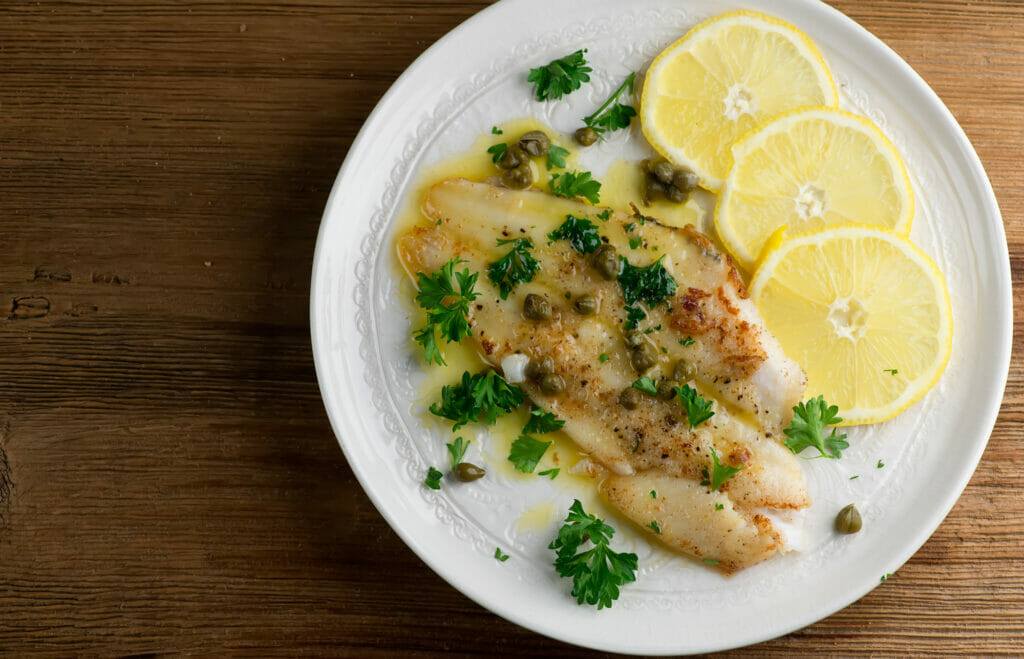 More tips for making Julia Child's Filet of Sole!
Where can I find filet of sole? And what can I substitute if I can't find it?
A seafood store is your best best, although I have found it at the supermarket from time to time. And if you can't hunt any down, you can sub in another light fish filet like red snapper, cod or flounder.
How do I juice a lemon?
You can get as fancy as having a citrus juicer that squishes the juice out and leaves the seeds, or you can simply squeeze that lemon juice into a prep bowl with your hands.
What is a fish spatula?
This indispensable kitchen tool is a long, super thin type of spatula that is perfect for everything from flipping over delicate fish to taking cookies off a cookie sheet. I always have three of them on hand!
Have a question that I didn't cover?
Pop the question in the comments below and I will answer pronto!
So with heartfelt admiration for the brilliant Julia Child (and if you don't have The Way To Cook, it's a must-have for your cookbook collection),
Bon Appetit!!
Want to round out your meal? This recipe pairs well with...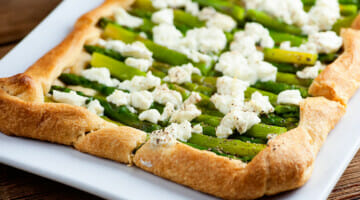 Asparagus Goat Cheese Tart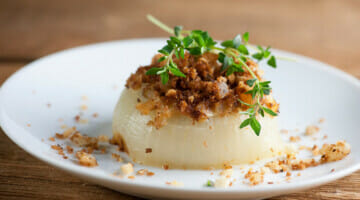 Baked Sweet Onions with Breadcrumbs and Brie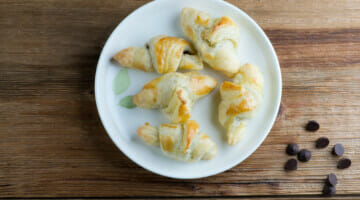 Baby Chocolate Croissants
Print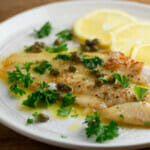 Julia Child's Filet Of Sole
---
Author:

Prep Time:

10 minutes

Cook Time:

10 minutes

Total Time:

20 minutes

Yield:

4

1

x
Category:

Dinner

Method:

Stovetop

Cuisine:

French
Description
This simple recipe for Julia Child's filet of sole pairs tender filet of sole with a lemony, butter sauce for the perfect seafood dinner.
---
Ingredients
4

boneless sole filets
Salt and pepper

½ cup

flour

8 tablespoons

butter
Juice from

½

lemon (cut the rest of the lemon into slices for garnish)

½ cup

fresh chopped parsley

2 tablespoons

capers
---
Instructions
Season the fish with salt and pepper on both sides.
Put the flour on a plate or a pie pan and press each filet lightly into the flour on both sides.
Put 4 tablespoons of the butter into a large skillet over medium high heat. When the butter is melted and foamy, add the filets and cook for 2 minutes.
Using a fish spatula or other large spatula, carefully turn the filets over. Don't use tongs – sole filets are delicate and need to be turned with a spatula. Cook for another 2 minutes and place each one on a serving plate. Cover with foil to keep warm while you make the sauce.
Add the rest of the butter to the skillet, along with the lemon juice and half the parsley. Whisk until the butter is melted.
Drizzle the sauce generously over the filets, sprinkle on the capers and the rest of the parsley, add the lemon slices as a pretty garnish and serve!
Notes
Need to add something to your kitchen equipment to make this recipe? Below are some of the items we used in the Framed Cooks kitchen to help cook this up. These are affiliate links to things we use and love, which helps to pay for all that bacon I keep buying (without any extra cost to you)! Thanks for using them to keep our kitchen cooking…xoxo!
Equipment