Regular chicken piccata is great, but chicken piccata with artichokes is FABULOUS. Try this easy recipe for your next dinner party (or regular weeknight supper) and see!
I thought I knew all there was to love about chicken piccata, which is chicken prepared with a lovely, buttery, lemony sauce.
I make mine with chicken that has been dipped in a lemon butter sauce and spiced up flour, and then fried to golden perfection and finished in that delectable sauce.
Yep, I was perfectly content with regular chicken piccata, until one day when a version of it that included artichoke hearts came to me in a vision.
And can I just say that while regular chicken piccata continues to be great, chicken piccata with tender artichoke hearts is pretty much heaven on earth?  TRUTH.  Let's make it!
I find that adding a surprise element can be true in all kinds of situations.  For example, take my day job.
I spend Monday through Friday working with authors and artists and editors and designers and various other amazing people making children's books, and a lot of that involves getting together in conference rooms and talking about the latest books for everyone from little kids (hello, Pete the Cat!) to teenagers (all hail the new Red Queen book!) to books that will be a transcendent experience for anyone who reads them (please, if you haven't read PAX by Sara Pennypacker, stop reading this post and go find a copy.  It's heart wrenchingly perfect.
Anyway, I spent lots of time in conference rooms talking about all kinds of children's book stuff, and that's pretty great.
But the last meeting I was in a conference room with one of our newest authors talking about his new picture book, and this happened.
YES THAT IS A DACHSHUND ON THE CONFERENCE ROOM TABLE.  THIS IS NOT A DRILL.
Her name is Vivian, and she has the most adorable Instagram on the planet which I beg you to follow (and if you want to follow mine while you are at it, hug and kiss.)
While we were talking with her lovely owner Mitch about his new book about Vivian, Vivian herself scampered around the conference room table giving us her best please-give-me-a-treat look.
It's pretty much ruined all future meetings for me that don't include a mini dachshund running around the table.  Sigh.
And that's kind of how I feel about this recipe for chicken piccata with artichokes.
Regular chicken piccata is all kinds of wonderful, but adding tender little artichoke hearts to the picture just takes it to all new heights of wonderfulness.  And by the way, it doesn't add any time or complication whatsoever to this quick and easy recipe.
I mean, really…what more could you possibly ask for?  Other than your own mini-dachshund, of course.
Print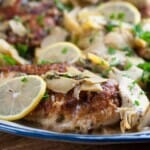 Chicken Piccata with Artichokes
---
Author:

Prep Time:

15 minutes

Cook Time:

15 minutes

Total Time:

30 minutes

Yield:

4

servings

1

x
Category:

Dinner

Method:

Stovetop

Cuisine:

Italian
Description
Regular chicken piccata is great, but chicken piccata with artichokes is FABULOUS. Try this easy recipe for your next dinner party (or regular weeknight supper) and see!
---
Ingredients
4

skinless, boneless chicken breasts, about

½

inch thick

1

egg

3 tablespoons

fresh lemon juice

¼ cup

all-purpose flour

⅛ teaspoon

pepper

¼ cup

butter

½ cup

chicken stock

1/2 cup

white wine

1

9 ounce package of frozen artichoke hearts, thawed

1/2 cup

fresh chopped parsley

2 tablespoons

capers
Lemon slices for garnish
---
Instructions
In a small bowl, beat the egg together with 1 tablespoon of the lemon juice. Set aside.
Mix up the flour and pepper. Dip the chicken in the egg/lemon mixture, then in the flour.
Melt the butter in a large pan and brown the coated chicken pieces about 4 minutes per side. Set aside.
Add the remaining 2 tablespoons of lemon juice to the chicken broth and pour liquid into skillet. Add wine, capers and artichoke hearts.
Cover and simmer for 5 minutes. Return chicken to pan along with the capers and all but 2 tablespoons of the parsley and heat it through, about 2-3 minutes.
Garnish with lemon slices and fresh parsley. This recipe is wonderful as is, but you can also serve over pasta or polenta!
SaveSave
SaveSave