Here's what you do with all that summer squash! Make zucchini fritters with this easy recipe and watch them ask for vegetable seconds! They might even forget all about the entree with this summer perfect side dish.
THE ZUCCHINI IS COMING.  You know it is…whether out of your own garden, or your neighbor's.  Or maybe your mom leaves you anonymous baskets heaped with giant green zucchini on your front porch when you are not looking.  One way or the other, zucchini season is here, so fight back with this easy recipe for zucchini fritters – crispy little zucchini pancakes sprinkled with sea salt and perfect for going alongside of grilled steak or chicken.  Don't let the zucchini storm win….let's make them!
Here's what you do with all that summer squash! Make zucchini fritters with this easy recipe.
Click To Tweet
Grab a zucchini or two, and grate it up – I do this in about 5 seconds using the grater blade on my food processor.  Put the grated zucchini in a bowl with a beaten egg, some salt and pepper, and a little flour.  You can either use regular flour or if you want to add a little nutty taste you can try it with almond flour – I've done it both ways and both are scrumptious.
Now heat up a large skillet, and if you have an electric griddle even better.  If your skillet is nonstick you don't need anything, but if not coat it with  a little vegetable oil.  Scoop up 1/4 cup amounts of the fritter mixture and add to the skillet, flattening it down gently into a pancake shape.  Let it get nice and golden on one side and then carefully flip until it is golden on the other side as well.
Sprinkle with a little sea salt and some cracked pepper if you like, and that's it!  You have pulled ahead in the zucchini race in a most delicious way!
Print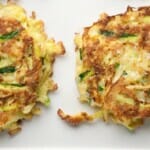 Zucchini Fritters
---
Author:

Yield:

About 8
Ingredients
2 medium zucchini, grated
1 egg, beaten
1/4 cup regular or almond flour
1/2 teaspoon sea salt, plus extra for shrinking
Vegetable oil for greasing the pan
---
Instructions
Heat skillet or electric griddle to medium high. Grease with vegetable oil if pan is not non-stick.
Mix grated zucchini, egg, flour and salt together until well mixed. Scoop out fritter mixture in 1/4 cup amounts and add to skillet or griddle.
Flatten gently into pancake shape and cook until golden brown on one side. Gently flip and cook until golden on the other side.
Remove and sprinkle with sea salt and enjoy!
SaveSave