Once you make this super easy recipe for potato peel chips you will never toss those peelings out again! Bet you can't eat just one of these babies.
When I think about this recipe for potato peel chips, I have to close my eyes and NOT think about the giant towering mountain of potato peelings in my life that went into the garbage, the compost pile and other places other than into this utterly simple, totally addictive nibble.
Because yes, this involves taking the peelings from whatever delectable mashed potato recipe you are making, tossing them with a little olive oil and salt, and baking them until they are delicate, crispy little potato chips. And in this case, chips made out of the peelings, where lots of the fiber and nutrients live.
Could this be any better? Am I the last person on the planet to figure this out? I have SO much catching up to do!
[This recipe works best when you have a bunch of potatoes being peeled up for something (hello, Thanksgiving mashed potatoes!) because the potato peelings are so thin and delicate.
That teeny little bowl in the picture is from two potatoes, and let's just say it was an aggressively friendly little battle in my kitchen that day to see who got the most chips, because there were not many to go around.
Regardless of how many potatoes you are peeling, go ahead and make them though, because a teeny bowl of potato peel chips is infinitely better than no chips at all.
Besides, if you are like me, once you make your first batch it will be impossible for you to throw potato peels out Ever Again.
Here's how to make potato peel chips!
You want to toss them with just enough olive oil to coat them without making them too weighed down. A teaspoon of olive oil per potato's worth of peels is a good rule of thumb.
Sprinkle them with some sea salt, pop them in the oven until they are nice and brown and crispy – you want them the deep golden brown color in the picture so they are the right amount of crisp.
Here's a quick video to show you the magic that is making potato peel chips…
And then eat them right away, because potato peel chips are best warm and wonderful right out of the oven. (This last bit will be the easiest part of the process.)
It gives a whole new meaning to the word recycling, right?
Print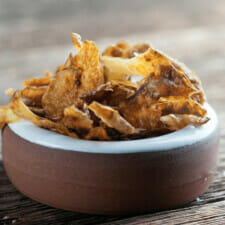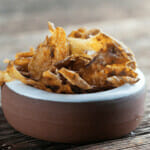 Potato Peel Chips
---
Author:

Prep Time:

10 minutes

Cook Time:

20 minutes

Total Time:

30 minutes

Yield:

1 cup

1

x
Category:

Snack

Method:

Oven

Cuisine:

American
Description
Once you make this super easy recipe for potato peel chips you will never toss those peelings out again! Bet you can't eat just one of these babies.
---
Ingredients
Peelings from

two

potatoes

Two teaspoons

olive oil
Pinch of sea salt (and you can shake on some black pepper too, if you like!
---
Instructions
Preheat oven to 425. Line a rimmed baking sheet with parchment paper or non-stick foil.
Gently toss the peelings with the olive oil. Place in a single layer on the baking sheet, and sprinkle with salt.
Bake for about 15 to 20 minutes or so, watching carefully through the door to make sure they don't get too brown. Remove when they are crispy and serve at once.
Notes
Can be increased to as many potatoes as you can peel!
Equipment
SaveSave
SaveSave