Turn doughnut holes into a pumpkin-filled treat with these chocolate-drizzled pumpkin pudding packed cake bites!
Okay, let me break it to you right now…this recipe is going to require a trip to Dunkin Donuts. For Munchkins.
Yes, this blog, the same blog that pesters you relentlessly about making your own ricotta cheese, making your own butter, making your own pickles, this same blog is now giving you a recipe where one of the required ingredients is a Munchkin.
You can't say I don't keep you on your toes. What can I say…there are just some recipes where Munchkins are required, and pumpkin pudding cake bites, that's one of them.
Once you are back from your required trip to Dunkin Donuts (and please let me say for the record that the Dunkin Donuts people don't know me, don't know my blog, and have nothing to do with the post).
If you are out there and are reading this, Dunkin Donuts people, and you feel like sending me some jelly donuts, I wouldn't say no. But one way or the other, this whole obsession with the Munchkins is mine and all mine.
How to make pumpkin pudding cake bites!
Now that we have that cleared up, let's make some pumpkin pudding cake bites – it's October, and we are required to make pumpkin something at least once a week.
Start by cutting those Munchkins in half…you need the cake-style Munchkins for this one, by the way. As much as I like those lighter fluffier ones and I do (hint hint, Dunkin Donuts people!), you need the firmness of the cake-style Munchkins to make this work.
Now for the filling: mix up one package of instant vanilla pudding mix with some milk and a little pumpkin pie spice – you need your mixer for that part.
You are then going to stir in some thawed Cool Whip, and that's your filling. Spoon the whole thing into a large zippered plastic bag, zip it up and snip off one of the corners (this is going to make the assembly part sooooooo much easier.
Now line up the bottom halves of your Munchkins and squirt a generous teaspoon or so of filling onto the bottom of each one. You don't have to be scientific about it – a little more or less will be just fine.
When that is done, pop the tops on and press down a little to make them stick together. Not too hard.
Next, you are going to make a quick and easy glaze out of confectioner's sugar, a little milk and vanilla and a little bit of cocoa powder. Drizzle it on.
Give the glaze about 10 minutes or so to firm up, and that's it! Adorable, bet-you-can't-eat-just-one pumpkins pudding cake bites.
After all, there IS that whole pumpkin-related recipe obligation we have for the month of October. It's necessary.
And if that requires Munchkins…well, we must do what we must do. Happy pumpkin season!
Print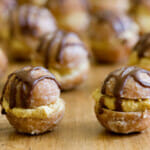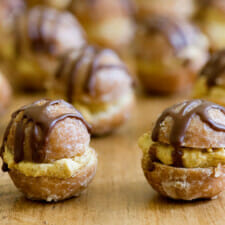 Pumpkin Pudding Cake Bites
---
Prep Time:

20 minutes

Total Time:

20 minutes

Yield:

36

cake bites…unless you snack on a few Munchkins along the way, which is the cook

1

x
Category:

Dessert

Method:

No Cook

Cuisine:

American
Ingredients
36

cake-style Dunkin Donut Munchkins (or other donut holes, if you must!)

1

3.4 ounce package instant vanilla pudding, NOT the sugar free kind (I like the Jell-O variety)

1/3 cup

milk

1 teaspoon

pumpkin pie spice

1 cup

thawed Cool Whip
For glaze
3/4 cup

confectioner's sugar

1 tablespoon

milk

1/2 teaspoon

vanilla extract

1 teaspoon

cocoa powder
---
Instructions
Cut the Munchkins in half and line them up on a sheet of wax paper.
Put the pudding mix, milk and pumpkin pie spice in a bowl and beat with an electric mixer for 2 minutes. Stir in the thawed Cool Whip.
Spoon the pudding mixture into a zippered plastic bag. Zip it shut and snip off one bottom corner of the bag. Using the bag like a pastry bag, squirt about a teaspoonful of filling onto the bottom half of each Munchkin. Put tops on and press down lightly.
Combine confectioner's sugar, milk, vanilla and cocoa powder to make glaze…if it is too thick, add a little more milk. Drizzle on top of the cake bites, let set for 10 minutes, and serve!