Okay, I'm going to own up to something right here in the first sentence of this post: this creamy, comforting, hearty chowder is made with Tater Tots.  There, I said it.  Tater Tots. Yes, there are also things like ham, and corn, and milk and chicken broth and scallions, but for me the wonder of this 15 minute soup is the Tater Tot part.  Please still love me.  Please trust me. Please keep reading.
The secret ingredient to this 15 minute ham and potato chowder recipe? Read on to find out!
Click To Tweet
Here's how it works, and if you ponder it long enough it all makes sense.  A potato chowder involves, well, potatoes.  And usually soups involving potatoes involve scrubbing the potatoes, and then peeling the potatoes, and then cutting the potatoes into teeny chunks, and then cooking the potatoes until they are tender.  And while I'm totally up for doing that kind of a thing on a lazy Sunday, on a hectic Tuesday I want my potato chowder with a lot less potato complication.
This is where the Tater Tots enter the picture.  Tater Tots are basically little nuggets of, yep, potatoes that have been scrubbed, peeled, cut into teeny chunks and cooked.  They have the added advantage of being prepared with a little bit of flour and seasoning on the inside (which helps thicken the chowder) and fried on the inside (which adds a little something something to the flavor).
So how does this all work?  As quick and deliciously as this: Put some milk and chicken broth in a pot and bring it to a simmer.  Now add a generous amount of Tots (either frozen or thawed – either way will work!) and cover the pot.  Let it simmer for about 15 minutes, stirring it now and then to break the Tots up as they fall apart into little teeny chunks.
Meantime, cut up a cooked ham steak into cubes, and cut the kernels off a couple of ears of corn (or if it's not corn season and/or if you are super-tired on this particular day, you can totally use frozen corn).  When the chowder has transformed from Tots floating in milk to honest-to-goodness chowder, stir the ham and corn in and simmer for another couple of minutes until everything is heated through.
Now ladle your beautiful chowder into bowls and serve it up!
And we can totally keep the whole Tater Tot thing between us.
Print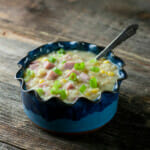 Ham and Potato Chowder
---
Yield:

4 hearty servings
Ingredients
2 cups milk (whole milk works best)
2 cups chicken broth
4 cups frozen Tater Tots
One 8 ounce cooked ham steak, cut into cubes
Kernels from 2 ears of corn, or 1 cup frozen corn
2 scallions. sliced
---
Instructions
Put milk and broth into a large saucepan and bring to a simmer.
Add Tater Tots and reduce heat to low. Cover and cook for 15 minutes, stirring occasionally to break up the Tots.
When Tots are broken down, stir in ham and corn. Simmer for another few minutes until everything is heated through.
Ladle into bowls, garnish with chopped scallions and serve!