It's the most wonderful time of the year!  And by that, of course I mean tomato season.  Big, juicy, sweet, so delicious you can eat them all by themselves, local tomato season.  And while I am sure the other 49 states in the Union are happy with their local tomatoes, here in New Jersey we take special pride in ours.  Jersey tomatoes!  I love them in salads, I love them with pasta, I love them fried, and I love them made into tomato butter.  Yep – creamy, dreamy tomato butter.
For tomato butter, you need the following ingredients: Butter.  Tomatoes.  (I like to keep things nice and simple in the summer.)  For the tomatoes, choose the adorable little cherry tomatoes.  This time of year the local cherry tomatoes are so addictively sweet and scrumptious, you better buy two pints.  One for making tomato butter and one for snacking on while you make the tomato butter.
For the butter, you can of course use regular old salted butter and it will work just fine.  But if you have an extra 15 minutes, you can turn plain old heavy cream into your own butter with your mixer or food processor.  That's what I do, and it's just plain heaven.
However you decide to handle the butter, you want it nice and soft and room temperature. Meanwhile, back at the tomatoes, pop them in the oven and bake them until they are splitting apart a little and the juice is running out.  This is best done on a foil-lined baking sheet to cut down on the clean-up time.  It's summer, and the last thing we want to be doing is cleaning up the kitchen.
Once they are cooked and cooled, pop them in your food processor and give them a good whirl until they are nice and smooth.  A few tiny pieces are fine, but in general you want them smoothish.
Now spoon the tomato into the softened butter.   Start with a couple of tablespoons and keep adding it until your butter is as tomato-y as you like it.  I like mine nice and tomato-y.  And that's all there is to it!
Well, except for tearing off a hunk of bread, slathering it with tomato butter, topping it with a fresh basil leaf and taking a big bite.
Oh yes.
It's also just lovely stirred into fresh hot pasta, or dolloped onto a hot grilled filet mignon…I could keep on going, but I think you see where all this is leading.  Go butter up some tomatoes!
Print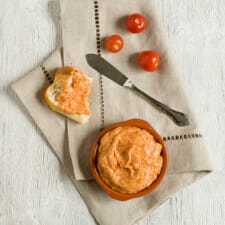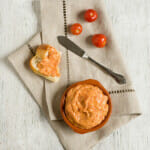 Roasted Tomato Butter
---
Prep Time:

10 minutes

Cook Time:

10 minutes

Total Time:

20 minutes

Yield:

1

pound tomato butter. Can be reduced or increased as needed.

1

x
Category:

Staples

Method:

Oven

Cuisine:

American
Ingredients
1 pint

cherry tomatoes (fresh picked local ones if you can find them!)

1

pound salted butter, softened
---
Instructions
Line a rimmed baking sheet with foil and spray with cooking spray. Preheat oven to 425.
Lay cherry tomatoes on the baking sheet in a single layer. Roast until the skins start to split and the juices are running out, about 10-15 minutes. Cool.
Put the roasted tomatoes in a food processor and process until smooth.
Put the softened butter in a bowl and stir. Start adding the tomato puree by tablespoons until the butter has the amount of tomato flavor you like.
Notes
Tomato butter is great stirred into hot pasta, spooned on top of hot grilled steak or burgers, or spread on french bread and topped with fresh basil!