Beef stew gets a touch of the Irish when it is slowly simmered in Guinness in this easy and delicious recipe for Guiness beef stew!
Saint Patrick's Day is only a few short days away, and while I know corned beef and cabbage is going to be on many an Irish dinner table that evening, I think this year we are going to shake things up just a bit and have beef stew.
But not just any beef stew…beef stew that has been cooked slowly and lovingly all afternoon in a simmering bath of Guinness draught.  Tender beef with lots of veggies and a sauce that will bring you right back to the old country, even if you have never been there.
I've been there, myself.
One of my favorite childhood memories is the summer I went to Ireland with my grandparents.  One of the Irish cousins was getting married, and why I was the lucky grandkid picked to go over with them for the wedding is now lost to the mists of time, but I packed up my hot pink Samsonite suitcase and off we went.
My mother conveniently sent me over with this outfit that was the exact colors of the Irish flag.
And amidst all the many visits with the many Irish cousins from one end of the country to the other, at some point we visited Blarney Castle, where I of course needed to kiss the Blarney Stone.  (Yes, those of you who know me personally – it all makes sense to you now, right?)
Kissing the Blarney stone is a little more complicated than you might think.  It involves lying on your back with your head hanging upside down inside a kind of high opening which is is sheer drop down to the ground, your legs being held by a guy whose job it is to hold folks' legs so they don't plummet down to earth.
You need to be MOTIVATED.  Or twelve years old, one or the other.
Although I seem pretty happy about the whole thing, I have to say.  This trip also coincided with my twelve year old need to keep scrapbooks of everything I did in life, and this particular scrapbook includes not only various pictures of the trip, but pretty much every scrap of paper I collected along the way.
Including the program for the movie that was showing on our TWA flight…
Joe Don Baker, where are you now?  I also kept the menu for one of the flights, and from my neat check mark I'm guessing I had the Grilled Filet Steak Thomond.
Which I'm guessing is a reference to the Earl of Thomond restaurant in County Clare, which I only know because I just Googled "Thomond Steak" and that's what I got.
I promise I am now getting to the point, which is that like Grilled Filet Steak Thomond, this Guinness beef stew is a warm and wonderful concoction of beef, vegetables and a lovely sauce.  You do need to hunt down some of this.
You're going to start this stew on the stovetop just to get things simmering away, but the real cooking is going to happen in a low-temperature oven, so I highly recommend using a Dutch oven if you have one so you only have one pot to wash at the end of all this deliciousness.
The oven will concentrate all the beer and broth and other wonderful ingredients down to a flavorful perfect sauce, and although there are potatoes in this dish, if you need some bread on the side to make sure you get every scrumptious drop, I totally understand.
I'll be back on St. Patrick's Day with my all-time favorite Irish recipe ever.  Ever!  Until then, enjoy this stew, and may the road rise to meet you.
Print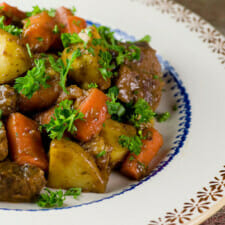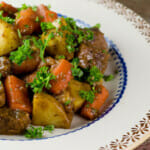 Guinness Beef Stew
---
Author:

Prep Time:

15 minutes

Cook Time:

2 hours, 40 minutes

Total Time:

2 hours 55 minutes

Yield:

6

servings

1

x
Category:

Dinner

Method:

Stovetop

Cuisine:

Irish
Description
Beef stew gets a touch of the Irish when it is slowly simmered in Guinness in this easy and delicious recipe!
---
Ingredients
3

–

4

pounds beef chuck roast, cut into

1

inch chunks
Salt and pepper

3 tablespoons

olive oil

2

onions, chopped

2 tablespoons

tomato paste

1/4 cup

flour

3 cups

beef broth

1 1/4 cups

Guinness Draught

2 tablespoons

brown sugar

1 teaspoon

fresh thyme

1 1/2

pounds Yukon Gold potatoes, cut into

1

inch pieces

1

pound carrots, peeled and cut into

1

inch pieces
Chopped fresh parsley for garnish
---
Instructions
Preheat oven to 325.
Season beef with salt and pepper. Heat oil in Dutch oven over medium high heat and add onions. Stir until they are starting to brown, about 5 minutes.
Add tomato paste and stir until well-combined. Stir in flour, and then whisk in broth, 3/4 cup Guinness, sugar and thyme. Simmer for 3 minutes.
Add beef and stir. Transfer the pot to the oven and cook uncovered for 90 minutes.
Add potatoes and carrots to the pot, stir and continue cooking until the meat and veggies are tender, another 60 minutes.
Add remaining Guinness, stir and add salt and pepper as needed. Sserve on warmed plates, garnished with parsley.
Recipe lightly adapted from Cooks Illustrated