I have a complicated relationship with meat loaf.  On the one hand, I adore it – the warm, hearty deliciousness, the complete comfort foodness of it all.  On the other hand, it's pretty much impossible to make meatloaf for two people, and it's just the Southern husband and me in our empty nest these days.  AND I have this serious habit of photographing every dang thing I cook and meatloaf?  I'm sorry, but you are just not photogenic.  However!  This slow cooker Mexican meatloaf has solved almost all of these issues, and with a spicy Mexican flavor as an extra added bonus.
First, the Mexican part.  Meatloaf is traditionally made with breadcrumbs and ketchup and spices like salt, pepper, maybe a little oregano.  THIS meatloaf swaps out those ingredients for crumbled Fritos, taco sauce and taco seasoning (the kind in the packet), along with a little cheddar and jack cheese, and it gets topped with some sour cream and scallions (chopped tomato and guacamole would also be wonderful!)…so there's that.
Second, it gets cooked in the slow cooker, and anything that you can toss in the slow cooker, abandon to you and live your life, come back to 8 hours later and have it be perfectly done is my idea of heaven.  One word to the wise about meat loaf in general in the slow cooker: if you are the kind of person that likes your meatloaf in slices, you should make a foil sling (a long, double-thick piece of foil with its ends extending outside the top of your cooker) and place your uncooked loaf on that before you start.  That way when it is done you can grasp the ends of the sling and lift it right out.  If you are like me and are okay with scooping your meatloaf out of the cooker in spoonfuls, then no sling needed!
Third, while I'm a fan of leftover meatloaf in general, this particular meatloaf makes leftovers that make all other leftovers hang their head in shame.  A generous spoonful of leftover Mexican meatloaf crumbled into a warm corn tortilla and topped with melted cheese?  It's almost better than the original thing.  Swoon.
Which leaves me with the picture.  As I've mentioned here and there in the past, I only post recipes where I have gotten what I think is a half-way decent picture (I have made one exception in all the years of this blog…click here for that one), and I was torn about this picture.  The Southern husband finally realized that I had been staring at the shot above for an eternity and figured out that I was agonizing.  I told him I didn't think I could post it – at which point he invoked the Marital Veto.  (The Marital Veto is a rarely used but handy rule in our house which goes as follows: if one party vehemently disagrees with an action that the other party is about to take, they can invoke the Marital Veto.  We don't vehemently disagree often, but it does come in handy from time to time.  For instance, when the Southern husband wanted to have a six-foot in diameter version of the Yankees logo painted in the middle of our garage floor.  Marital Veto!!)
And so, for those of you who have waited patiently through all this meandering, thank you, and here's one of my favorite, favorite recipes – Mexican Meatloaf!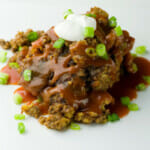 Slow Cooked Mexican Meatloaf
---
Prep Time:

15 minutes

Cook Time:

8 hours

Total Time:

8 hours 15 minutes

Yield:

6

-

8

servings

1

x
Category:

Dinner

Method:

Slow Cooker

Cuisine:

Mexican
Ingredients
2

pounds ground beef (chuck is the best)

1 cup

corn or tortilla chips, crushed into crumbs

1/2 cup

taco sauce, plus more for drizzling

1

beaten egg

2/3 cup

shredded cheddar and/or Monterey Jack cheese

3 tablespoons

taco seasoning (the kind from the packet)
Sour cream and scallions for garnish
---
Instructions
Place ground beef, crumbled corn chips, taco sauce, egg, cheese and seasoning in a bowl and mix together until just combined – you don't want to overwork the meat.
Shape into a loaf and place in the slow cooker. (If you want to be able to slice your meatloaf when it is done, first line your slow cooker with a foil sling, which is a double sheet of foil that extends over the outside edges of your cooker. Place the loaf in the center of the sling, making sure it doesn't extend over the sides.)
Place the cover on the slow cooker and cook for 8 hours on the low setting. Let the meatloaf rest for ten minutes.
If you have used the sling, gently grasp both ends and carefully lift out the meatloaf, transfer to a cutting surface and slice it. If not, just scoop out spoonfuls of the meatloaf directly from the cooker, making sure to get some of the crunchy bits from the surface as well as the tender inside.
Drizzle some warm taco sauce on top and garnish with sour cream and scallions.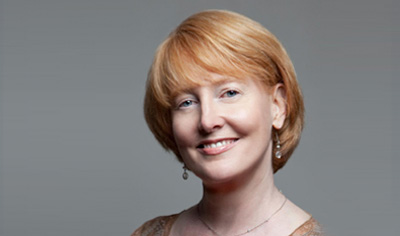 Hi there!  I'm Kate, and I'm a recipe writer, food photographer and devoted bacon lover.  I started Framed Cooks in 2009, and my mission is to create and share family-friendly recipes that make cooking both easy and fun…yes, I said FUN!  My kitchen is my happy place, and I want yours to be that place too.  And if you make this recipe, I would love you to tag @FramedCooks on Instagram so I can see the deliciousness!